Former Vice President Joe Biden is no longer the front-runner in Iowa, a new poll has found.
According to the latest Des Moines Register/CNN poll, Sen. Elizabeth Warren (D-Mass.) is the new front-runner in Iowa, surging past Biden and distancing herself from fellow far-left progressive Sen. Bernie Sanders (I-Vt.).
Among support from likely Democratic caucus-goers, the poll found:

Elizabeth Warren: 22 percent
Joe Biden: 20 percent
Bernie Sanders: 11 percent
Pete Buttigieg: 9 percent
Kamala Harris: 6 percent
Meanwhile, Sens. Cory Booker (D-N.J.) and Amy Klobuchar (D-Minn.) each garnered 3 percent of support, while Rep. Tulsi Gabbard (D-Hawaii), Beto O'Rourke, Andrew Yang, and Tom Steyer earned backing from 2 percent of likely Democratic caucus-goers.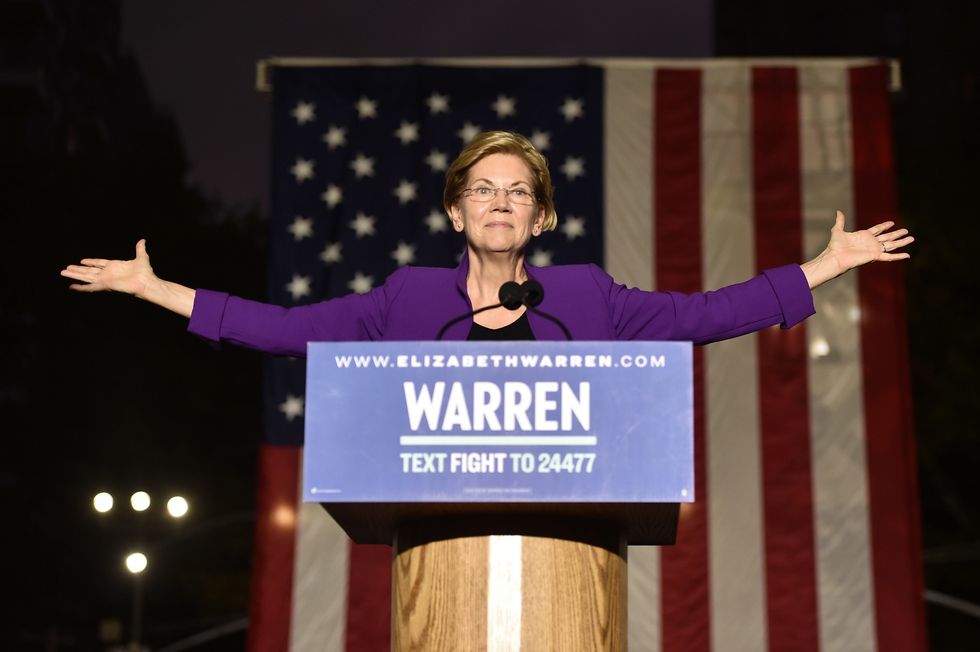 Bauzen/GC Images
The development is significant for Warren because the DMR/CNN poll is often considered the "gold standard" of Iowa political polling, the Washington Examiner noted.
Indeed, the poll proves that Warren is gaining momentum heading into the winter months, while Biden, although he has been the front-runner since day one of his campaign, is quickly waning.
In fact, in the last DMR/CNN poll from June, Warren was in third place, behind Biden and Sanders. At the time, Biden led Iowa by an 8-point margin, with Warren trailing by nine points. That means Warren has had an 11-point net gain over the summer months, considering she now leads Biden by two points.
"This is the first major shakeup," J. Ann Selzer, president of the company that conducts the survey, told the Register. "It's the first time we've had someone other than Joe Biden at the top of the leader board."
The poll of 602 likely Democratic caucus-goers was conducted between Sept. 14-18.