Police officers were caught on video converging upon a mother who was speaking in front of the microphone at a Florida school board meeting last week after the chairwoman kicked her out for "something horrible" she was "about to say" concerning another school board member.
What are the details?
Melissa Bakondy, a mother of four, called out by name a Sarasota County School Board member at Tuesday's meeting for comments the board member allegedly made during a previous meeting, Fox News reported.
"At the last meeting, Shirley Brown was caught on the microphone talking about –" Bakondy stated before board chairwoman Jane Goodwin cut her off: "Stop talking about school board members. You're done. You're done, Mrs. Bakondy, you're done. Thank you, you're done. You cannot go and expound on school board members. I've told you. I've warned you several times. Thank you very much, you're done, move on. Goodbye."
With that, a police officer walked to the podium and stood just a few feet in front of Bakondy.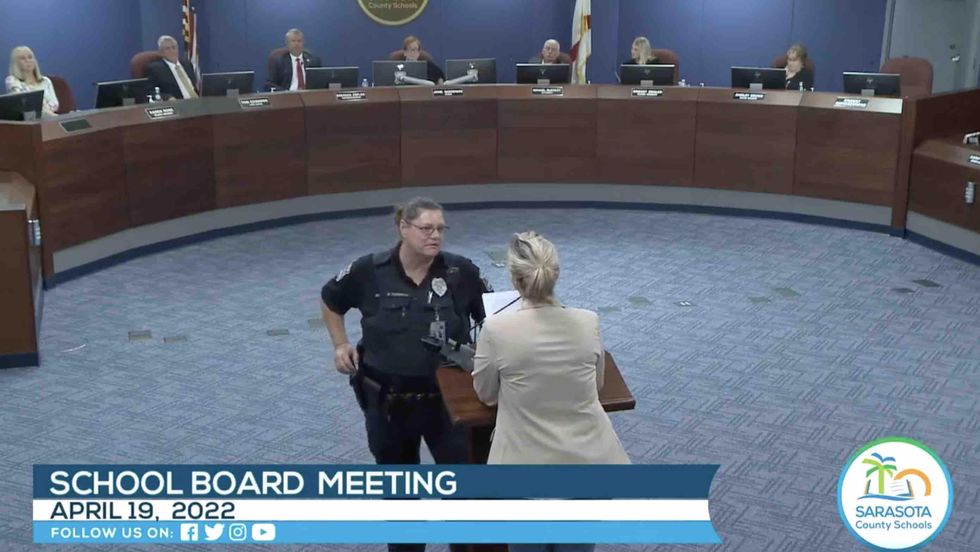 Image source: Twitter video screenshot via @ChrisMZiegler
Two other officers soon followed and stood on either side of the mother.
'You were about to say something horrible'
Bakondy asked Godwin what the problem was, and the chairwoman replied, "You were about to say something horrible about Shirley Brown, please leave … You've said things about me that were untrue. Leave, please!"
Goodwin then asked Bakondy, "Do you have children in our school district? Do you have children in our school district?"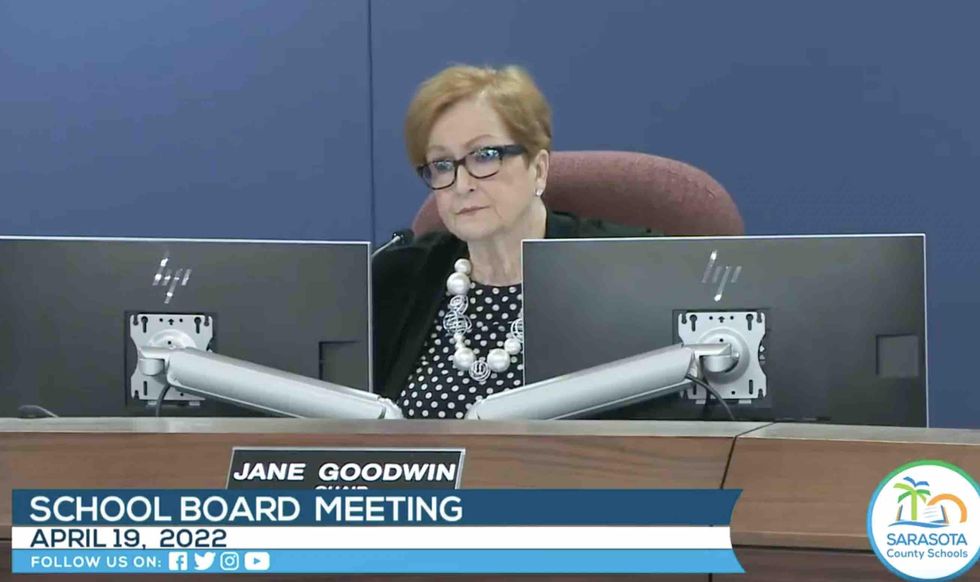 Image source: Twitter video screenshot via @ChrisMZiegler
Fox News said that question fired up conservative board member Bridget Ziegler: "Point of order! That is not appropriate! … You don't get to ask people who come to a public meeting whether they have children or not. Period! You're way out of line."
Soon Goodwin ordered the officers to ask Bakondy to leave, and Fox News said she was ejected from the meeting.
The cable network said Ziegler's husband — Florida GOP Vice Chairman Christian Ziegler — posted the exchange on Twitter, although it doesn't show the ejection:
'The queen of no public input'
Bakondy told Fox News in an interview that Goodwin is "the queen of no public input," and Bakondy and Bridget Ziegler said Goodwin and two other liberal board members want free speech shut down at meetings.
"Every citizen taxpayer and parent has a right to speak at public meetings and share their input," Bakondy added to Fox News. "Ms. Goodwin doesn't want to hear that … This is the ultimate form of censorship, and they are destroying our school district, targeting parents, and eliminating dissent."
Bakondy also told the cable network, "I do have four children, and three of them will be going back to public school next year, and after this, I worry that they're a target."
Fox News said Goodwin did not respond to its request for comment.
Anything else?
Following the heated exchange, Sarasota County Sheriff Kurt A. Hoffman spoke on video Friday taking issue with the Bakondy getting kicked out of the meeting, the Herald-Tribune reported.
Hoffman said officers from the Sarasota County Schools Police Department were at the meeting, not Sarasota County Sheriff's deputies, the paper said.
"The Sarasota County Sheriff's Office would never participate in preventing a citizen from expressing their First Amendment rights during public comment," Hoffman said, according to the Herald-Tribune. "As your sheriff, I don't condone tax-paying citizens being silenced."
4-22-22: Statement from Sheriff Kurt A. Hoffmanyoutu.be