What happened?

During the State of the Union address Tuesday, 16-year-old CJ Pearson on Twitter referred to U.S. Rep. Nydia Velazquez of New York as "the woman next to" fellow Democratic U.S. Rep. Alexandria Ocasio-Cortez, saying Velazquez "keeps trying to look the other way" while Ocasio-Cortez "has been talking this entire speech."
Here's a shot of Velasquez sitting to Ocasio-Cortez's right during the SOTU: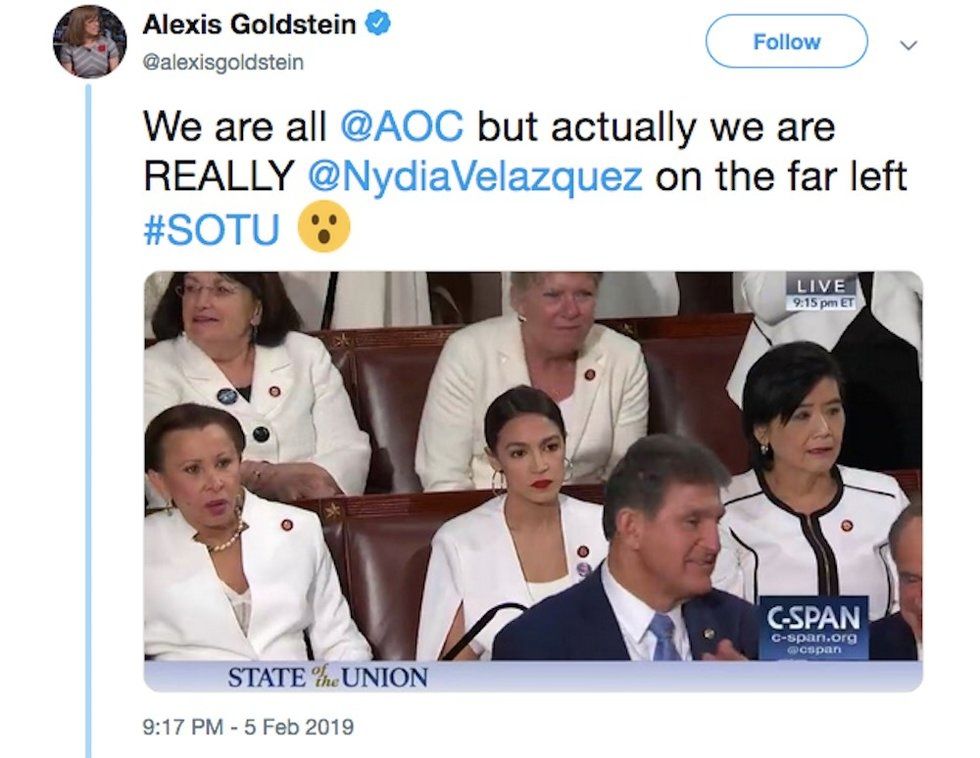 Image source: Twitter screenshot
Velasquez didn't take too kindly to the kid's characterization and fired back a rather blustery response:
"Hi [CJ Pearson], I'm not 'the woman sitting next to her,'" Velazquez said. "[Ocasio-Cortez] and I — and millions like us — are the future of this country. And you're right to be afraid of us. But you should learn my name."
What was the reaction?

Velasquez's tweet was inundated with 22,000 replies as of Thursday morning compared to over 7,800 likes — a typically negative sign known as being "ratioed" on the social media platform.
Among those commenting on her tweet was conservative strategist Chris Barron, who posed an interesting reverse scenario:
Also weighing in was conservative speaker and interviewer Dave Rubin, who called Velasquez's words a threat:
Others had similar reactions:
"What's truly sad and scary is that a politician says we should be afraid!"
"An elected official telling a citizen they should be afraid of the government. Imagine that."
"Perhaps you would like to clarify what, exactly, the young man should fear from his elected representatives?"
"Oh, we learned your name. We remember those that threaten us. Just know I and millions like me aren't afraid of anyone who works for us. You included."
"This is an elected member of Congress telling us we should be AFRAID of her. This is how dictators think, folks: The government doesn't serve the people, the people bow down & live in fear of the gov. Don't take them lightly...they are potentially very dangerous."
"This boy @thecjpearson is also the future of this country. The future of the country isn't women, nor is the future of the country men. It is all of us, and nothing else."
"The fact that you're telling people they should be afraid of their elected officials is reason enough to prove just how important 2A is."
What did the student say?
Not surprisingly, Pearson was unrepentant for his tweet and told Velasquez so.
"I'm sorry if I bruised your ego but genuinely, I really don't know you are," he tweeted back at her. "Do less tweeting and more work, Congresswoman. Maybe, then, more Americans will know your name. Be blessed."
He added a few more zingers for good measure:
The Daily Caller said it reached out to Velazquez's office for comment but did not receive a response at the time of publication.