© 2023 Blaze Media LLC. All rights reserved.
'Inappropriate to subsidize political activism': DeSantis speaks out after nixing funds for Tampa Bay Rays facility days after team posted anti-gun rant
Florida Gov. Ron DeSantis answered questions on Friday about his decision to veto funds for a Pasco County baseball practice facility slated to be used by the Tampa Bay Rays, saying, in part, that it's "inappropriate to subsidize political activism."
The veto garnered national headlines this week as many perceived the governor's move to be a retaliatory action against the Major League Baseball franchise. Only days before the veto, the Rays loudly pushed for new gun control legislation on social media in response to recent mass shootings in Buffalo, N.Y, and Uvalde, Texas.
DeSantis, a staunch supporter of the Second Amendment, told reporters in a press conference Friday afternoon that despite his disagreement with the organization over gun laws, he blocked government money for the facility because he fundamentally opposes public funding of sports stadiums.
"I don't support giving taxpayer dollars to professional sports stadiums, period," the governor said. "So at the end of the day, that was just the decision that was going to be made."
But then the governor offered some further clarification on his decision, indicating that the Rays' anti-gun tirade may have also played a part in the veto — a decision that will certainly land well with his base of supporters.
\u201c\u201cIt\u2019s inappropriate to ... subsidize political activism of a private corporation.\u201d\n\n\u2014 Gov. Ron DeSantis (R-FL) defends vetoing funds for a Tampa Bay Rays practice facility after the team tweeted about gun control\u201d

— The Recount (@The Recount) 1654271789
"Now, companies are free to engage or not engage with whatever discourse they want. But, clearly, it's inappropriate to be doing tax dollars for professional sports stadiums," the governor said, adding, "It's also inappropriate to subsidize political activism of a private corporation."
"So, either way it's not appropriate," he said.
DeSantis has developed a reputation for fighting woke organizations that push their radical beliefs on Florida residents.
Earlier this year, he took action against Disney over its public opposition to the Parental Rights in Education bill, stripping the entertainment behemoth of its self-governing privileges and special tax status in the state, which it enjoyed for 55 years.
The Rays appeared to put itself directly in the governor's line of sight last week when it issued a statement demanding that Congress to pass stricter gun control legislation and announcing a $50,000 gift to Everytown for Gun Safety's support fund.
"This cannot become normal. We cannot become numb. We cannot look the other way. We all know, if nothing changes, nothing changes," the team said.
It would also go on to live-tweet coverage of its May 26 matchup against the Yankees by posting several tweets about the impacts of gun violence.
In a tweet following news of the veto in light of the Rays' anti-gun messaging, Newsweek opinion editor Josh Hammer said, "[Ron DeSantis] is the most dynamic conservative elected official in America — the one who most clearly 'gets' our current moment — and it is not a particularly close call."
"The beauty of this move partially lies in the fact that, much like Disney with Disney World, a professional sports franchise represents a pretty fixed hard asset. It's not the kind of thing you can easily pick up and move. So like Disney, the Rays will sit there and take it," Hammer added.
Perhaps tipping the governor's hand, DeSantis spokeswoman Christina Pushaw retweeted the Hammer's post.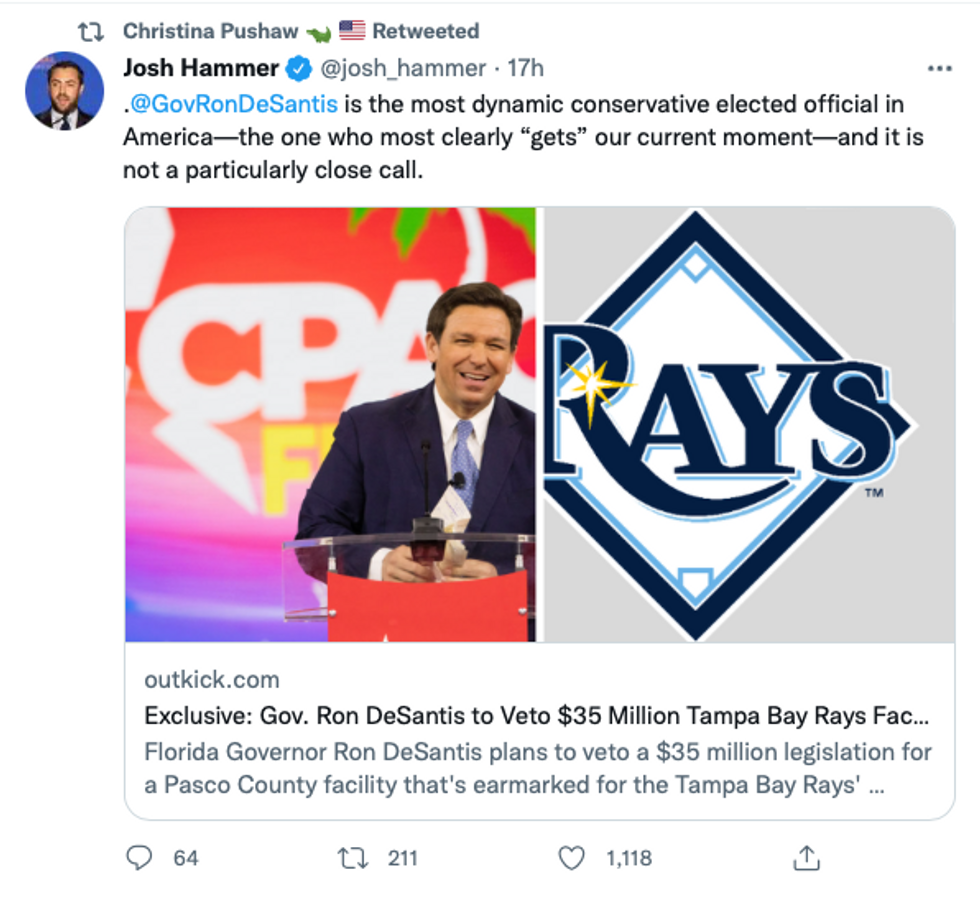 Image Source: Twitter screenshot
You can watch the full segment of DeSantis' remarks in the video below starting at the 59-minute mark.
Watch Live: Gov. DeSantis speaks in Orlandowww.youtube.com
Want to leave a tip?
We answer to you. Help keep our content free of advertisers and big tech censorship by leaving a tip today.
more stories
Sign up for the Blaze newsletter
By signing up, you agree to our
Privacy Policy
and
Terms of Use
, and agree to receive content that may sometimes include advertisements. You may opt out at any time.