© 2023 Blaze Media LLC. All rights reserved.
Drag Story Hour NYC — which sends drag queens into public schools — got over $200,000 from taxpayers since 2018: Report
Drag Story Hour NYC — a nonprofit that sends drag queens into public schools — received $207,000 from taxpayers since 2018, the New York Post reported.
What are the details?
The total dollar amount includes $50,000 from New York State through its Council on the Arts and $157,000 from the city's Departments of Education, Cultural Affairs, Youth and Community Development, and the Department of Transportation, the paper said, citing city data shows.
The Post added that the outfit — previously known as Drag Queen Story Hour NYC before removing "Queen" from its moniker early this year — last month alone earned $46,000 from New York City contracts for appearances at public schools, street festivals, and libraries, according to city records.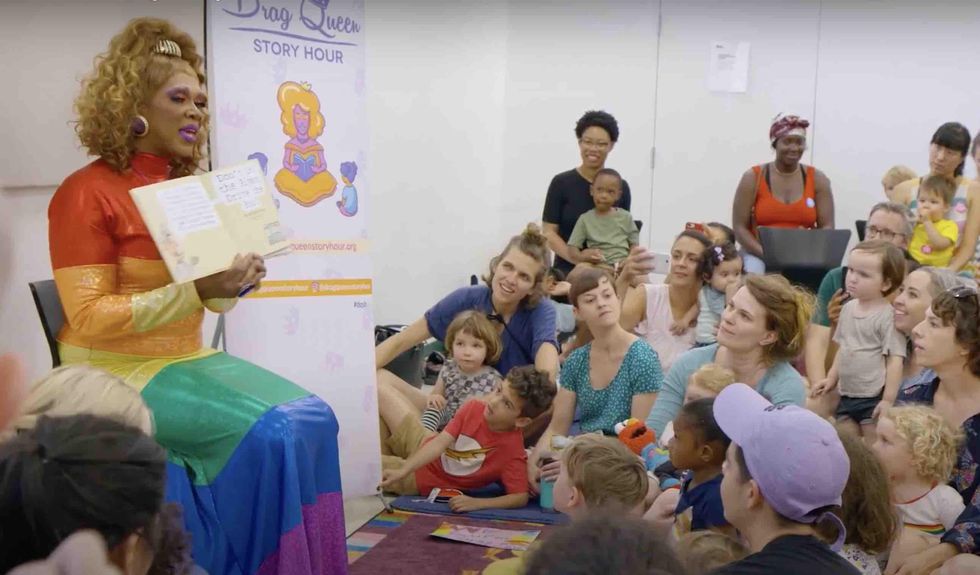 Image source: YouTube screenshot
"So far in 2022, we've produced 49 Drag Story Hour programs for 34 individual public schools and special needs schools in English, Spanish, and Cantonese," the group's website says. "In May, we launched Reading with Royalty, our new middle grade and YA book discussion program for middle and high school students, with discussion questions on five of our favorite queer middle grade and YA books."
State Assembly candidate Helen Qiu — whose 11-year-old son attends a Manhattan public middle school — told the Post she's "shocked" by it all: "I would be furious if he was exposed without my consent. This is not part of the curriculum."
Republican city council member Vickie Paladino of Queens added to the paper she's "considering pulling funding to any school in my district that is implementing Drag Queen Story Hour. We are taking hundreds of thousands of dollars out of the pockets of hardworking New York taxpayers … to fund a program teaching little children about their gender fluidity? Not. On. My. Watch."
The Post said city council members allocated most of the money from their discretionary budgets, setting aside $80,000 for the group in the current fiscal year — which more than triples the $25,000 budgeted in 2020.
Drag Story Hour NYC presentations, which began in public libraries in 2017, added new elements in conjunction with the expansion into New York City schools, the paper said, citing the group's social media posts.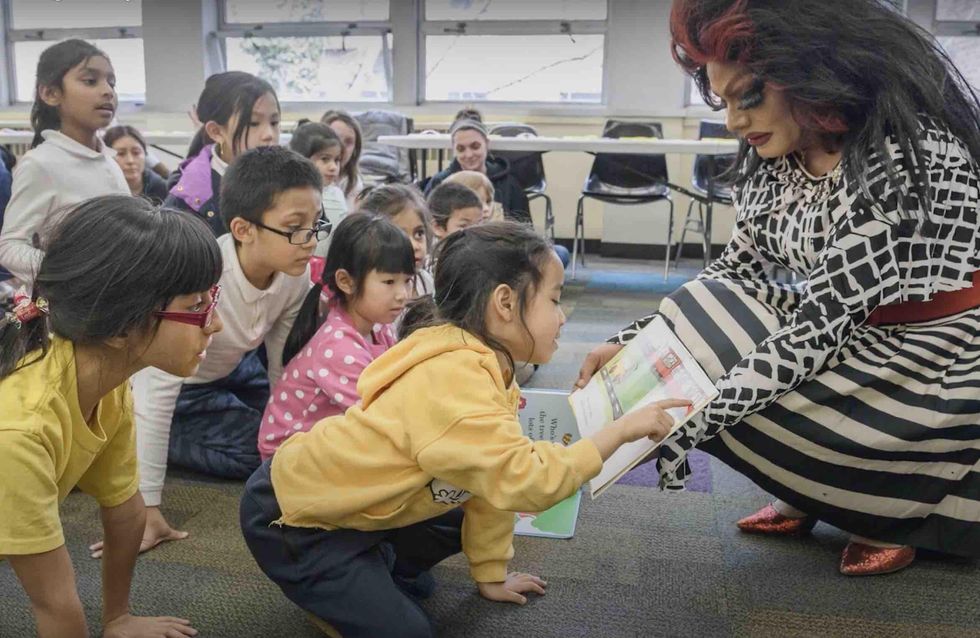 Image source: YouTube screenshot
The Post said Harmonica Sunbeam in April "wore a slinky gown to meet with kindergarteners at STAR Academy in Manhattan and color pages from 'The Dragtivity Book,' which encourages kids to choose their pronouns and invent drag names."
The paper added that Bella Noche "wore a scanty mermaid-like bra getup to travel with 2nd graders from Manhattan's PS 34 on a May field trip, and Flame taught middle schoolers 'of all genders' how to apply drag eye makeup at MS 88 in Park Slope."
Less than an hour after the Post called Drag Story Hour NYC for comment Friday, some school-related posts disappeared from the internet, the paper noted, adding that one deleted photo showed Professor Lionel Longlegs wearing a T-shirt with "I Don't Want to Look or Be Cis" while performing for primary-grade kids.
How are parents reacting?
Some city parents told the Post they're in favor of drag queens visiting schools.
"I'm glad to see all types of people included in what students are exposed to and learn in class," 40-year-old Kristen Williams, whose 11-year-old daughter attends an East Village middle school, told the paper.
However, 26-year-old Storm Neverson told the Post she was concerned about her girls — ages 9 and 6 — being exposed to drag queens at STAR Academy.
"If they were in junior high school or middle school, I would be okay with that because I feel like they would have a little bit more understanding," Neverson noted to the paper. "At this time, the kids were just a little too young."
STAR Academy parents were told of the in-school drag session ahead of time, Neverson told the Post, but parents couldn't opt their kids out of it.
"It was mostly just like a heads up, you know, like, 'Hey, this event is coming up. We're gonna have these people come in.' And that was that," she added to the paper.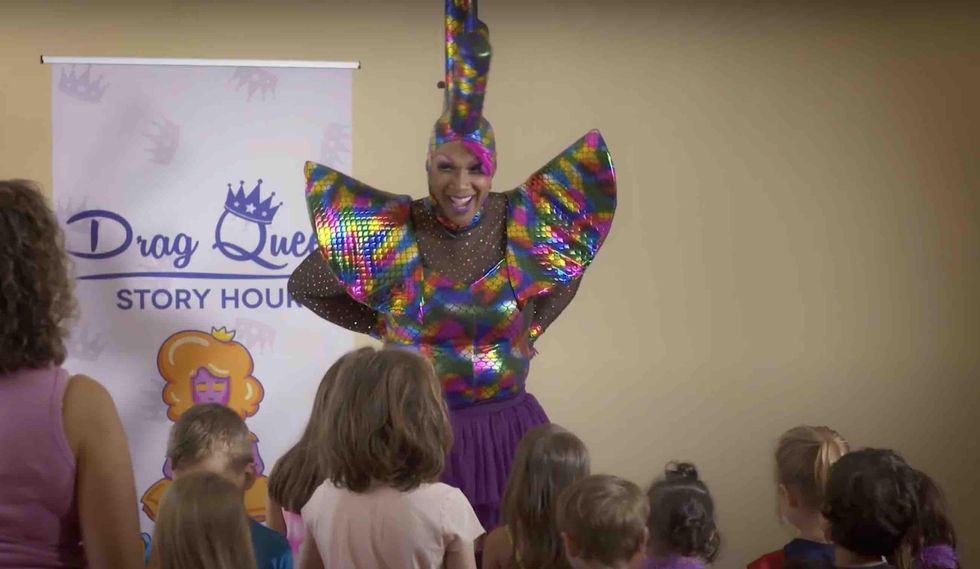 Image source: YouTube screenshot
At other schools, parents weren't informed at all, the Post said.
"I didn't get any notice," Reese Harrington, a parent at PS 191, revealed to the paper. "My daughter actually came home and told me that a drag queen came to the school … I feel like it would have been better for that conversation to happen at home."
Elana Fishbein, founder and president of conservative group No Left Turn in Education, told the Post that New York City's move to allow drag performers in public schools is an "abuse of authority for the purpose of sexualizing children."
What did the city's Department of Education have to say?
The paper said the city's Department of Education didn't respond specifically to its questions about parental notification and refused to say if drag queens must pass background checks. But the Post said the DOE defended the program as "life saving."
"Last year, 50 transgender or gender-nonconforming people were killed in the United States due to their identity," DOE spokeswoman Suzan Sumer told the paper. "We believe our schools play a critical role in helping young people learn about and respect people who may be different from them."
What Is Drag Story Hour NYC?youtu.be
Want to leave a tip?
We answer to you. Help keep our content free of advertisers and big tech censorship by leaving a tip today.
Sr. Editor, News
Dave Urbanski is a senior editor for Blaze News.
DaveVUrbanski
more stories
Sign up for the Blaze newsletter
By signing up, you agree to our
Privacy Policy
and
Terms of Use
, and agree to receive content that may sometimes include advertisements. You may opt out at any time.