A drag queen who's an Alabama middle school teacher added sexual innuendo during a recent Drag Queen Story Time at a dog shelter, telling the audience in off-the-cuff moments that "everybody loves a big bone" and "all men have meat on the brain."
What are the details?
James Miller — a teacher at Mountain Gap Middle School in Huntsville — operates the Facebook page "Madge D. Ivine (Miss Majesty Divine)," where he "frequently posts pictures of himself attending drag events such as Drag Queen Story Time," Fox News reported.
He apparently also has a TikTok page.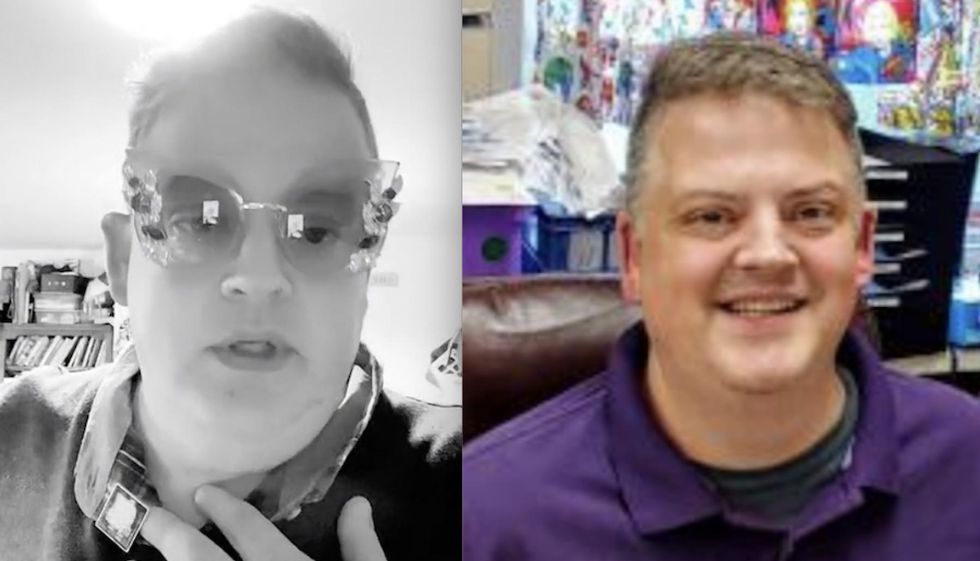 Image source: TikTok video screenshot via Madge D. Ivine @dragqueenmafia (left); Huntsville City Schools (right)
As of Thursday morning, the Facebook page in question contains only one photo of an individual in drag and indicates the user is from Heidelberg, Germany. But the individual in the Facebook image matches an individual featured in several videos on the TikTok page.
Libs of TikTok first reported about Miller, noting that he appeared as Miss Majesty Divine at a Sept. 24 Drag Queen Story Time at Hard Knocks Rescue & Training, Inc. — an animal shelter in Huntsville — and that the reading was livestreamed and posted to the Hard Knocks Facebook page.
Video shows Miller reading a passage from a children's book about a dog finding a bone in the sand; after he reads "and it's a big one" from the text, Miller quickly adds a comment of his own: "Everybody loves a big bone."
Toward the end of the livestream, he tells a male mutt — which apparently was hungry for a hot dog — that "all men have meat on the brain." Immediately after that suggestive remark, Miller asked, "We're not still live, are we? Oh, we are."
TheBlaze has reportedextensively on drag queen story hours, which are geared toward children and typically take place in libraries. Video showed at least one child in the audience at the dog shelter drag queen event.
What happened next?
Libs of TikTok posted its story Wednesday, noting that it reached out to "the school and the superintendent requesting comments about Mr. Miller's disturbing behavior as well as some questionable public social media posts and received no response."
Fox News Digital also said it reached out to Miller and the school for comment. Mountain Gap Middle School is part of the Huntsville City Schools district.
A few hours after the Libs of TikTok story went live, Miller posted a video on TikTok addressing the issue, saying the conservative outlet "doxxed" him and is "attacking all my school's websites and the board's websites. I really have no comment for anybody, so people need to stop askin'." He added that Libs of TikTok "gave my principal the 'or else' and made a threat ..."