Drag queens showed up at an Arizona school board meeting earlier this week in support of a student-led drag show set for Saturday at a high school.
What are the details?
KVOA-TV reported that during the Tucson Unified School District board meeting Tuesday night, dozens of parents and students spoke out in support of the drag show at Tucson High School.
One drag queen who spoke looked vaguely demonic, sporting what appeared to be long claws, bug antennae, and a necklace with purple baby doll parts.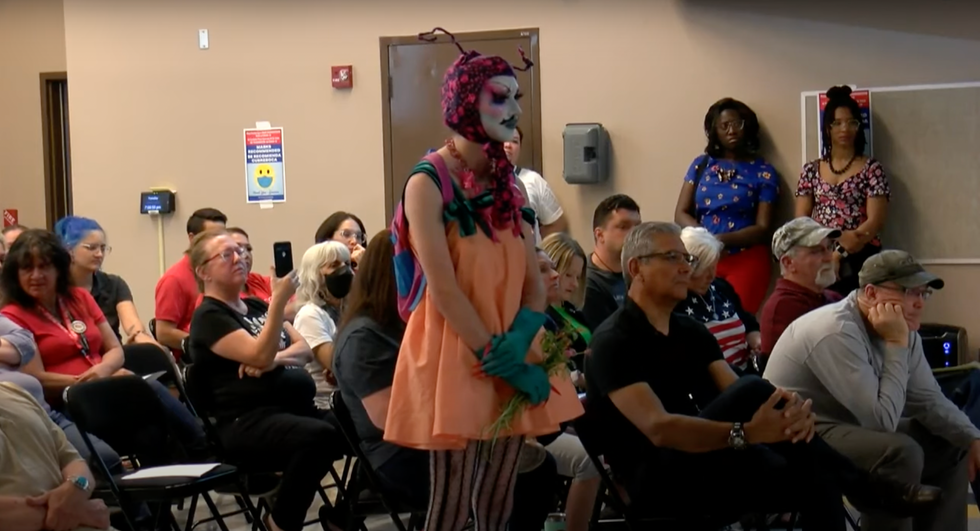 Image source: YouTube screenshot
The drag queen stood at a podium turned sideways and appeared to mostly speak to audience members instead of the school board members: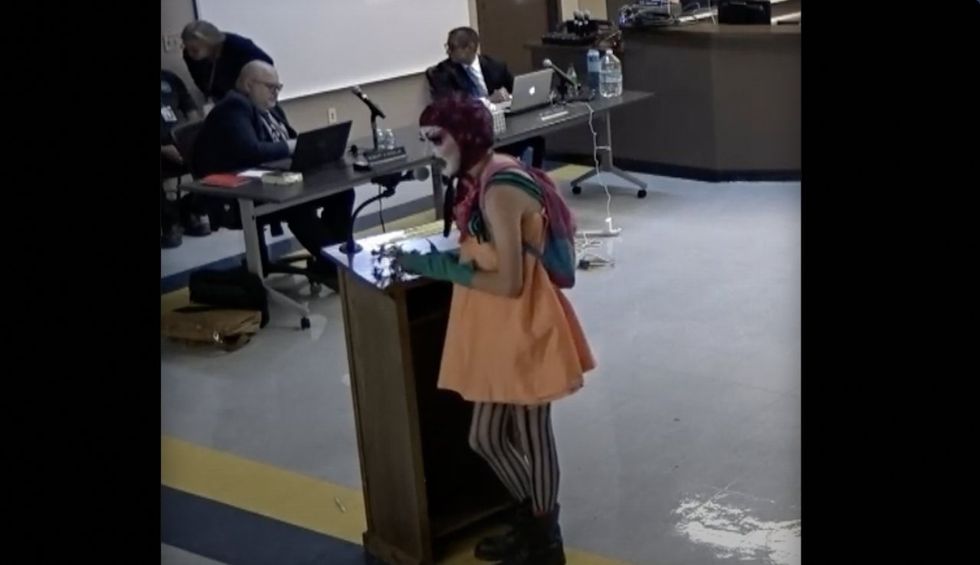 Image source: YouTube screenshot
The drag queen had quite a bit to say:
I was an elementary, middle, and high school student at TUSD, and ... I began doing drag in middle school. I was not coerced in any way to do so ... it was all my choice. And by doing drag, that saved my life. I faced transphobia and homophobia every day at school. It was horrible, and if I did not have drag in my life, I don't know where I would be. Drag saves lives! And we need to make a stance that we understand that, that we know that this is an art form like any other, and through art we can change lives, we can save lives, and by making a stance we show all queer people that we love and care about them. By opposing drag in school, you are opposing trans people, you are opposing queer people of all kinds, and you are showing us that you do not care about us.
At that point it appeared that an audience member interjected, but the drag queen answered back, "It absolutely is true." The conversation appeared to continue as the drag queen added, "If you care about me, then you should understand that this is what we need." As the crowd cheered, the drag queen continued, "You should understand that this is exactly what saved my life. Do you understand? Drag saved my life."
After another apparent comment from the audience, the drag queen asked, "What do you suppose I could have done with my life other than this? This is my art, this my world, this is everything to me. It may seem silly to you. I'm a clown, I'm a clown. It looks silly, it sure does. But this is my everything."
Here's the clip of the drag queen's address:
TUSD1- Governing Board meeting 4.25.23youtu.be
What else?
KVOA said Saturday's event would be the second annual drag show on the high school campus.
Another speaker was Tucson High School senior Adrian Molina — one of the lead organizers of the show and a member of the extracurricular club Q-Space, the station said. Molina plans to participate in the drag show, KVOA said.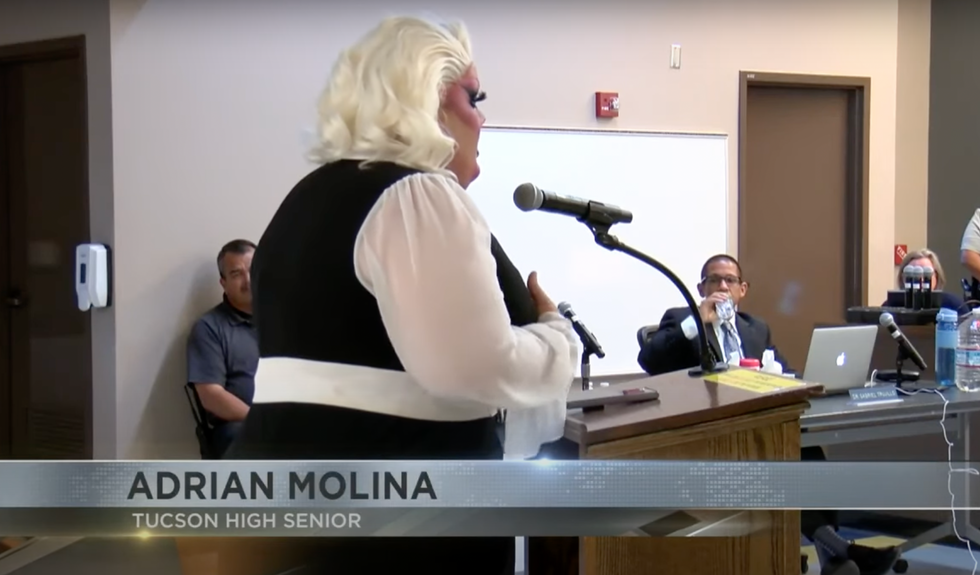 Image source: YouTube screenshot
"It's nothing bad, it's nothing harmful," Molina said during the meeting, according to the station. "It just allows, it has allowed me personally to express parts of myself that I have never been able to express. It has made me explore myself and grow more as a person."
Student Jaye Kandzerski added, "We started this club to have a safe space to be able to learn and grow about our history and our community together, and we plan the drag shows as a way to express ourselves through art," KVOA said.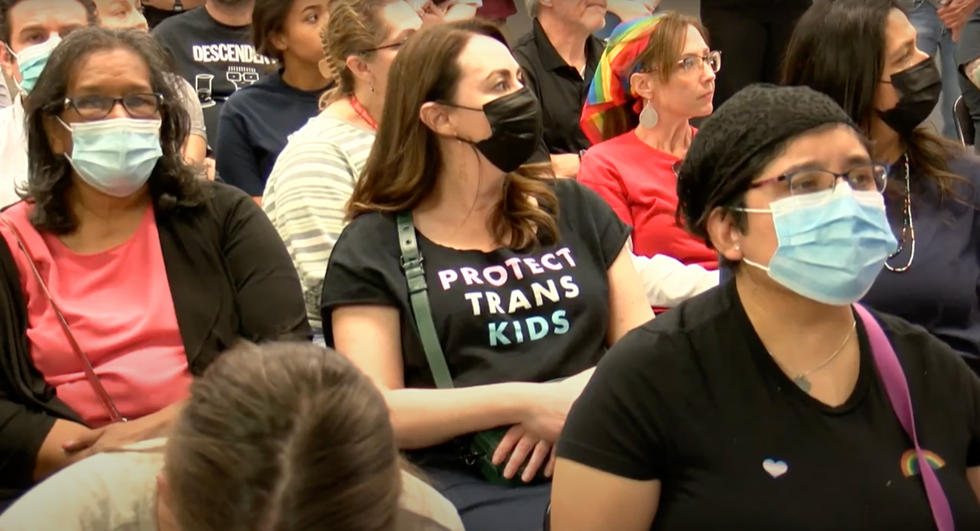 Image source: YouTube screenshot
The station added that while most meeting attendees supported the drag show, a few parents did not.
"I'm just absolutely opposed to tax dollars being used to open up a school on a weekend for an activity like this," one parent said, according to KVOA. "This is not a school event. It's a personal whatever, and they can do it wherever they want to."
A woman clearly against the event turned to face the drag show supporters and said sharply, "We are the adults, and you are the children! Children can embrace their gender confusion without the drag shows!"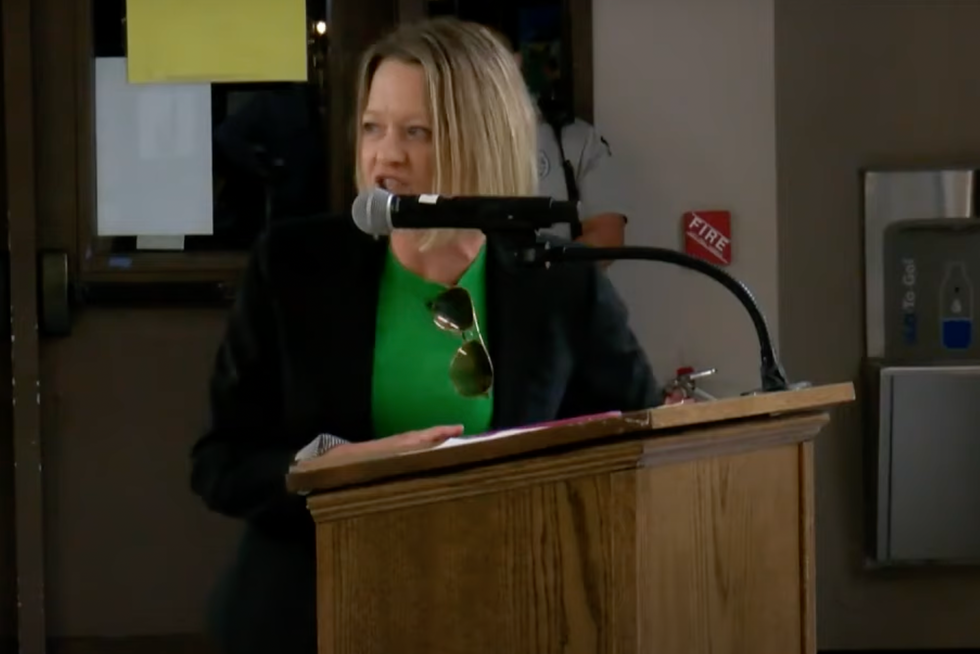 Image source: YouTube screenshot
Anything else?
Board President Dr. Ravi Shah told the station he supports students freely expressing themselves in this way — and that he will be in the drag show audience.
"A drag performance is different in a different setting. It's very different in a late night bar, club, compared to what we will expect from our high school performers," Shah said, according to KVOA. "Keep an open mind and support our students. Our goal is to create safe environments to exercise their rights and freedoms to express themselves."
The station added that the drag show does not need school board approval.
Drag show involving students at TUSD set for weekend was hot topic in school board meeting Wednesdayyoutu.be
Like Blaze News? Bypass the censors, sign up for our newsletters, and get stories like this direct to your inbox. Sign up here!