New York City Mayor Eric Adams has thrown his support behind deli worker Jose Alba, who was charged with murder after fatally stabbing an attacker last week in an incident caught on security video — and which a growing number of people are calling a clear case of self-defense.
What are the details?
"My heart goes out for this hard-working, honest New Yorker that was doing his job in his place of business, where a person came in and went behind the counter and attacked him," Adams said of Alba, the New York Post reported.
Adams on Thursday stood in front of the Bluemoon Convenient Store in Harlem, which is where the physical attack and subsequent stabbing took place, and addressed the controversy.
Motioning backward toward the deli, Adams said "... as I saw it from the video, I saw a worker here, inside the store, following the law, and he should not have not been approached in the manner that he was approached, and I think it's time for New Yorkers and Americans to start standing up for people who follow the law, and that's what I'm going to do."
Adams also said of Alba that "I saw him as a hard-working innocent New Yorker that a person went behind the counter and attacked," the Post reported.
Nevertheless Alba was sent to the notorious Rikers Island prison on $250,000 bail following his Saturday arrest.
What's the background?
A woman tried to use a benefits card to buy potato chips for her 10-year-old daughter around 11 p.m. Friday at the deli on Broadway near West 139th Street, the New York Daily News reported.
The transaction was declined, the Daily News said, citing the criminal complaint.
Amid an argument, prosecutors said Alba reached over the counter, grabbed the girl's hand, and yanked the chips away, the paper reported.
Alba's boss — deli owner Maad Ahmad — told the Daily News the mom became enraged: "The lady threw everything from the counter and the [benefits card reader] machine, too. She said, 'I'm going to get my man, and he's going to get you.'"
The mother then came back inside the deli with Austin Simon, who got behind the store's counter to confront Alba, the paper said.
Security video shows Simon shoving Alba into product shelves, after which Alba — sporting a baseball cap, glasses, and a white mustache and beard — appears to slide down the shelves into a seated position. Alba is 61 years old, according to the Manhattan District Attorney's Office.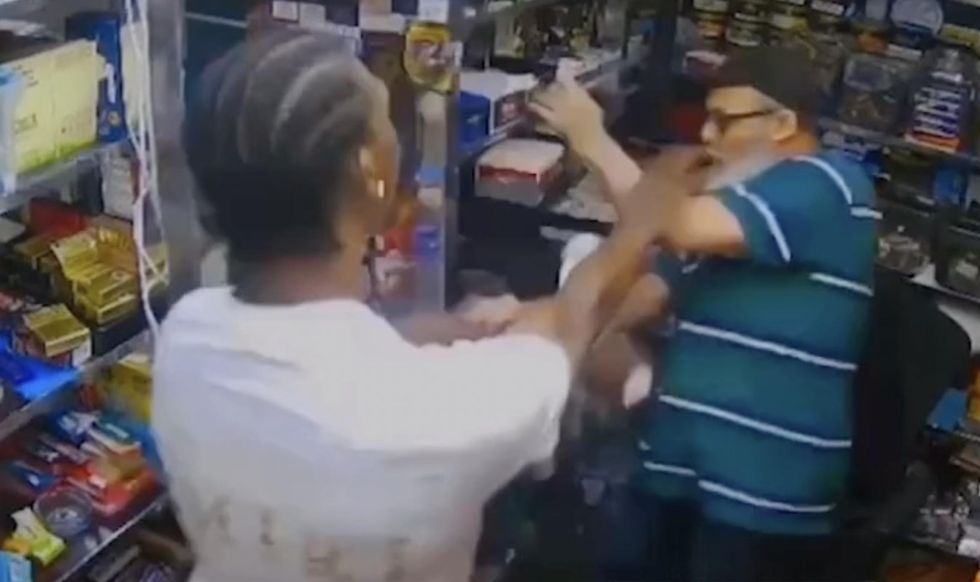 Image source: TeaTenders video screenshot
The Daily News said Simon actually shoved Alba hard into a chair that hit the merchandise shelves.
"Jose said ... 'I don't want any problems,'" deli owner Ahmad recounted to the paper.
Simon then grabs Alba by the neck, pulls him up, and begins to walk him out of the area behind the counter.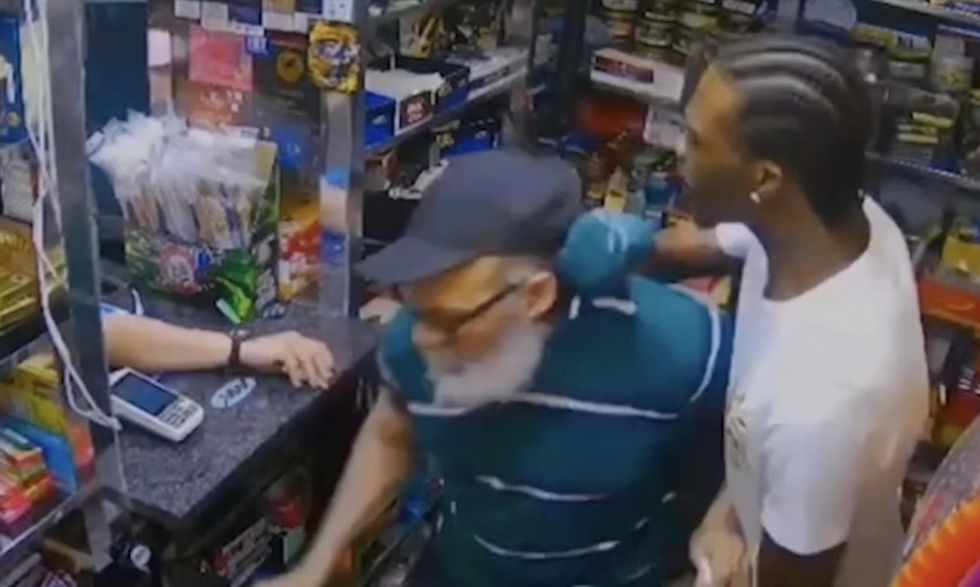 Image source: TeaTenders video screenshot
With that, Alba grabs a knife that the paper said was stashed behind the counter and starts fighting back.
"He wanted me to come apologize to the girl," Alba told a New York City police detective, according to the Daily News. "I took the knife we use to open boxes, and I stabbed him."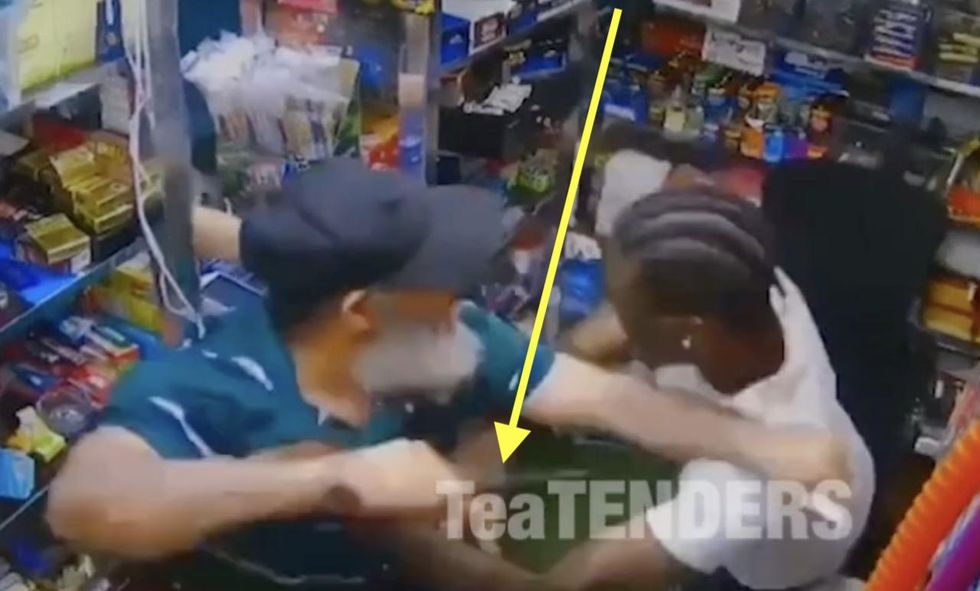 Image source: TeaTenders video screenshot
Deli owner Ahmad added to the paper that Simon "pushed Jose first. Jose was just defending himself."
The Daily News said Alba stabbed Simon at least five times in the neck and chest.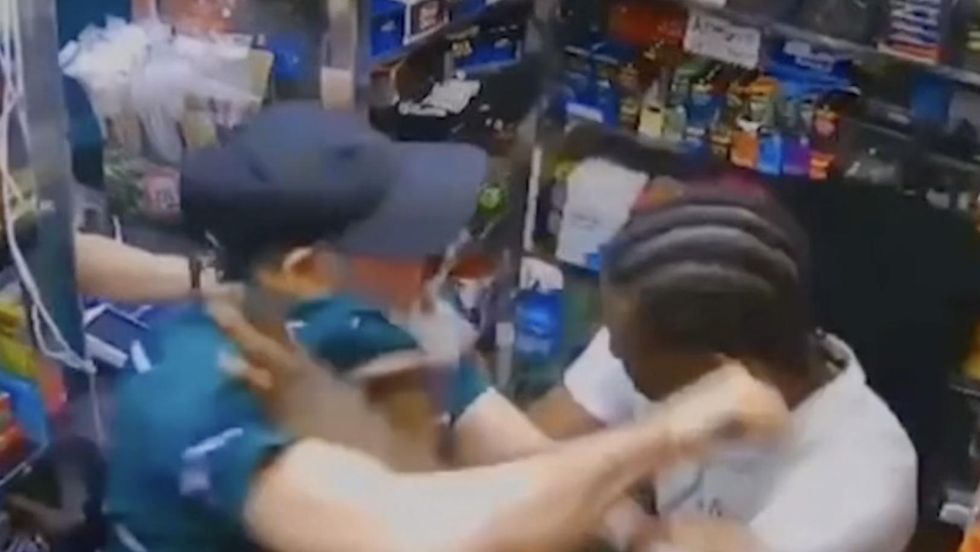 Image source: TeaTenders video screenshot
The paper — citing the criminal complaint — added that Simon's girlfriend grabbed a knife from her purse and stabbed Alba in the arm.
Video shows Alba checking out what appears to be stab wound on his bloody left arm.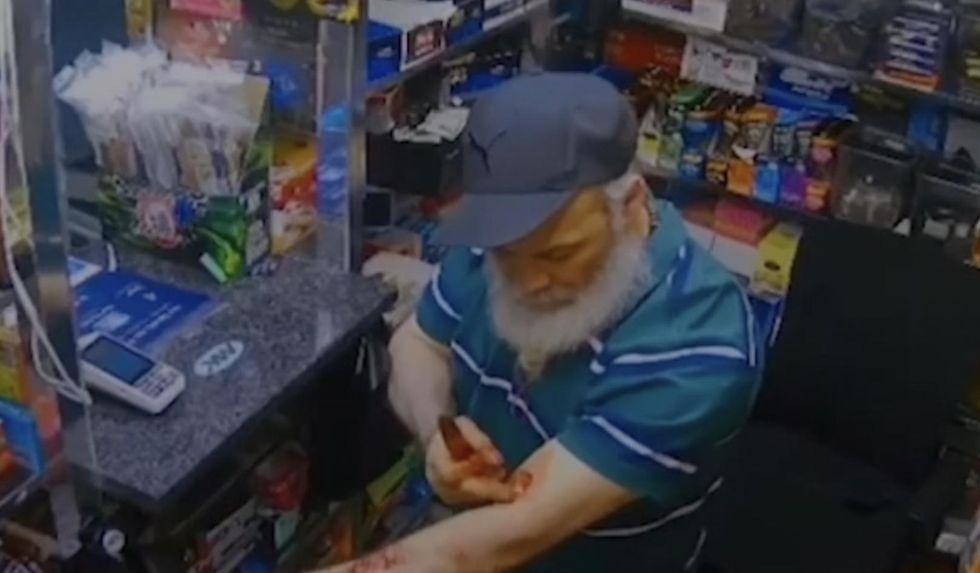 Image source: TeaTenders video screenshot
"Isn't she being charged, too?" deli owner Ahmad wondered, according to the Daily News, which added that police confirmed only Alba was arrested.
Here's security video of the fight. Content warning: Graphic video.
EMS crews took Simon to Harlem Hospital where he was pronounced dead, WNBC-TV reported. Simon was 35 years old, according to the Manhattan District Attorney's Office.
Alba was arraigned Saturday on a second-degree murder charge, the Daily News said. He also was charged with criminal possession of a weapon, police told WNBC, adding that Alba is due back in court Thursday.
The Daily News said a spokesman for the office of Manhattan District Attorney Alvin Bragg didn't say why Alba wasn't charged with a lesser offense given video showing Simon acting aggressively.
Mayor won't 'second-guess' DA
Adams, despite his support for Alba, said he's "not going to second-guess the district attorney for his actions," the Post reported.
"The DA has a non-mandate, where we cannot dictate or mandate how he determines how he's going to prosecute crimes," the mayor, a retired NYPD captain, added to the paper. "That is up to the district attorney."
The Post said Bragg faced backlash over his office's actions against Alba.
A Bragg spokesman told the Post on Wednesday that "we are continuing to review the evidence, and the investigation is ongoing."
Simon was on parole after serving time for assaulting a cop
A separate Post story reported that Simon was on parole at the time of last week's deadly incident for assaulting a cop. State corrections records show Simon served prison time on a second-degree assault conviction for attacking the officer before he was paroled last year, the Post added.
In addition, the paper — citing sources and records — said Simon was busted at least eight times on charges ranging from assault, robbery, and assault during a domestic dispute.
GoFundMe page removed
Alba's relatives launched a GoFundMe page to help raise money to cover his bail and what may prove to be enormous legal fees, but the Post said the GoFundMe page "was mysteriously removed Wednesday night."
The Post said GoFundMe didn't immediately respond to its request for comment Thursday, adding that the Daily Mail said $20,000 already had been raised for Alba.
Lawyers weigh in
Two lawyers told the Daily News that the case against Alba is far from a sure thing.
"Did he go overboard? Some people will say no," defense lawyer and law professor Hermann Walz told the paper. "Are 12 people going to say this guy's a murderer? I don't think so."
Criminal attorney Dmitry Shakhnevich added to the Daily News that Alba's testimony could decide the case: "Will the defendant be able to testify that this person did something, acted in some way ... that necessitated a response with equal force? That will be the question."
In addition, former prosecutor and criminal defense attorney Michael Discioarro told the Post "there is no clearer example of self-defense" in regard to Alba's actions.
"He's at work, minding his own business, and he is attacked," Discioarro added to the paper. "He is the victim, and he's sitting in Rikers."
This story has been updated to reflect that Simon was 35 years old and Alba is 61 years old.