Washington State University is promoting the notion that farmers markets and food charities exude "white supremacy," and perpetuate "white dominant culture," conservative radio host Jason Rantz reported for KTTH-AM.
Say what?
Rantz wrote that the agriculture program coordinator for WSU's San Juan County Extension Ag Program promoted a webinar: "Examining Whiteness in Food Systems."
He said attendees learned that "white supremacy culture" creates food insecurity by "center[ing] whiteness across the food system" — and that "whiteness defines foods as either good or bad."
The webinar was originally produced by Duke University, and featured a pair of speakers from WSU's 2021 San Juan Islands Ag Summit on the same topic, Rantz wrote.
More from his KTTH piece:
Jennifer Zuckerman of the Duke World Food Policy Center led the discussion. She framed the webinar around her identity as a white woman who has "benefited from whiteness for my entire life at the expense of other people." With that in mind, she explored the "really specific ways in which whiteness shows up in the food system and particularly in the work of food insecurity."

Promoting the belief that "whiteness permeates the food system" and that "it specifically articulates these white ideals of health and nutrition," Zuckerman chided the "whitened dreams of farming and gardening."

She took particular aim at farmers markets as being too white. She uses a quote from Rachel Slocum ("a preeminent researcher on whiteness and food") as a jumping-off point.

"What that does is it erases the past and present of race and agriculture. What whiteness also does is 'mobilizes funding to predominantly white organizations who then direct programming at nonwhite beneficiaries,'" she said. "And we'll talk about that a little bit more when we talk about communities that can't take care of themselves. Also, what this does is it creates inviting spaces for white people. Then program directors or farmers market directors are scrambling because they're trying to add diversity to a white space. So what whiteness does is center whiteness."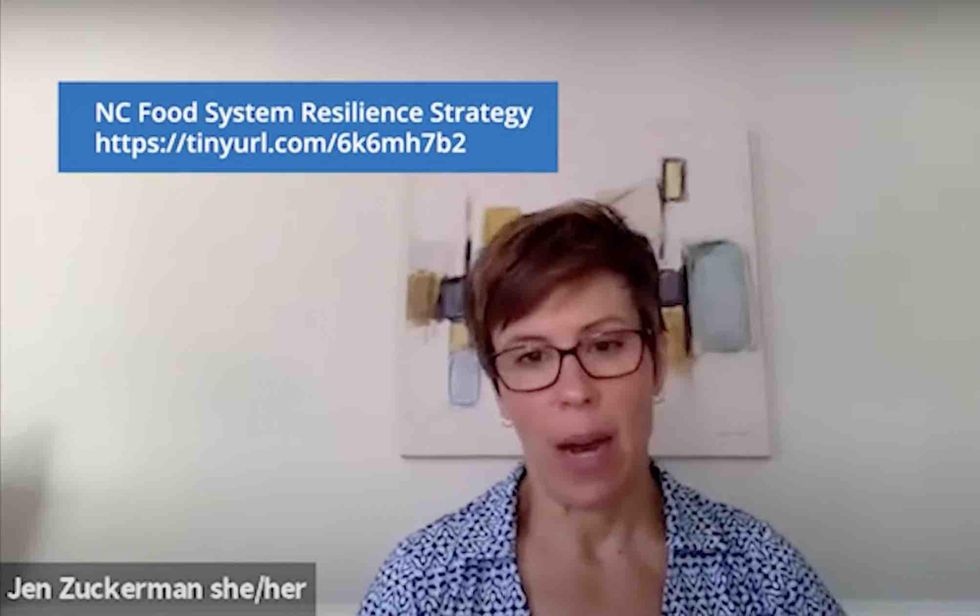 Image source: YouTube screenshot
Rantz also wrote that — according to Zuckerman — food charities also are a form of white supremacy.
Indeed, Zuckerman said the idea that "communities can't take care of themselves" represents a "belief that low-income and or [black, indigenous, persons of color] communities and individuals — and that's not necessarily one in the same — cannot provide or make decisions for themselves."
She added that it "makes the assumption that they need to be helped. And these assumptions are based in negative racial and class stereotypes. And they dictate who's given power and decision-making in food policy and programming. And then what happens, as a result, is that organizations prescribe solutions to the community without consulting them, assuming that they know better."
More from Rantz:
Luckily, these communities have a privileged white lady to tell them they don't need any help. She says the focus should not be about handing out food to help the hungry. Instead, the priority should be on "providing economic assistance, increasing wages, or providing direct capital for BIPOC owned food and agriculture businesses."

Ironically, white savior Zuckerman says food charity promotes "a savior mentality over mutual aid."

Zuckerman said she needed "to step back to de-center myself" as a privileged white person so that in-need people of color can speak. Yet she only gave the two women of color on the panel roughly 21 minutes between them.
Here's Rantz's excellent commentary on Zuckerman and the seminar:
Farmer's markets are... racist?youtu.be