One of the running gags on social media during the coronavirus lockdown has been parents (and kids) expressing frustration about being forced to homeschool. Parents have lamented — often with humor — their new jobs as their kids' teachers as distance learning has become the norm.
Certainly families can't wait for this homeschooling experiment to be over so they can send their little cherubs back to the government-run schools.
Not so fast.
A new poll from RealClear Opinion Research has news that our nation's powerful teachers unions likely are not going to appreciate.
More than 40% of families are say they're now more likely to take up homeschooling or virtual schooling once schools open again. And nearly two-thirds of Americans now say they support school choice that would allow tax money for their children's education to be spent to send their students to the public or private school of their choice.
President of the American Federation of Children John Schilling said in a statement on the organization's website that policymakers should be paying attention to what's going on with education during the COVID-19 crisis.
"Every single family with kids in school has been incredibly disrupted by the lockdowns. With 55 million students no longer in their normal educational setting, families are clearly considering new options and many are seeing the benefits of homeschooling and virtual schooling," he said. "Policymakers should note that there is a strong desire to have these and other educational options available to families.
"Millions of families are seeing the inadequacies of school districts that are too inflexible," Schilling continued. "We owe it to our nation's families and students to give them more flexibility and additional educational options."
For Schilling, it's not just a question of parental rights, but also of fiscal responsibility for the government.
"Moreover, policymakers owe it to the taxpayers who are footing the $800 billion K-12 education bill to maximize their investment by ensuring every child has access to a quality education and outcomes are improved across the board," he said.
Homeschooling support
According to the survey, 40.8% of American families said they are more likely to homeschool or virtual school after the lockdowns are over. Only 31.1% of families said they were less likely to do so.
Broken down by age group, younger Americans (18-34) were the most likely to say they're more favorable to homeschooling than they were before the lockdown.
Democrats (45.7%) were slightly more likely than Republicans (42.3%) to say homeschooling is an increasingly possible option for their kids once the lockdowns conclude.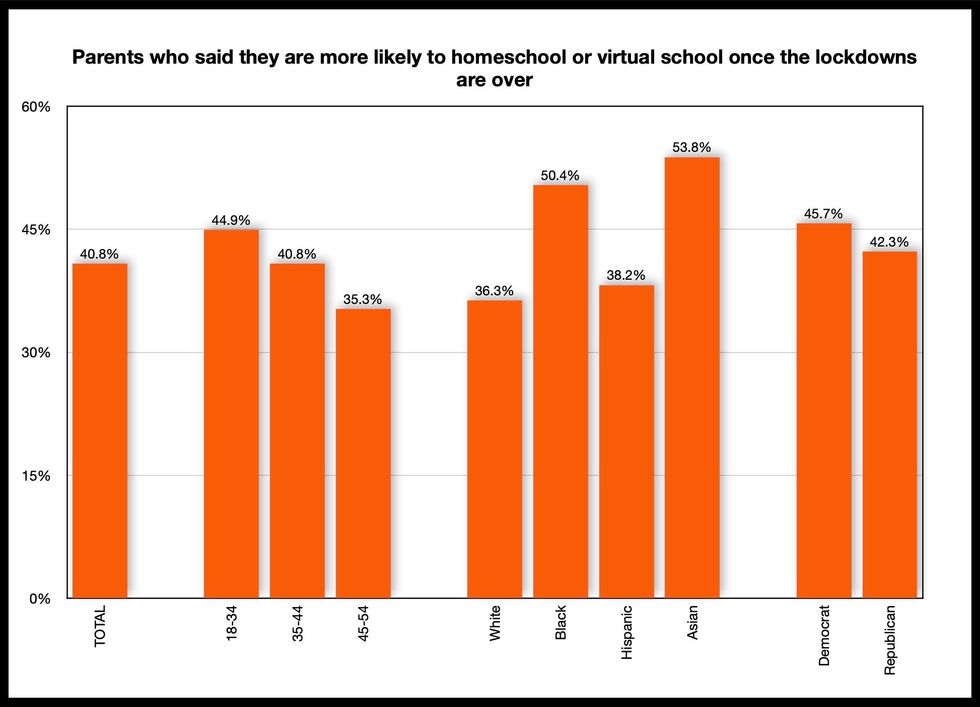 TheBlaze chart created from RealClear Opinions Research polling data
School choice support

The RealClear poll asked 2,122 registered voters, "School choice gives parents the right to use the tax dollars designated for their child's education to send their child to the public or private school which best serves their needs. Generally speaking, would you say you support or oppose the concept of school choice?"
The data revealed that 64% of Americans say they support the concept of school choice.
As with the homeschooling question, younger voters (18-34) were the most likely to say they support school choice.
Broken down by party, Republicans (75.2%) were significantly more likely than Democrats (59%) to back school choice.
The poll also noted that 67.7% of people with kids in public school said they support school choice.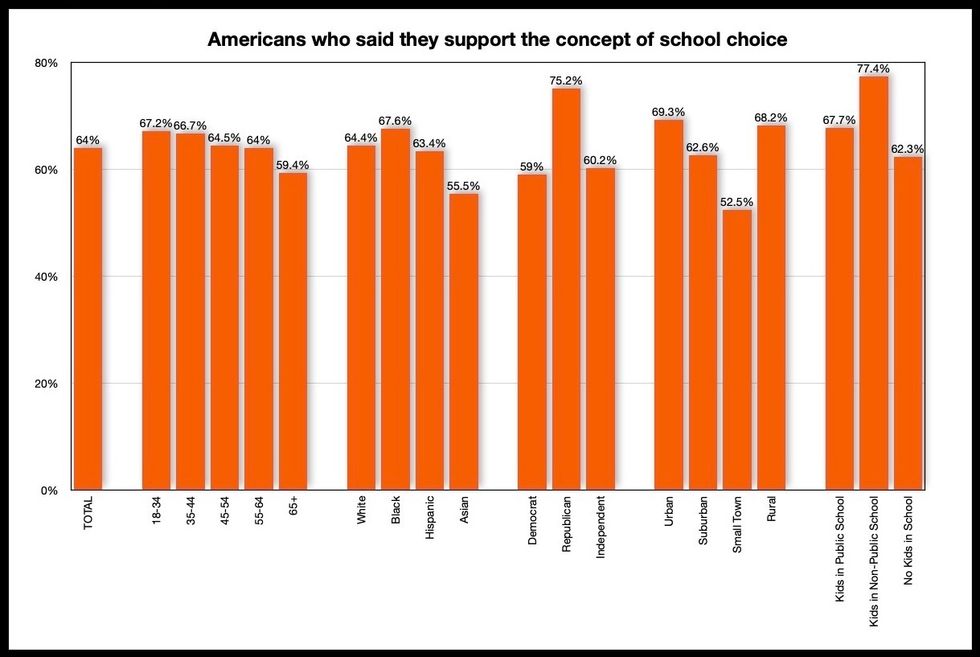 TheBlaze chart created from RealClear Opinions Research polling data