© 2023 Blaze Media LLC. All rights reserved.
National park officials quietly remove climate change alarmist signs after cold winters sink narrative
Colder-than-normal winters and above average snowfall
While progressive continue to perpetuate the claim that climate change poses an existential threat to humanity, alarming visitor center signs at one of America's most iconic national parks warning of climate change's consequences have been quietly removed.
What happened?
Officials at Glacier National Park in northern Montana have quietly removed visitor center signs claiming the park's prominent glaciers would be gone by 2020 or 2030 due to climate change.
The Daily Caller News Foundation reported that the updated signs now say: "When they completely disappear, however, will depend on how and when we act."
According to climate change blog "Watts Up With That," which first reported the sign changes, other revised signs say the glaciers will disappear in "future generations."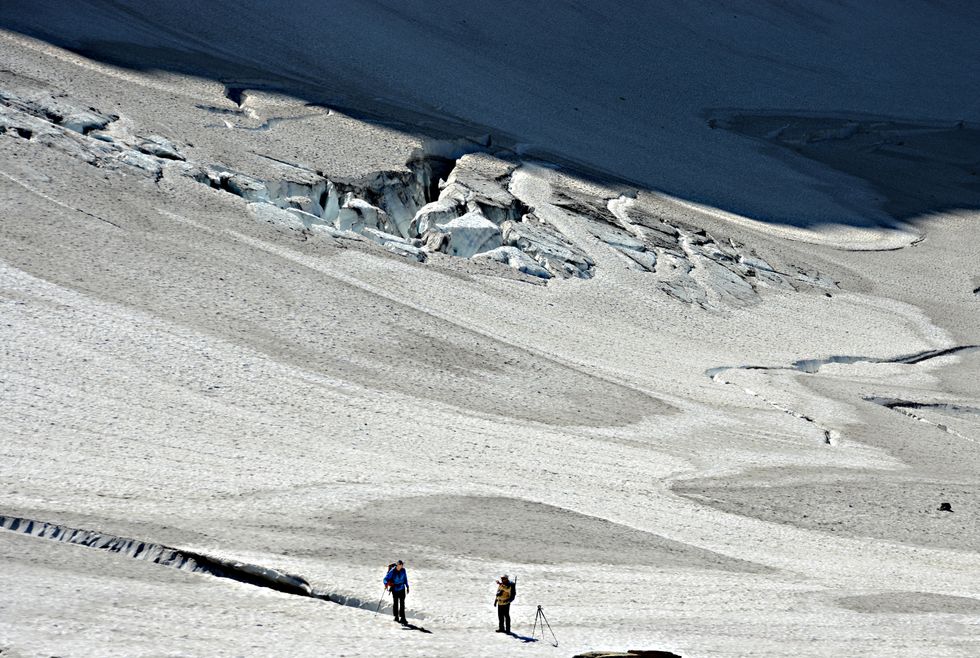 Researchers at the USGS survey are traversing Grinnell Glacier in Glacier National Park. Getty ImageSmith Collection/Gado/Getty Images
Officials were forced to remove the alarmist signs after colder-than-normal winters, accompanied with extreme amounts of snowfall, stopped the glaciers from retreating.

In fact, the park's two most popular glaciers — Grinnell Glacier and Jackson Glacier — appear to be growing, not retreating.
"Glacier retreat in Glacier National Park speeds up and slows down with fluctuations in the local climate," the U.S. Geological Survey told the Daily Caller News Foundation.
"Those signs were based on the observation prior to 2010 that glaciers were shrinking more quickly than a computer model predicted they would," the agency explained. "Subsequently, larger than average snowfall over several winters slowed down that retreat rate and the 2020 date used in the NPS display does not apply anymore."
The USGS website now claims that "certain studied GNP glaciers" will completely disappear sometime between 2030 and 2080.
Want to leave a tip?
We answer to you. Help keep our content free of advertisers and big tech censorship by leaving a tip today.
Staff Writer
Chris Enloe is a staff writer for Blaze News
chrisenloe
more stories
Sign up for the Blaze newsletter
By signing up, you agree to our
Privacy Policy
and
Terms of Use
, and agree to receive content that may sometimes include advertisements. You may opt out at any time.