A sculpture celebrating Saudi Arabia was erected near the site of the World Trade Center has raised some eyebrows. Fifteen of the 19 terrorists who participated in the Sept. 11, 2001, terror attacks were Saudi nationals. But this particular sculpture has nothing to do with Sept. 11.
Here's what we know
This particular sculpture is one of a set of 20, each representing one of the nations that participate in the G-20 summit.
According to a news release from the Port Authority of New York and New Jersey:
The exhibit, known as "Candy Nations", will feature the unique candy sculptures in various locations around the site, including One World Observatory/West Plaza, Liberty Park, Oculus Plaza, the West Concourse, and the Tower 2 Plaza. Each of the sculptures features flags from countries in the G20 summit, and the art work was commissioned by companies and organizations including the Chanel Foundation, the International Olympic Committee and Coca-Cola.
The art exhibit has already been displayed in 25 countries.
The G-20, officially known as the "Summit on Financial Markets and the World Economy," is an annual gathering of the leaders of 20 economic powerhouses: Argentina, Australia, Brazil, Canada, China, France, Germany, India, Indonesia, Italy, Japan, Mexico, Republic of Korea, Republic of South Africa, Russia, Saudi Arabia, Turkey, the United Kingdom, the United States of America, and the European Union (EU). Together, these nations make up 86 percent of the total global economy. The last summit took place between Nov. 30 and Dec. 1 in Buenos Aires, Argentina.
The sculptures, crafted by renowned French artist Laurence Jenkell, have become a traveling art exhibit since the summit ended, and the World Trade Center site is their current stop.
Jenkell has done other, similar art exhibits, including one resembling a piece of blue candy with the flag of the European Union on it. She has a whole series of sculptures of candy featuring various designs.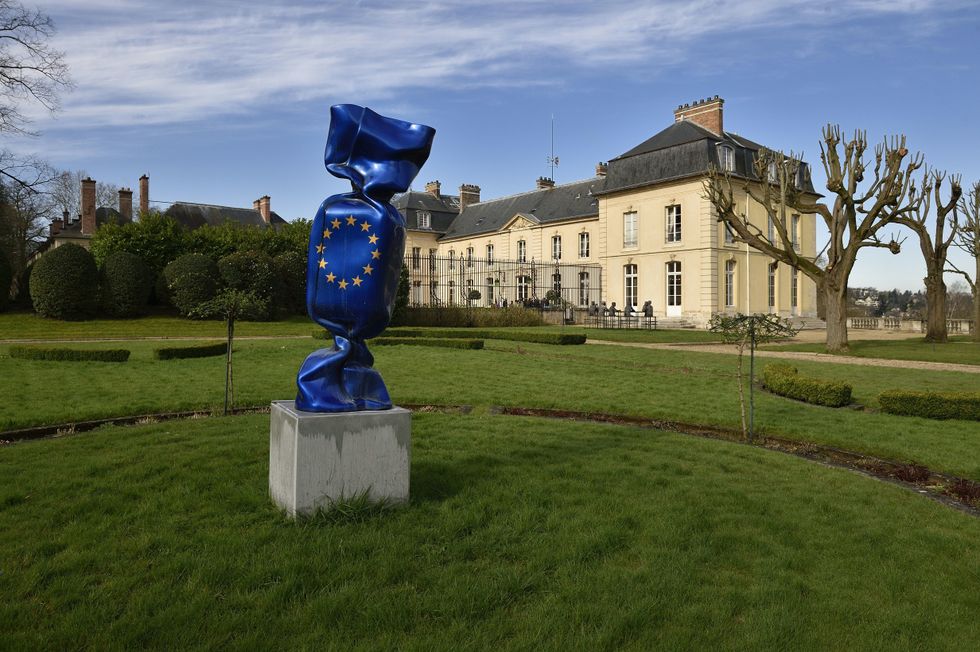 A sculpture representing a blue candy in the colors of the flag of the European Union by French artist Laurence Jenkell is pictured in the park of the castle of La Celle Saint-Cloud, the residence of the French Foreign minister, on April 5, 2016. ERIC FEFERBERG/AFP/Getty Images