The principal of a Massachusetts public school apologized for a history assignment that asked students if President Donald Trump is a fascist, WBZ-TV reported.
Haverhill High School principal Glenn Burns said in a letter to parents that "feedback is necessary to bring to our attention that we missed the mark and have created a learning opportunity that skews the thinking of our scholars."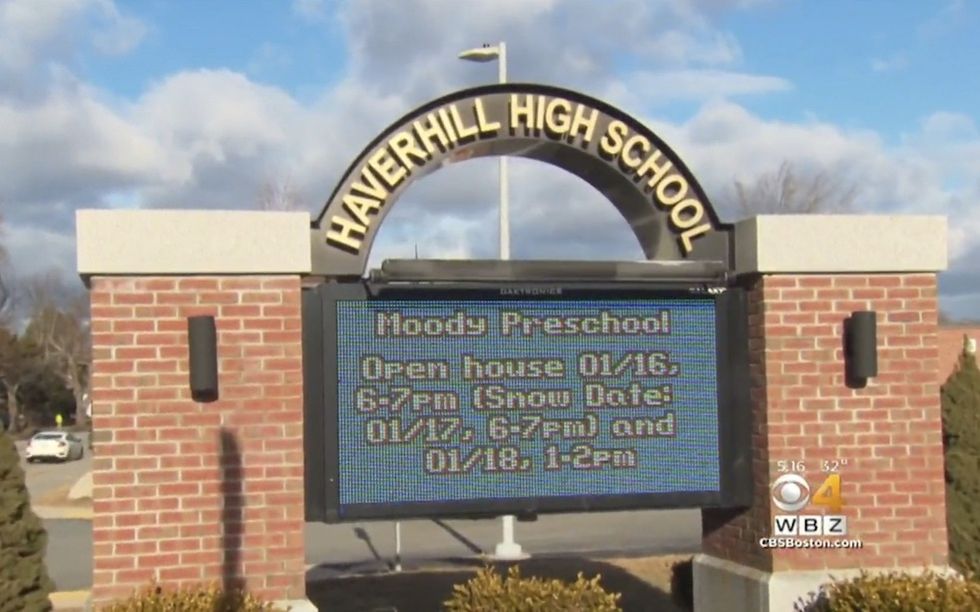 Image source: WBZ-TV video screenshot
What's the background?
The assignment — "Some People Claim that Donald Trump is a Fascist: Time to check it Out!" — was given by veteran history teacher Shaun Ashworth, the Eagle-Tribune reported.
The assignment asked students to demonstrate "Evidence that Mr. Trump talks/behaves like a Fascist" and "Evidence Mr. Trump does not behave like a Fascist," the paper said, and offered a list of 14 characteristics of fascism as defined in a 2003 article from Free Inquiry magazine — which is published by the Council for Secular Humanism.
More from the Eagle-Tribune:
In his letter to parents, Burns refers to the author of the 2003 article as "Dr. Britt." The author is Laurence W. Britt, who, according the the internet fact-checking site snopes.com, does not hold such a degree but rather describes himself as an "amateur historian." The list was cited shortly after it was published as evidence the administration of President George W. Bush exhibited fascist tendencies. It has now resurfaced during the Trump administration.
According to Burns' letter, the assignment also "provided multiple texts to read which were from noted conservative, liberal and neutral news organizations so that [students] could see for themselves evidence of bias."
Parents in a closed Facebook group debated the merits of the assignment, the paper said, and then the school weighed in.
"Upon reflecting with a team from the History Department on the assignment ... it was evident to us that the [title] prompt may have skewed the debate or provided the perception that we were looking for scholars to prove Donald Trump was a fascist," the principal added in his letter. "This was not the intention of the assignment and we apologize to those that felt that was the experience we were trying to create. Our team discussed at length how to provide a more balanced prompt that could enrich this topic and discussion."
What did parents have to say?
"If you're discussing the president, especially when you're teaching, you should refer to him as President Trump and not Mr. Trump, as was noted in the assignment," school committee member Maura Ryan-Ciardiello said, according to the Eagle-Tribune. "I find that to be disrespectful, and that goes for all presidents."
"I support the president," parent Dave Prescott told WBZ. "I support a lot of the things he does. And for them to talk about fascism, in regards to the president, I just think this isn't what I'm sending my kids to school for." He added to the station that, "if you want to bring up an issue, don't bring politics into it."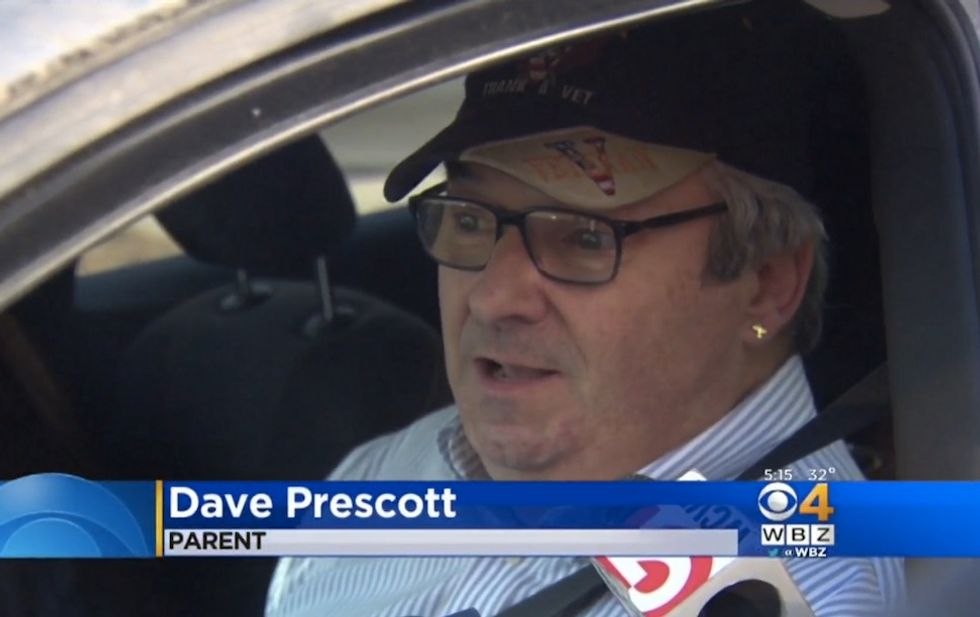 Image source: WBZ-TV video screenshot
What did students have to say?
Ninth-grader Patrick Spencer Zbitnoff told the paper, "this assignment was made to be as unbiased as possible" and "was built to teach you what the signs of fascism are, and what signs Trump might show, but based on my research, I found the president not to be a fascist,"
Zbitnoff added to the Eagle-Tribune that most if not all of the students in his class indicated Trump doesn't exhibit fascist behaviors.
"Even some of my more liberal friends did not find him to be a fascist, which surprised me," he noted to the paper, adding that they conclude Trump exhibits one or two signs of fascism.
Junior Angelina Parolisi said the teacher didn't intend to persuade students to be for or against Trump and encourages them to "think for themselves," the Eagle-Tribune said.
"I have learned more from Mr. Ashworth than any other teacher," she added, according to the paper.