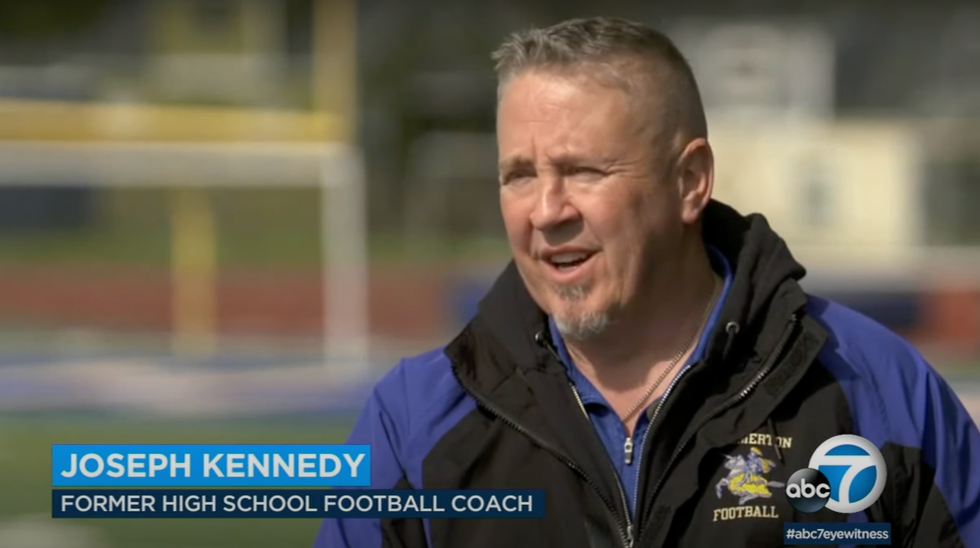 Image source: YouTube screenshot
ABC News added that it reached out to both sides for comment.
What's the background?
Kennedy had been praying at the 50-yard line after games for years until Bremerton School District in 2015 told him to stop. When he refused, Kennedy said the district suspended him and then fired him.
In 2019, the court declined to take up Kennedy's case, the the Associated Press said — but only four conservative justices were on the court at that time. Amid a new conservative majority, Kennedy's lawyers in January announced that his case finally would be heard. The high court heard arguments in late April, and the words of some justices signaled that the court would side with Kennedy.
This SCOTUS Case Will Decide if America Is Still a Free Country | The Glenn Beck Podcast | Ep 142youtu.be
In June, the high court ruled 6-3 for Kennedy, the AP said, adding that the conservative justices voted in favor of Kennedy, while the liberal justices voted against him.
"The Constitution and the best of our traditions counsel mutual respect and tolerance, not censorship and suppression, for religious and nonreligious views alike," Justice Neil Gorsuch wrote for the majority, the outlet noted.
Justice Sonia Sotomayor wrote in a dissenting opinion that the court's decision in favor of Kennedy "sets us further down a perilous path in forcing states to entangle themselves with religion," the AP said, adding that she was joined in her dissent by Justice Stephen Breyer and Justice Elena Kagan.
Kennedy didn't see it that way.
"This is a right for everybody. It doesn't matter if you're this religion or that religion or have no faith whatsoever," Kennedy told ABC News during an interview earlier this year, the network said. "Everybody has the same rights in America."
Players often joined Kennedy in prayer despite not being asked to do so, but the school district still asked him to stop, as it considered him still "on duty" as a coach after the game, the AP said.
"Just hours before what would be my last game as coach, the school district gave me an ultimatum: If I prayed after that night's game, they would suspend me," Kennedy wrote last year in a Fox News op-ed. "As a proudly retired U.S. Marine, something inside me stirred. I would have given my life defending the religious freedom of any American, and yet that very right was denied to me. That just seemed wrong and unjust."
He added, "I did pray on that chilly October night, leading to my suspension and termination. My only recourse at that point was to seek legal action to vindicate my rights of free speech and free exercise of my religious beliefs."
Here's a report on Kennedy's Supreme Court victory:
Supreme Court sides with football coach who wanted to pray on the field l ABC7youtu.be