UPDATE, 7/23 at 5 p.m. CST: Sanjuana Galicia, mother of Francisco, told The Dallas Morning News that Francisco was released from Immigration and Customs Enforcement custody Tuesday afternoon. TheBlaze is still awaiting comment on the situation from Customs and Border Protection and ICE.

One reason for the detention could have been that Sanjuana requested a visitors visa for Francisco when he was a minor because she feared she could not get him back into the country otherwise, since she did not have legal status to be in the U.S. In requesting the visa, she falsely claimed he was born in Mexico when he was actually born in Dallas. That caused the the visa to show up for Francisco when CBP ran his fingerprints.
Original story:

Francisco Erwin Galicia is an 18-year-old living in Texas who has been in the custody of Immigration and Customs Enforcement and Customs and Border Protection for more than three weeks, but his mother and his attorney say he's being wrongly held and that he's a natural-born U.S. citizen, The Dallas Morning News reported.
What's the news?
According to Francisco's attorney Claudia Galan, on June 27, Francisco was traveling with his brother, Marlon, and some friends from Edinburg, in south Texas, to a soccer scouting event at Ranger College, a school just over 100 miles west of Dallas. During the trip, the group came to a CBP checkpoint in Falfurrias. Here's a map showing the trip they were reportedly making, and where they were stopped: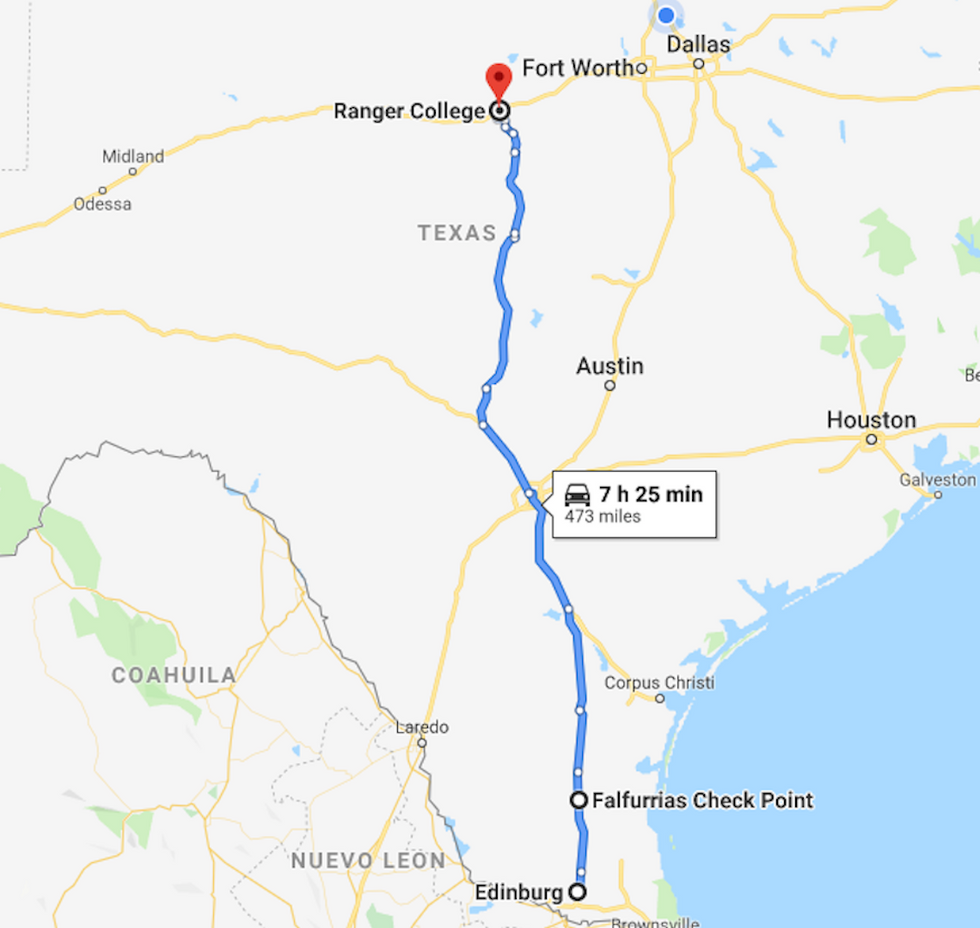 Francisco, according to DMN, had his state identification card on him, which can only be obtained with a social security number. Marlon, who is 17 and was in the country illegally, only had a school ID. The report does not detail who else was in the car, or what their immigration status was.

Both brothers were detained. Marlon signed a voluntary deportation order after two days, and is now back in Reynosa, Mexico with his grandmother. Francisco is still being held. Reynosa is about 27 miles from Edinburg.
His mother, Sanjuana Galicia, told DMN she presented CBP officers with Francisco's original birth certificate last week, but that did not result in her son's release, and that she has sent the document to ICE as well. Francisco is now in ICE custody in Pearsall, Texas.
The Dallas Morning News was able to review a copy of Francisco's birth certificate, which shows Parkland Memorial Hospital in Dallas as his birthplace.
Why does it matter?
At the time this article is being published, neither ICE nor CBP has commented publicly on this situation, and until they do, there are still unanswered questions about what's going on here.
Details about the initial stop from CBP, when/if they are disclosed, could change the entire perspective on this story. At this point, we know based on Francisco's mother's and his attorney's word that Francisco, who appears based on available reporting to be a citizen, was traveling north from a city near the southern border with his brother, who was an illegal immigrant, and other currently unidentified people whose fates we don't yet know.
If the situation is as it has been presented, which is that a natural-born U.S. citizen has been wrongfully detained by immigration authorities for nearly a month, it is obviously a terrible injustice that must be corrected immediately.
Additionally, at a time when the very existence of immigration enforcement authorities is being challenged, a mistake of this magnitude would be extremely damaging to public perception. The last thing ICE or CBP needs is to open itself up to more accusations or profiling or racism.
Most important is that the full truth of the situation be made known—regardless of whether that truth favors Francisco, or whether immigration authorities are in the right here. TheBlaze has reached out to Customs and Border Protection and Immigration and Customs Enforcement for more information about this situation and is awaiting a response.