© 2023 Blaze Media LLC. All rights reserved.
'I work hard for what I've got. If you come and take it, there's consequences': Homeowner who shot armed intruder dead issues no-nonsense warning ​to crooks
An Indianapolis homeowner who fatally shot an armed intruder late last month issued a no-nonsense warning to others intent on similar crimes.
"I hate that it happened. I hope these other guys learn a lesson from it. If not, there's plenty of spots over in Crown Hill," Howard Murphy told WANE-TV, presumably in reference to a city cemetery. "I don't want it to be like that, but just like the average worker, I work hard for what I've got. If you come and take it, there's consequences behind that."
What happened?
Murphy said he heard someone breaking into his West 34th Street home through a side window just after 4 a.m. July 29, WANE reported, adding that he came downstairs to confront the intruder.
Image source: WANE-TV video screenshot
"He took a video game system and threw it at me, and after that shots rang out," Murphy told the station.

Murphy admitted he shot the stranger, who then ran upstairs while holding a knife and died in a bedroom, WANE said.
"I honestly didn't even know if he had been shot because he was still moving around and running around," Murphy added to the station.
He cooperated with police and was soon released from custody, WANE reported.
Murphy also told the station his home had been broken into earlier in the same week as the July 29 incident and that that thousands of dollars in electronics were stolen.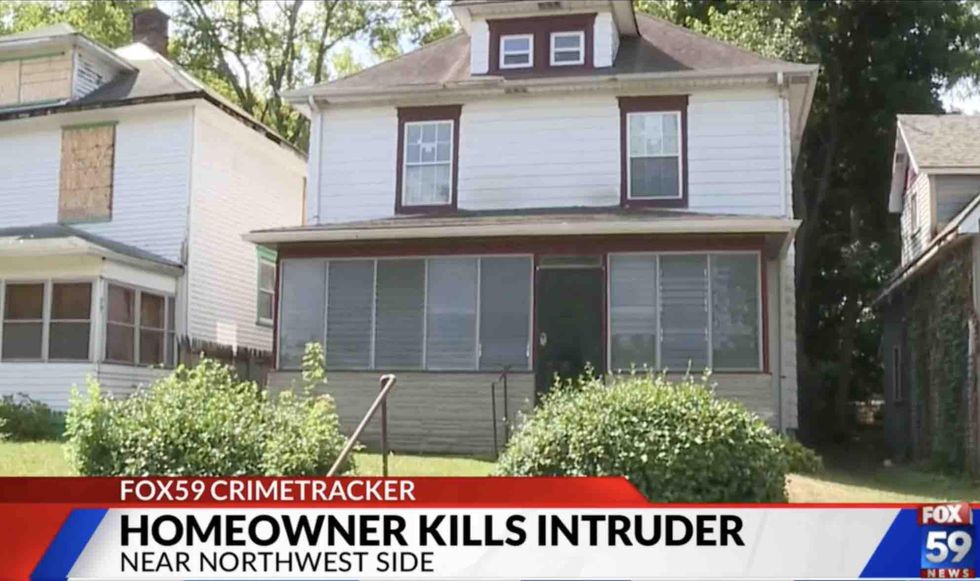 Image source: WANE-TV video screenshot
"You shouldn't have to be armed inside of your own house," he added to WRTV-TV. "It's sad, but it is like that over there in this neighborhood."
Murphy was unsure whether 64-year-old Steve Sheppard, Jr. — the man he fatally shot — was involved in the prior break-in, WANE said.
"I don't go out looking for trouble," Murphy noted to WANE. "I mind my own business."
He shot intruder in 2014
Citing police reports, WANE said it wasn't the first time Murphy shot someone who broke into his home.
The station said police were called to the same address in November 2014 after an intruder kicked in his door.
"He took a gamble thinking I wasn't there, and I happened to be there," Murphy told WANE at the time.
He added to the station that he shot the intruder in the leg: "He reached for something. I don't know if it was a sledgehammer, but he reached for something and was getting ready to strike me, and that's when shots were fired."
The wounded man ran off, WANE said, adding that he was eventually convicted of breaking into Murphy's home — and Murphy was cleared of any wrongdoing.
(H/T: The Police Tribune)

Want to leave a tip?
We answer to you. Help keep our content free of advertisers and big tech censorship by leaving a tip today.
Sr. Editor, News
Dave Urbanski is a senior editor for Blaze News.
DaveVUrbanski
more stories
Sign up for the Blaze newsletter
By signing up, you agree to our
Privacy Policy
and
Terms of Use
, and agree to receive content that may sometimes include advertisements. You may opt out at any time.