© 2023 Blaze Media LLC. All rights reserved.
Jiu-Jitsu Black Belt takes down alleged violent thief in Chicago 7-Eleven — then livestreams himself pinning man to floor until cops arrive
Idriz Redzovic, a third-degree Gracie Jiu-Jitsu Black Belt, took down an alleged violent thief in a Chicago 7-Eleven last week — and then took out his cellphone and began recording live video of him pinning the man to the floor until police arrived, WFLD-TV reported.
What are the details?
Redzovic — who runs Supreme Academy of Jiu-Jitsu in Lincoln Park — went to the 7-Eleven on Ashland and Lawrence to buy Slurpees for his kids Thursday night, the station said.
Image source: WFLD-TV video screenshot
But the black belt with 22 years of self-defense training noticed a man harassing people outside the store, WFLD noted.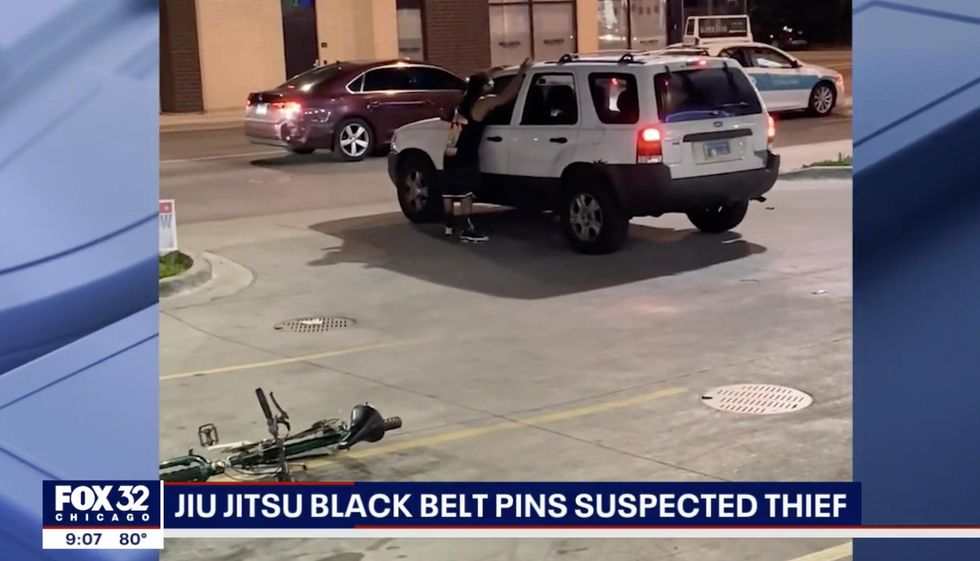 Image source: WFLD-TV video screenshot
Apparently, the shady character also noticed Redzovic.
"He comes up to me and says, 'What are you looking at?'" Redzovic recalled to the station. "In my training I tell people to take a step back, hands up, don't engage unless you feel safe."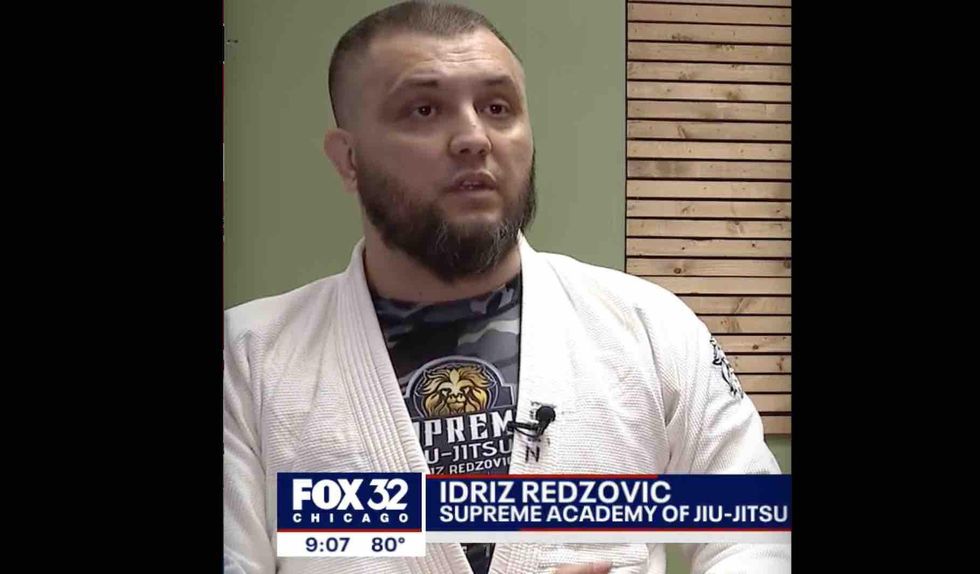 Image source: WFLD-TV video screenshot
Redzovic told WFLD he continued to watch the man, who soon made his way into the store and then appeared to attack an employee — a moment that was caught on surveillance video.
Then it was game over.
"Once I saw him actually connect and hit the employee in his head, I jumped in, grabbed him like I do in training here, put him down, flattened him like a pancake, and then I tied him up like a pretzel in a position called 'Gift Wrap' or 'Twisting Arm Control,'" Redzovic recounted to the station.
Redzovic then took out his cellphone and began livestreaming himself keeping the man subdued — for 18 minutes, WFLD said.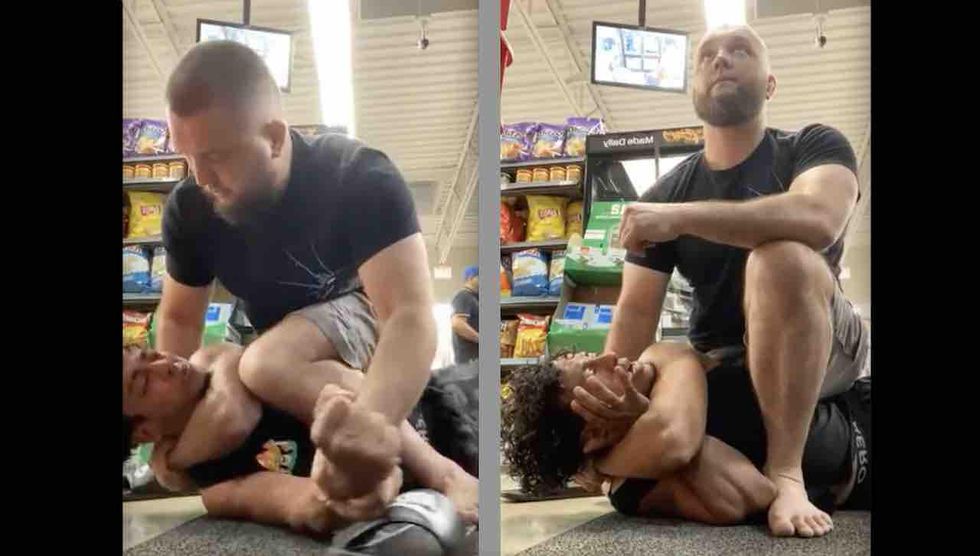 Image source: WFLD-TV video screenshot, composite
His counterpart wasn't happy.
"Come on, man," he pleaded with Redzovic, unable to move from the floor.
"No, I'm not letting you go," Redzovic replied, according to the clip. "You were harassing those girls, and then you swung at that 7-Eleven employee."
Arriving officers arrested 30-year-old Christopher Cruz and charged him with two misdemeanor counts of retail theft and battery, the station said.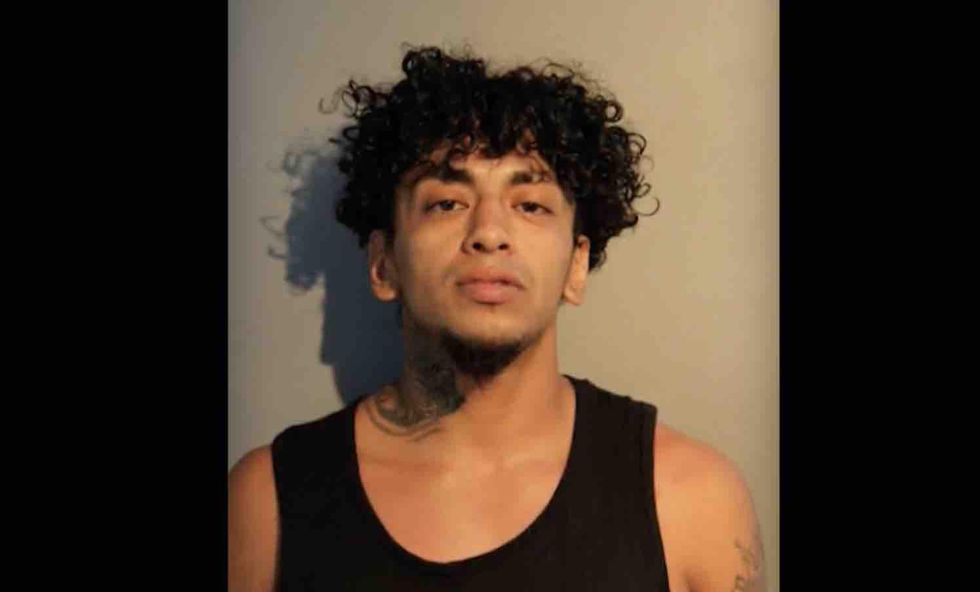 Image source: WFLD-TV video screenshot
What's more, police told WFLD that Cruz stole merchandise from the 7-Eleven earlier that day, and when Cruz returned, a 19-year-old employee told him to leave. Police said that's when Cruz punched the employee — after which Redzovic made sure the suspect didn't get away, the station said.
A word of advice
Redzovic took a moment to let folks know that it's better to be proactive about learning self-defense than reactive.
"Sometimes people come to us after something happens to learn self-defense … why not learn it now?" he noted to WFLD.
Want to leave a tip?
We answer to you. Help keep our content free of advertisers and big tech censorship by leaving a tip today.
Sr. Editor, News
Dave Urbanski is a senior editor for Blaze News.
DaveVUrbanski
more stories
Sign up for the Blaze newsletter
By signing up, you agree to our
Privacy Policy
and
Terms of Use
, and agree to receive content that may sometimes include advertisements. You may opt out at any time.