Rogan told fellow GETTR users Sunday, "Just in case s**t over at Twitter gets even dumber, I'm here now as well. Rejoice!"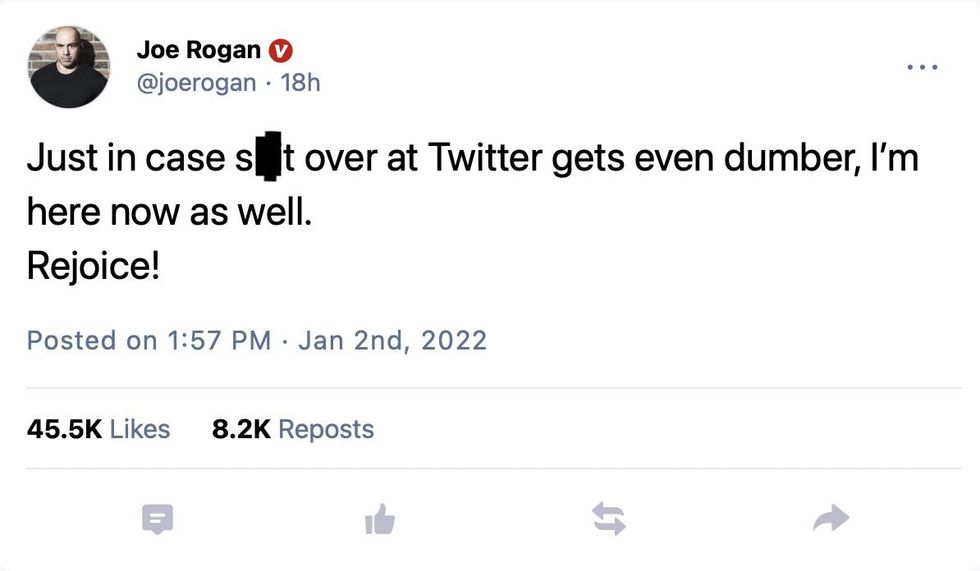 Image source: GETTR, redacted
Miller told Fox News amid GETTR's launch that he wanted the social media platform to be "independent from social media monopolies, independent from cancel culture; embracing free speech."
'GETTR hits 150K+ new users in one day'
Following Rogan's announcement that he joined GETTR, the social media platform said it saw over 150,000 new users in a single day.
Other notable new GETTR users include BlazeTV hosts Dave Rubin and Elijah Schaffer, as well as conservative commentators such as Andy Ngo, Jedediah Bila, and Kurt Schlichter, the social media platform added.
Another new GETTR user is Dr. Robert Malone, a virologist and immunologist who has said he helped develop mRNA technology — and who is an outspoken critic of the COVID-19 mRNA vaccines. Malone said last week that Twitter permanently suspended his account.
Malone appeared on Rogan's podcast shortly after his banishment from Twitter to discuss his views related to the COVID-19 pandemic and the development of vaccines created to fight the virus.
How are folks reacting to Rogan's GETTR endorsement?
As of Monday morning, Rogan's tweet encouraging his followers to join him on GETTR has received nearly 50,000 likes and almost 3,000 comments.
Reaction to Rogan's tweet appeared mostly negative, however.
"How much were you paid to post this cringe?" one annoyed user asked Rogan, while another declared, "GETTR where @joerogan can play doctor and give advice that will kill you without fear of condemnation."
Another user said, "Good luck man. Miss those cool guests you used to have before you went all in on the alt-right s**t."
But others were happy to see Rogan join GETTR.
"Thank you Joe, somebody needs to start the movement," one commenter said, while another noted, "Glad to see you over there!"