Jussie Smollett believes he got 150 days in jail for staging a racist, homophobic hate crime against himself — and then lying to cops and courts about it — because he's black, sources close to the former "Empire" star told TMZ.
The sources added that Smollett anticipated getting jail time and also told his defense team before sentencing he believed he'd be treated more harshly than others convicted of non-violent crimes due to his skin color — and that it's evidence of systemic racism in the judicial system, the outlet reported.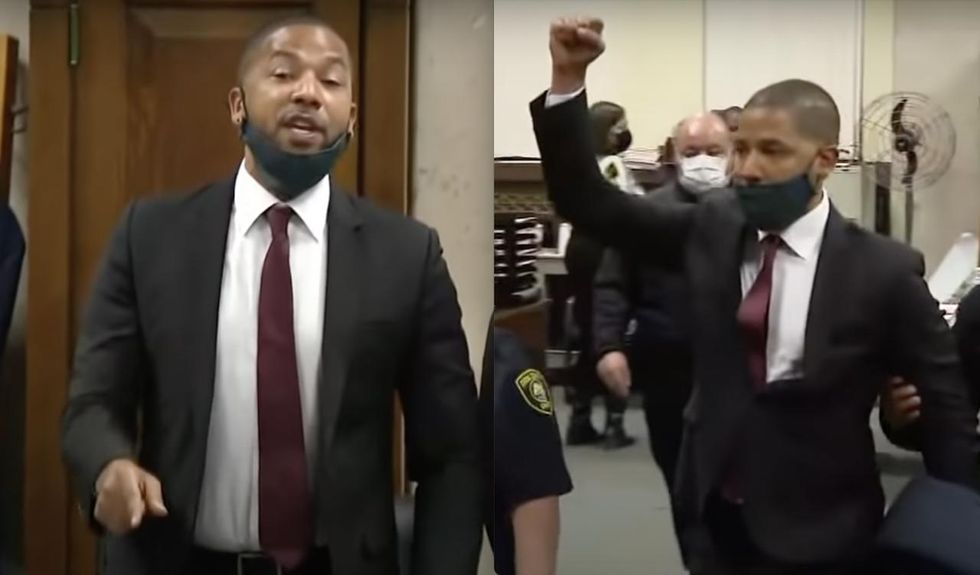 Image source: YouTube screenshot, composite
What's the background?
Smollett, 39 — who is black and gay — made national headlines for claiming a pair of supporters of then-President Donald Trump physically attacked him near his apartment in Chicago in the early morning hours of Jan. 29, 2019.
He claimed the two men wearing ski masks confronted him as he was leaving a Subway restaurant around 2 a.m. in below-freezing conditions and yelled, "Aren't you that f***ot 'Empire' n*****?" before beating him up, putting a rope around his neck, pouring bleach on him, and hollering, "This is MAGA country!" — a reference to Trump's "Make America Great Again" slogan.
But once a police investigation began, Smollett's story began to crumble. In December a jury found him guilty on five of six counts of felony disorderly conduct for his costly charade — crimes that could have resulted in three years behind bars. The Chicago Sun-Times reported that Smollett likely will serve only half of his 150-day sentence since his jail term is eligible for "day-for-day" credit for good behavior.
In addition to jail time, Cook County Judge James Linn last week sentenced Smollett to 30 months of probation and ordered him to pay $120,000 in restitution to the city of Chicago as well as a $25,000 fine.
Prior to issuing his sentence, Judge Linn eviscerated Smollett, calling him a "charlatan" and telling him "your hypocrisy is astounding" and "you wanted to make yourself more famous" through the elaborate, "premeditated" caper and then "you threw a national pity party for yourself." But the worst part, Linn said, was that Smollett lied to authorities about it all — and then committed perjury on the witness stand.
But after he was sentenced, Smollett continued his defiance, standing up and shaking his finger and telling Linn and the courtroom that "I am innocent, and I am not suicidal! If I did this, then it means that I stuck my fist in the fears of black Americans in this country for over 400 years and the fears of the LGBTQ community!"
Smollett added, "I did not do this, and I am not suicidal. And if anything happens to me when I go in [jail], I did not do it to myself. And you must all know that ... I am not suicidal."
Then the singer offered a grand finale, raising his fist as he was led out of the courtroom and flat-out hollering in the process: "I am not suicidal! I am not suicidal! And I am innocent! I could've said I was guilty a long time ago!"
Jussie Smollett has courtroom outburst after judge sentences him to jail | ABC7youtu.be
TMZ, citing its sources, said Smollett declared he wasn't suicidal because he wanted the public to know that if something happens to him in jail, it's due to foul play — and that Jeffrey Epstein, who was found dead in jail, also was on his mind.
Anything else?
Jocqui Smollett said Saturday that his brother was placed in the psychiatric ward at the Cook County Jail in Chicago due to "being at risk of self-harm," Fox News reported.
But Jocqui Smollett insisted that "he is in no way, shape, or form at risk of self-harm. He wants to let folks know that he is very stable, he is very strong, he is very healthy and ready to take on the challenge that... has been put up against him," the cable network reported.
Still, Smollett was placed in protective custody in the jail, separated from other inmates and monitored by security cameras and an officer, authorities added to Fox News.
Meanwhile, Taraji P. Henson — a fellow "Empire" cast member — said Smollett's imprisonment is unfair and compared him to Emmett Till, a black teen who was brutally murdered in the 1950s and became an icon of the civil rights movement after his killers were acquitted.
"I am not here to debate you on his innocence, but we can agree that the punishment does not fit the crime," Henson wrote on Instagram with a "FreeJussie" hashtag. "Emmett Till was brutally beat and ultimately murdered because of a lie, and none of the people involved with his demise spent one day in jail, even after Carolyn Bryant admitted that her claims were false. No one was hurt or killed during Jussie's ordeal. ... My prayer is that he is freed and put on house arrest and probation because in this case that would seem fair."
And about a dozen Smollett supporters rallied outside Cook County Jail on Sunday to protest him being placed behind bars, WFLD-TV reported, adding that protesters said the judicial system is racist and that Smollett should not serve any jail time.
Jussie Smollett sentenced for false police reports | Nightlineyoutu.be