"Empire" executive producers announced that Jussie Smollett's character, Jamal, will be removed from the final two episodes of the season "to avoid further disruption on set," according to a Friday statement 20th Century Fox Television sent to TheBlaze.
The move comes after Chicago police arrested Smollett Thursday on a felony charge that he filed a false police report and accused him of staging what Smollett claimed was a racist, homophobic attack against him last month to advance his career.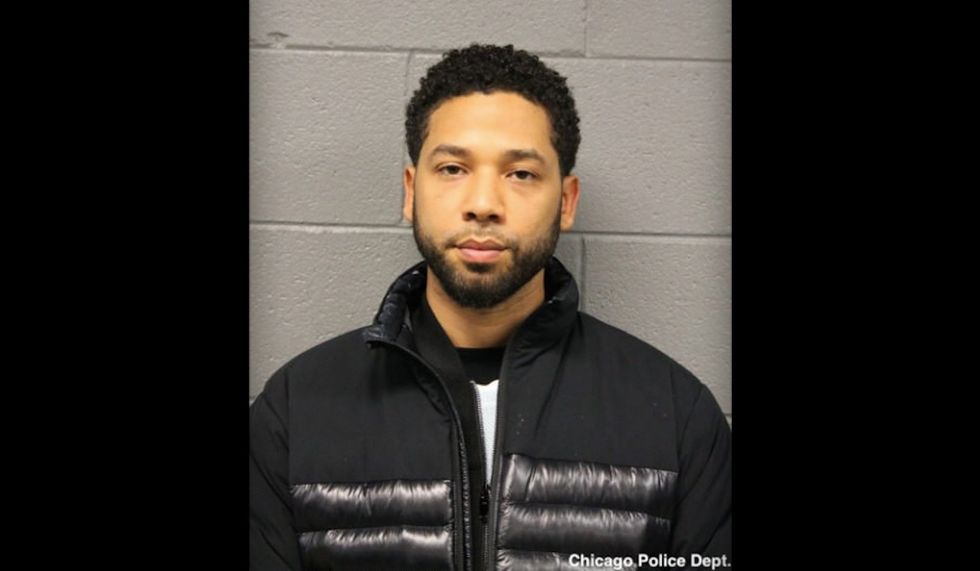 Image source: Chicago Police Department
"The events of the past few weeks have been incredibly emotional for all of us," the statement from the show's producers said. "Jussie has been an important member of our EMPIRE family for the past five years, and we care about him deeply. While these allegations are very disturbing, we are placing our trust in the legal system as the process plays out. We are also aware of the effects of this process on the cast and crew members who work on our show, and to avoid further disruption on set, we have decided to remove the role of 'Jamal' from the final two episodes of the season."
The statement was from executive producers Danny Strong, Brett Mahoney, Brian Grazer, Sanaa Hamri, Francie Calfo, Dennis Hammer, and Lee Daniels.
Fox had supported Smollett through the police investigation until his arrest Thursday, after which the network told TheBlaze, "We understand the seriousness of this matter, and we respect the legal process. We are evaluating the situation, and we are considering our options." TheBlaze reported Tuesday that scenes featuring Smollett allegedly were being cut from an upcoming episode of "Empire."

What did Daniels say to Smollett after the actor's attack claim?
The day Smollett's attack claim hit the news cycle Jan. 29, Daniels recorded an emotional video for Smollett — who is openly gay — and posted it to social media:
Watch: Empire creator Lee Daniels posts an emotional reaction to the news that actor Jussie Smollett was attacked:… https://t.co/wOfEgqRrzw

— Newsweek (@Newsweek) 1548800100.0
"Jussie, you are my son," Daniels said on the clip, EOnline said. "You didn't deserve, nor anybody deserves, to have a noose put around your neck, to have bleach thrown on you, to be called "die f****t, n*****,' or whatever they said to you. You are better than that. We are better than that. America is better than that ... It starts at home, yo. We have to love each other regardless of what sexual orientation we are, because it shows that we are united ... and no racist f*** can come in and do the things that they did to you. Hold your head up, Jussie. I'm with you, I'll be there in a minute. It's just another f***ing day in America."
Daniels said in 2015 that he wanted "Empire" to "blow the lid off homophobia" in the black community by depicting the lead character's hostile relationship with his gay son, played by Smollett.
What else?
News of Smollett's character being removed from the "Empire" season's final two episodes came after the actor posted $100,000 bail and returned to the set Thursday, the same day of his arrest.
Smollett proceeded to apologize to the show's cast and crew for any embarrassment his arrest and allegations against him may have caused — but he also told them he's innocent, CNN reported, citing an individual at the on-set meeting. That individual told CNN that "they were shocked and dismayed that Smollett stuck to his story of innocence."
TMZ cited sources who said many "Empire" actors are "f***ing furious" and believe that if Fox suits and ties don't fire Smollett that the 36-year-old should quit. The sources added to TMZ that some cast and crew members still believe Smollett's story.
After Smollett's arrest, his legal team blamed Chicago's mayoral race for unfair treatment against the actor at the hands of law enforcement:
What did Don Lemon and Chris Cuomo have to say about the latest Smollett developments?
CNN's Don Lemon and Chris Cuomo appeared in a tandem clip Thursday night when Cuomo's program ends and Lemon's program begins — and they had a lot to say about Smollett:
CNN's Don Lemon tells his friend Jussie Smollett, if you're guilty, "confess, throw yourself on the mercy of the co… https://t.co/h2uuuGNNQ7

— Tom Elliott (@Tom Elliott) 1550805939.0