Left-wing U.S. Sen. Kamala Harris made a big show of things just after news broke last month that "Empire" actor Jussie Smollett allegedly was the victim of a racist, homophobic attack at 2 a.m. on a sub-freezing Chicago street.
The California Democrat — an early candidate for the 2020 presidential election — called the alleged attack on Smollett "an attempted modern day lynching. No one should have to fear for their life because of their sexuality or color of their skin. We must confront this hate."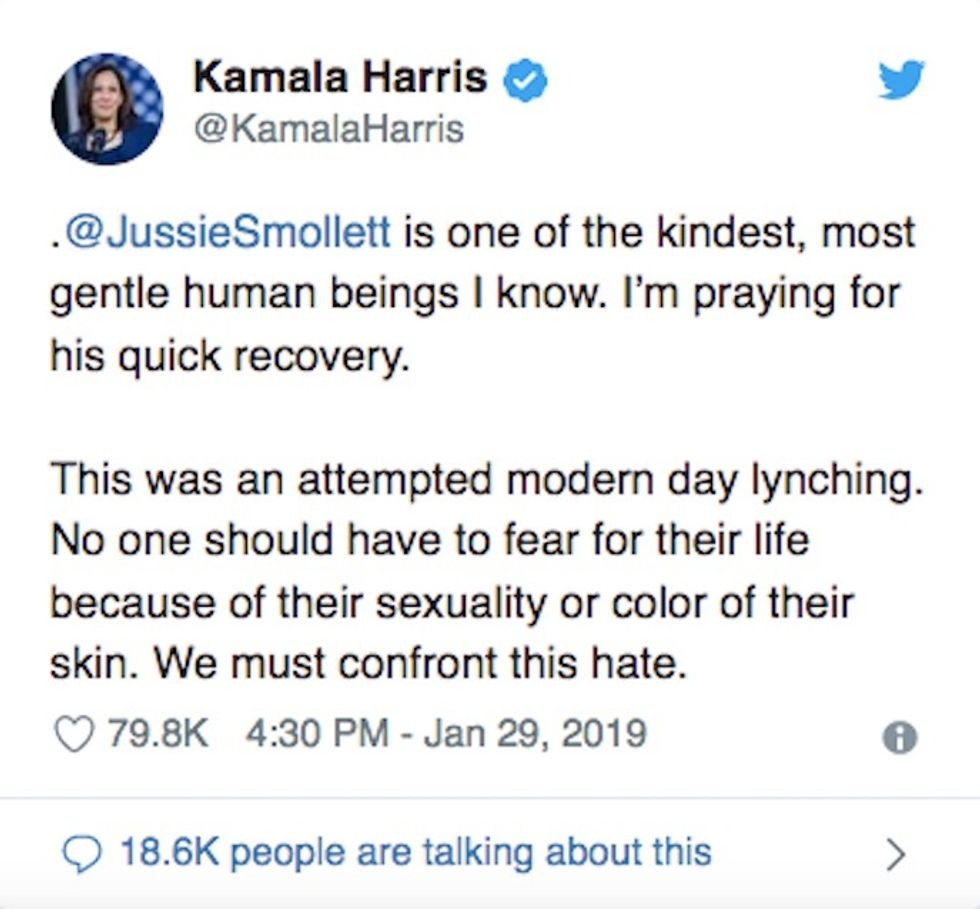 Image source: Twitter
But now in the wake of Chicago police sources indicating Smollett may have orchestrated an attack upon himself, Harris sang an altogether different tune Monday in New Hampshire when a reporter asked the senator about her tweet.
'Which tweet? What tweet?'

"Which tweet? What tweet?" a sheepish Harris replied before looking around in a seemingly confused state as the reporter filled in Harris regarding her own highly publicized Twitter post — and then finally offered the avowed liberal a lifeline: "Jussie Smollett."
Harris raised her eyebrows, paused, stammered a bit, and said, "I will say this about that case. I think the facts are still unfolding, and I'm very concerned obviously." According to the Associated Press, Harris also said, "I think that once the investigation is concluded, then we should all comment, but I'm not going to comment until I know the outcome of that investigation."
Check out part of her answer on video:
Kamala Harris in January: The attack on Jussie Smollett was an "attempted modern day lynching." Kamala Harris this… https://t.co/Sr89DEuo6c

— Julio Rosas (@Julio Rosas) 1550522861.0
Harris was asked about Smollett again Monday during a sit-down interview: "Are you angry that it looks like now that he may have fabricated this and created a situation in which a lot people came to his defense in a way that now appears to be unwarranted?"
Her response was just as noncommittal: "Well, I think the facts are still kind of rolling themselves out, so I don't actually know what happened." She then quickly pivoted to a long monologue about anti-lynching legislation, after which the interviewer never revisited the question.
Harris' answer comes after the 4:15 mark:

This writer's perspective
Funny that Harris was all-too-eager to jump to conclusions about the Smollett claims when very few facts were available Jan. 29 — but now, when a lot of facts have presented themselves and Smollett looks like another hoax perpetrator, Harris suddenly is reluctant to offer any opinion since, "I don't actually know what happened."
Harris' answers Monday were predictably spineless, evasive, and hypocritical. And everybody knows it whether they're willing to admit it or not.