One might say the adage "it takes one to know one" now applies to disgraced former U.S. Rep. Katie Hill.
Oh, do tell!
The California Democrat — who resigned from Congress in 2019 just months into her freshman term amid allegations of an extramarital affair with her legislative director and publication of leaked nude photos of Hill — got an eyeful of Republican U.S. Sen. Marco Rubio's tweet concerning the divisive words of Jen O'Malley Dillon, the incoming deputy chief of staff for President-elect Joe Biden.
"Biden talks about unity and healing, but you want to know what they really think?" Rubio asked in his Wednesday post. "Read how the person he wants as the next WH deputy chief of staff called Republicans in Congress a bunch of f***ers."
Hill apparently couldn't help herself — and fired off a response to the Florida senator: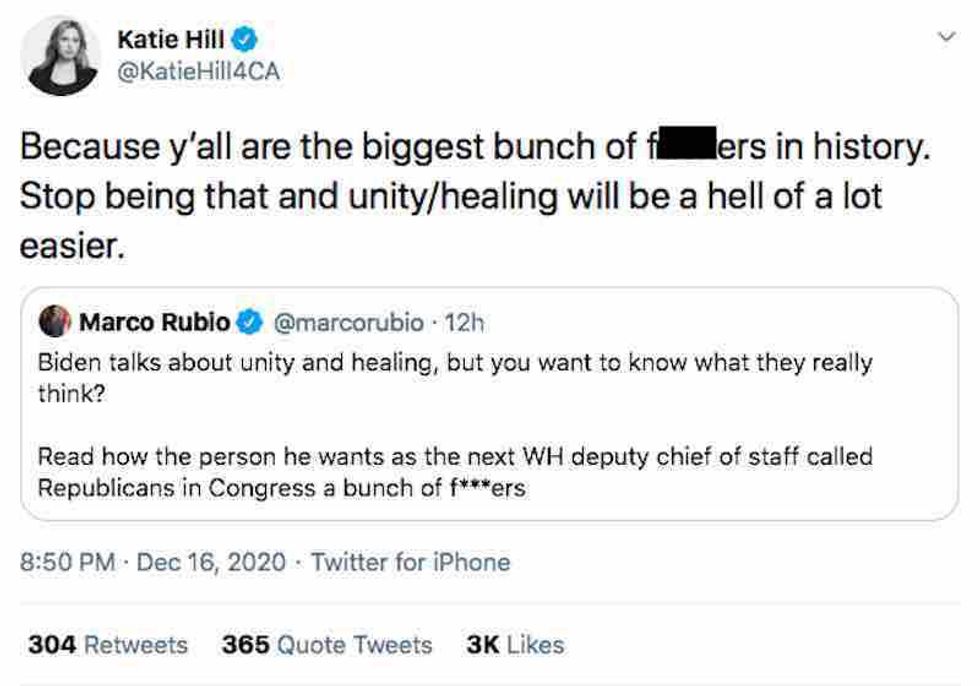 Image source: Twitter, redacted
"Because y'all are the biggest bunch of f***ers in history," Hill wrote. "Stop being that and unity/healing will be a hell of a lot easier."
Let the backlash begin
It should come as no surprise that a few folks found it a bit maddening — and quite humorous — that Hill had anything to say at all on the matter, particularly given her dubious resume.
And her F-bomb didn't go unnoticed, either:
"The woman who had three-ways with her staff and had to resign because of it is calling people 'f***ers,'" comedian Tim Young commented. "Just perfect."
"Hilarious! Thank you for putting the true hatred of the Left on display for the world to see," another commenter wrote. "We will NEVER unite with evil. Never."
"Trust Katie," another user quipped. "She is an expert on a bunch of f***ers."
Anything else?
Hill — who launched a podcast titled "Naked Politics" in October — denied the allegations of an affair but admitted to having a "consensual" three-way relationship with a female campaign staffer and her now-ex husband prior to taking office. Hill blamed "rampant biphobia" as a major factor in her decision to step down.
And in regard to O'Malley Dillon's F-bomb that got this whole thing rolling, an Axios report indicated that some advisers close to Biden are frustrated over what she had to say about congressional Republicans. The piece quoted a Biden donor as saying, "For those of us who, from Day One, bought into Biden's calls for civility and a return to normalcy, this isn't just beyond the pale — it's plain stupid."