Following the announcement that Texas will be dropping its COVID-19 mask mandate and allowing businesses to fully open starting next week, far-left pundit Keith Olbermann appeared to take issue with the Lone Star state's position.
Check out his jaw-dropping clap back:
"Why are we wasting vaccinations on Texas if Texas has decided to join the side of the virus?" he inquired.
Oh, and in a subsequent tweet, Olbermann called Texas Gov. Greg Abbott a "mass murderer."
It's like he's vying for Worst Person in the World or something.
What was the response?
Anyway, as of Wednesday morning, more than 15,000 Twitter users actually liked Olbermann's take on vaccine distribution in Texas. But while his post wasn't technically ratioed — i.e., the number of comments exceed the number of likes — it did attract more than 10,000 comments so far. And a number of them weren't exactly sympatico.
Even another prominent left-winger — Charlotte Clymer with Catholics for Choice — took Olbermann to task: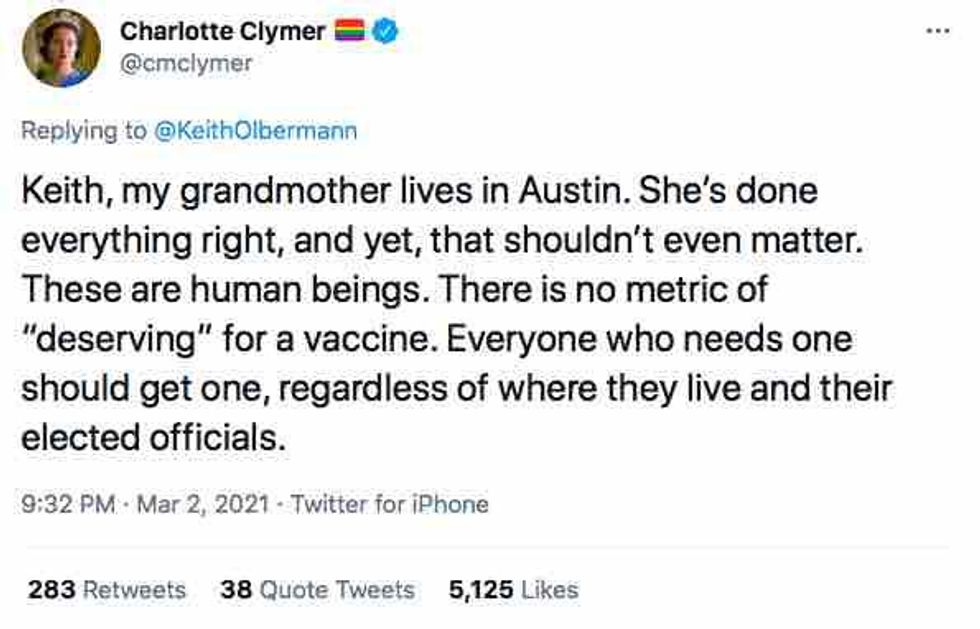 Image source: Twitter
"Keith, my grandmother lives in Austin," Clymer wrote. "She's done everything right, and yet, that shouldn't even matter. These are human beings. There is no metric of 'deserving' for a vaccine. Everyone who needs one should get one, regardless of where they live and their elected officials."
Television writer David Slack was a bit more pointed: "I understand your frustration, but this is a garbage take. That's my family you're talking about. My friends. Everyone I grew up with. Human beings with human rights. They should not be denied a life-saving vaccine because their governor is an idiot. Delete this & apologize."
Noting he didn't vote for Abbott, author Brian Cuban tore into Olbermann: "F#** you Keith. You really do need help. I can recommend some good people."
Another author, Saed Jones, appeared to put his tongue firmly in cheek for his response: "You're totally right. Let's just write off MILLIONS of people because of s**tty politicians who owe a great deal of their influence to voter suppression. Thank you for your valuable contribution to the discourse. It's hard to see what went wrong with your career. You're a gem."
David Weissman — a columnist and ex-supporter of former President Donald Trump — told Olbermann "this is a wrong take man. Take it from a former Republican they vote crappy leadership for different reasons, but they are still human beings. They have families, children. I get it, you are angry, but this is not the right message."
And Parkland survivor Cameron Kasky replied, "Gee I don't know Keith, probably because human lives are worth protecting unless you're a f***ing psychopath."
Just like old times
Olbermann's post is in line with his extreme left-wing M.O.:
Last year he lashed out at Ted Cruz over a photo of the U.S. senator with a deer he just hunted and killed: "You're not a human being, Cruz. You're a human-shaped pile of dung."
Just after the 2020 election Olbermann shared video of one of his infamous rants and added a caption that read in part, "TRUMP MUST BE REMOVED AND ARRESTED, TONIGHT."
Weeks prior to the election he said Trump supporters "must be prosecuted and convicted and removed from our society."