A Kentucky barbecue food joint is facing the wrath of the liberal outrage mob online after the business began selling T-shirts redefining the meaning of "LGBTQ."
What happened?
Traditionally, the "LGBTQ" acronym is an ode to marginalized sexual identities. But Belle's Smoking BBQ, which operates out of a food truck, recently began selling T-shirts that radically redefine what LGBTQ means.
Instead of "lesbian, gay, bisexual, transgender, and queer," the shirts say: "I support LGBTQ: Liberty, Guns, Bible, Trump, BBQ."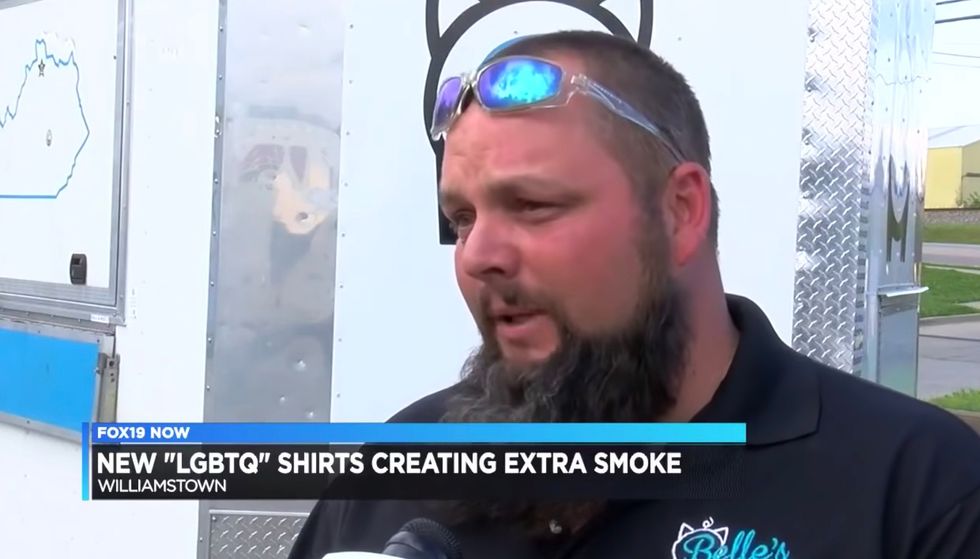 Image source: WXIX-TV screenshot
Restaurant owner Jamie Smith told the Courier Journal that he and his workers have worn the shirts for more than a year and a half now, but only received backlash after he advertised the merchandise on social media, which triggered an avalanche of progressive indignation.

Smith said that within just hours of posting the shirt online, social media "went berserk." Then came the threatening calls, of which Smith said he fielded "about 30."
The attention forced Smith to delete the Facebook post advertising the shirts, where he later posted an apology.
"Belle's Smoking BBQ apologizes if we have offended any groups, organizations or individuals with our shirts. We respect all beliefs and lifestyles and want no ill will towards anyone," the statement said. "We know each person has their own thoughts and beliefs but we are hurt that the people who are saying, 'stop the hate' are the ones coming at us with the harassing messages and threatening phone calls. Again we apologize for any hurt feelings and thank our supporters who truly know us."
Smith told WXIX-TV he did not intend to offend anyone, but said he felt the need to take a "stand" for his values.
"At the end of the day, we have to stand for what we believe in. And like I said, if this has offended anyone, that wasn't our intention," Smith said. "But, it's just a good play on words."
How well did the T-shirts sell?
According to WXIX, Smith has sold his entire inventory of shirts and already has a back order for more.
And while one customer — a local church — cancelled their food order over the controversy, Smith said the attention has already earned him four new customers.