CNN contributor and USA Today columnist Kirsten Powers invoked her Catholic faith in an apologetic Twitter thread Monday in which she said her tweets directed toward Covington Catholic High School boys — whom she accused of "disrespecting an Indigenous elder" on the steps of the Lincoln Memorial last month when in fact he approached and confronted them — were "lacking in grace."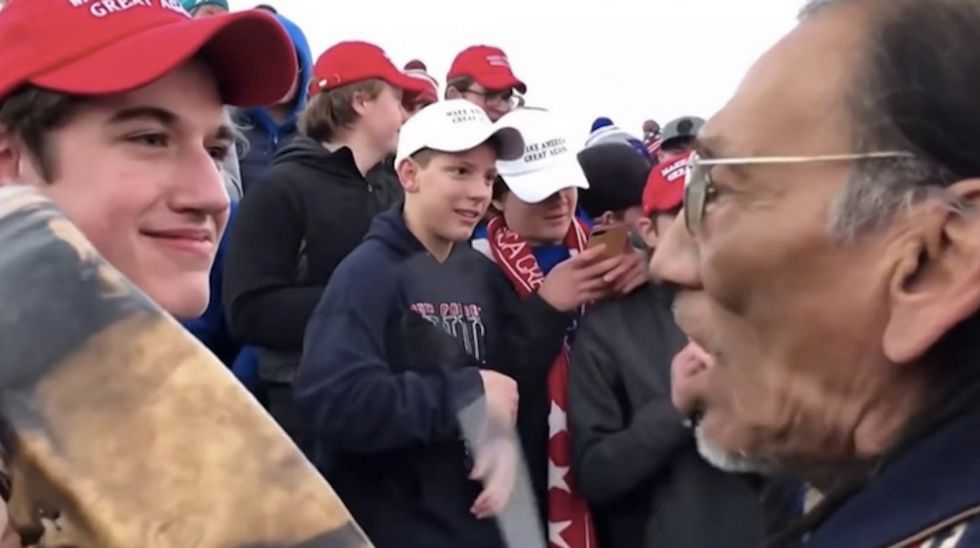 Image source: YouTube screenshot
"I have spent the last few weeks in a mostly Twitter free zone to spend time reflecting on what role I may have played in what indisputably has become a dangerously toxic culture," Powers noted on her revived Twitter page. "I am not proud of what I have found."
What happened?
Amid the furor over multiple videos of the Kentucky high schoolers standing face-to-face with 64-year-old Nathan Phillips — who's faded from the news cycle since it was revealed he's not a Vietnam veteran as he claimed and that he went AWOL three times in 1975 as an active duty Marine reservist — Powers wrote in a now-deleted Jan. 22 tweet, "I agree with [Talking Points Memo editor and publisher Josh Marshall] that watching all the videos (which I did) does not change the fundamental problem: the boys disrespecting an Indigenous elder. The [people] harassing me to change my mind cannot convince me I didn't see what I saw. Learn to respect difference of opinion," the Wrap said.
In a separate thread — also now deleted — Powers called "BS on the idea that [the Covington students] just burst into cheers randomly," the outlet added.
On Jan. 23 Powers tweeted that she was deleting her Twitter app.
"Every day I get up and say 'no more Twitter' and somehow end up back here. I always regret it. Deleting the app now," she wrote.
As it turns out, an independent investigation paid for by the Covington diocese last week determined the high schoolers weren't guilty of wrongdoing in relation to the Lincoln Memorial incident.
On Monday, Powers emerged from her self-imposed Twitter exile and said her tweets calling out the Covington boys didn't align with her faith.
"This will please nobody because I still believe the teenagers were disrespectful, but my tweets were lacking in grace," she wrote. "As a Catholic I felt duty bound to speak up and hold them accountable, but that really isn't my job. I also don't believe these teenagers should be tarnished forever for what amounts to one really bad day. I know that black teenage boys don't get this benefit of the doubt or grace, but I want more black teenage boys to get this benefit, not fewer white teenage boys."
Anything else?

Powers added that she's been an "equal opportunity scold" and said she's called out liberals — and that now she's "rethinking" her "view on Al Franken, for example, after hearing from many friends" regarding a rush to judgment. Franken, a Democrat, resigned from the U.S. Senate over a year ago amid sexual harassment allegations.
"I also hope to be part of a conversation — if we ever have it as a country — about the path to redemption for people who have stumbled and even failed spectacularly," she concluded. "This is where I plan to put my focus and not on rendering [judgments] about other people's behavior."
Here's Powers' entire thread:

2) I work hard to see every side of an issue and also speak up when I see a wrong. But in doing that I am too ofte… https://t.co/mxHyVDjnrB

— Kirsten Powers (@Kirsten Powers) 1550511582.0
4) Yes, this applies in the Covington case. This will please nobody because I still believe the teenagers were dis… https://t.co/VI3QS7oWHP

— Kirsten Powers (@Kirsten Powers) 1550512191.0
6) It should be said I have been an equal opportunity scold, and liberals have been on the receiving end of my judg… https://t.co/TTC7cN1RpL

— Kirsten Powers (@Kirsten Powers) 1550512463.0
8) I also hope to be part of a conversation -- if we ever have it as a country -- about the path to redemption for… https://t.co/Bc0KURfNWC

— Kirsten Powers (@Kirsten Powers) 1550512690.0