A leftist protester was caught on video using a cowbell to disrupt a College Republicans event for over an hour at Portland State University — and campus police at the meeting did nothing, according to independent journalist Andy Ngo, who shot video of last week's incident.
"I've shut this entire s**t down all by myself," the protester was heard saying as he walked around the room right in front of several uniformed officers.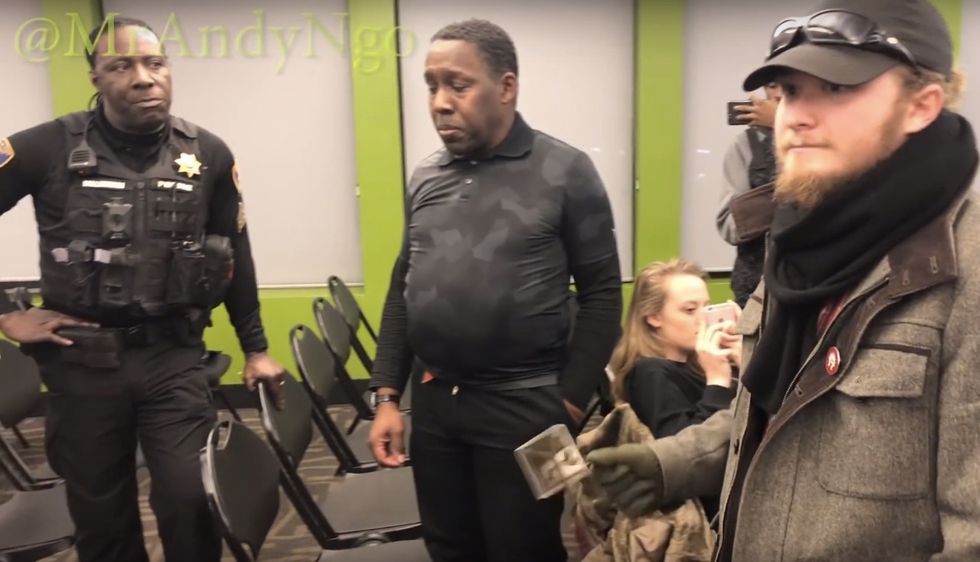 Image source: YouTube screenshot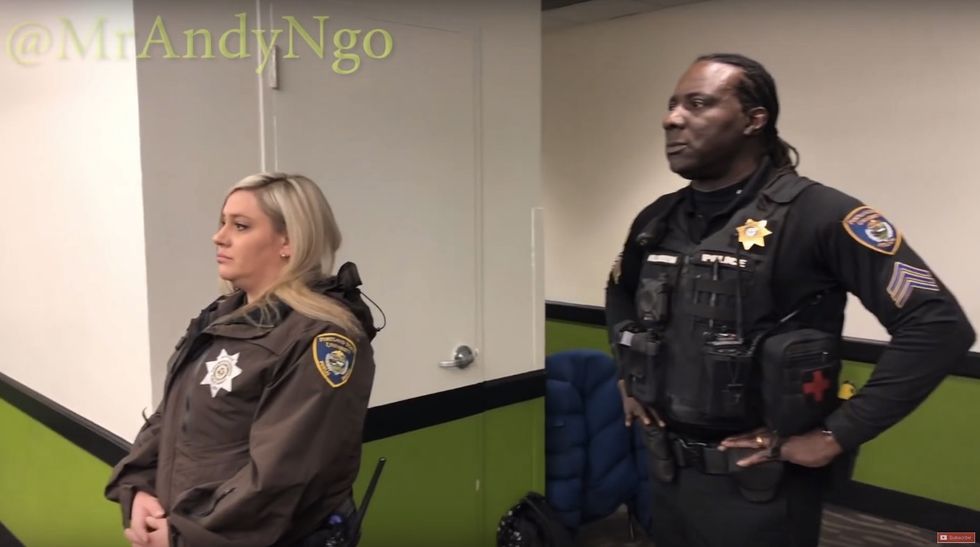 Image source: YouTube screenshot
He even danced in front of a projector to prevent images from appearing on a screen.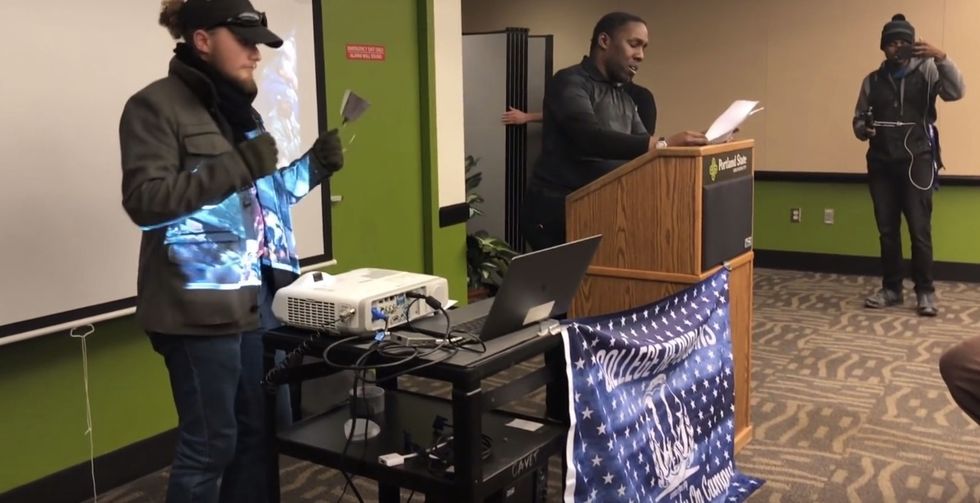 Image source: YouTube screenshot
Things got heated more than a few times. At one point, several people present at the meeting attempted to prevent the cowbell-ringing protester from moving.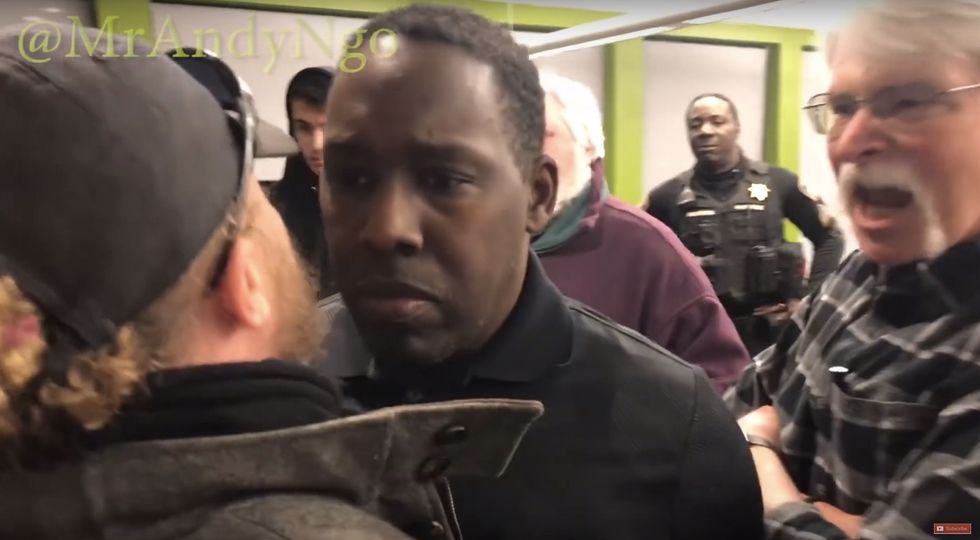 Image source: YouTube screenshot
Others squared off face-to-face with additional protesters: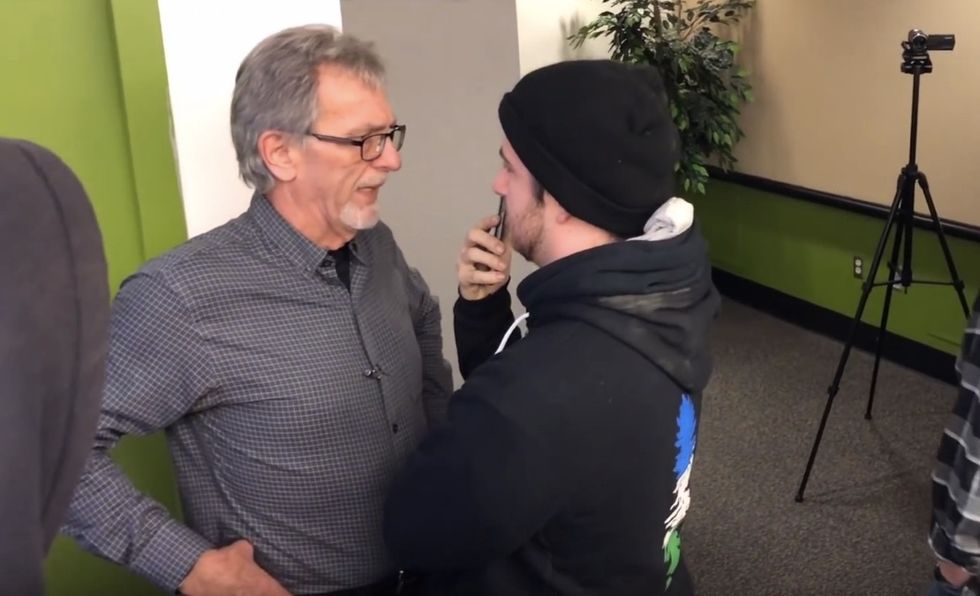 Image source: YouTube screenshot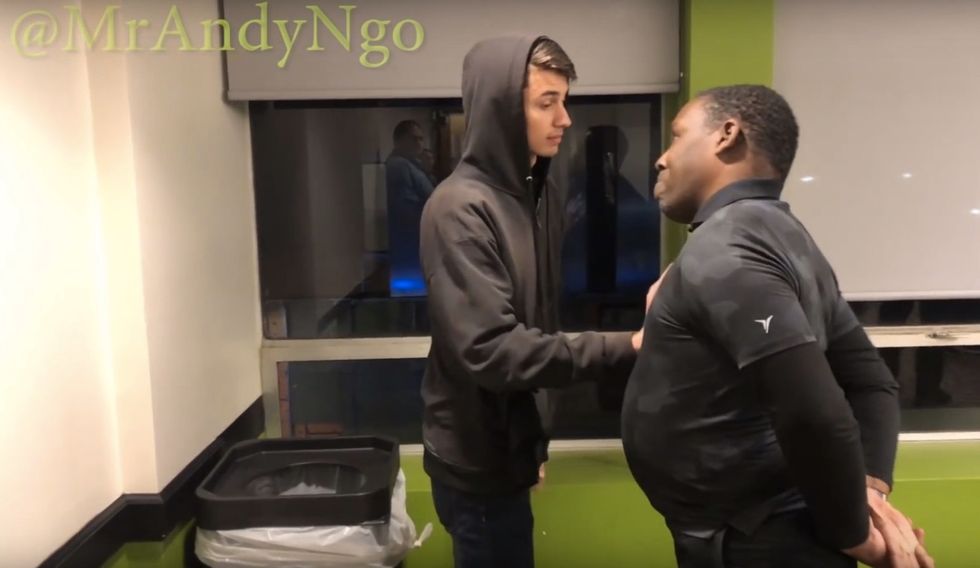 Image source: YouTube screenshot
At one point a cop did intervene in the above standoff — but apparently to ask the pro-speaker individual to move away from the hooded protester.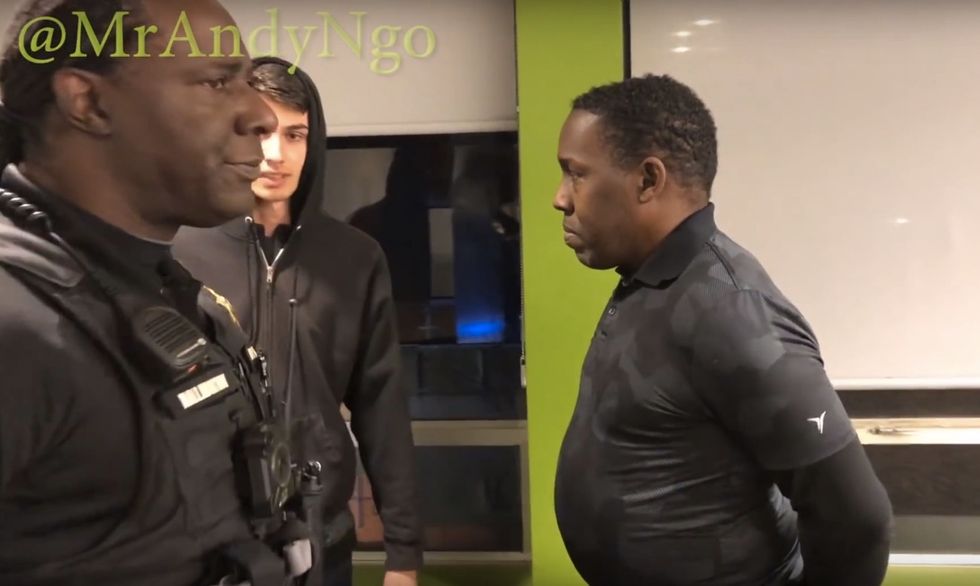 Image source: YouTube screenshot
What was the event about?
The March 5 event featured conservative blogger Michael Strickland who intended to discuss his arrest and conviction after brandishing a gun during a 2016 Black Lives Matter protest, Campus Reform said.
Regarding the cowbell-ringing protester, Strickland said "campus police and security refused to intervene, despite this guy's actions clearly meeting the statutory definition of Disorderly Conduct," the outlet added.
What did the school have to say?

Portland State said "no crime took place" at the event despite a reference to the Oregon State Statute defining "the crime of disorderly conduct" as committing certain acts "with intent to cause public inconvenience, annoyance or alarm, or recklessly creating a risk thereof," Campus Reform said.
University spokesman Chris Broderick refused to address the statue, the outlet said, but did say "it's not a crime unless there are threats, assaults, destruction of property or violations of public safety."
"No crime took place at this event. No threat to persons or property occurred. It was a meeting disruption," he added to Campus Reform, adding that the school "extended the time of the meeting beyond its scheduled end in that campus space to accommodate the delay" caused by the "disruption."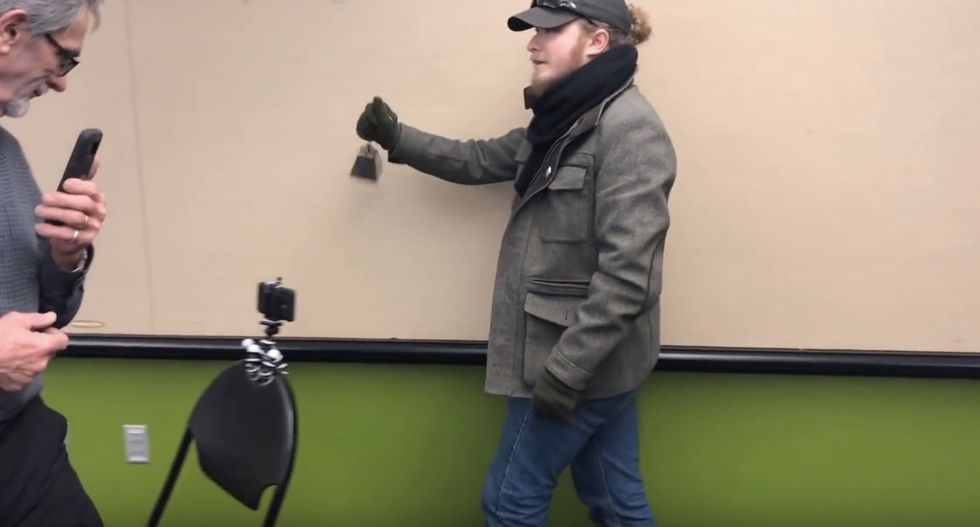 Image source: YouTube screenshot
Broderick also told the outlet: "If disrupting a meeting with a cowbell is a crime, then anyone who disrupts public meetings by yelling or being an 'annoyance' at school boards, city councils, county commissions, legislative hearings, etc., would be guilty of a crime. Obviously, that happens daily in public life in Oregon. It's not a crime unless there are threats, assaults, destruction of property or violations of public safety."
What does a lawyer have to say?
Tyson Langhofer, senior counsel and director of the Center for Academic Freedom at Alliance Defending Freedom, told Campus Reform that video of the incident makes it "very clear that the individual committed the crime of disorderly conduct in violation of Oregon law by making unreasonable noise and disturbing a lawful assembly without lawful authority."
"Unfortunately, officials at Portland State University compounded this problem by refusing to enforce the law and thus allowing the protestor to engage in a heckler's veto. Numerous courts have held that law enforcement has the duty not to ratify and effectuate a heckler's veto nor may they join persons intent on suppressing ideas. Instead, they must take reasonable action to protect persons exercising their constitutional rights," Langhofer added to the outlet. "If the University officials refused to enforce the law based on the viewpoint of the speaker's speech, as it appears they did, then the University violated the First Amendment rights of both the speaker and the student group sponsoring the event."
More blowback
Campus Reform noted a Monday letter to the school's president from the Foundation for Individual Rights in Education that took issue with Portland State's position on the incident.
"First, the videos depict not simply 'a' Campus Public Safety officer, but four law enforcement officers, including Campus Police Sergeant Willie Halliburton, Public Safety Officer Nichola Higbee, and two other uniformed officers," Adam Steinbaugh, director of FIRE's Individual Rights Defense Program wrote in the letter, the outlet said. "At least two officers were present within the first several minutes of the disruption."
More from the letter, according to Campus Reform:
"Second, the officers apparently believed that they could not remove a disruptive audience member, not simply that it would be imprudent," the Monday letter continued, citing multiple instances caught on video in which the officers asserted that they could not do anything to quell the situation.

"We recognize that the First Amendment does not create an affirmative obligation on the part of law enforcement to prevent third parties from infringing the rights of others," Steinbaugh said. "We also recognize that institutions committed to freedom of expression must anticipate and protect the rights of student and faculty members to peacefully protest disfavored speakers, whether that protest is polite and sober or vociferous and untempered."
Here's a clip of the meeting disruption. (Content warning: language):