Jerry Falwell Jr. — president of Liberty University — and his wife Becki took the stage on campus last week for a Conservative Political Action Conference satellite interview with Donald Trump Jr. and former Fox News commentator Kimberly Guilfoyle.
And as you might expect, conservative-leaning opinions began to fly.
At one point, Becki Falwell noted that the couple's granddaughter Reagan, just weeks old, would be raised "as a girl."
"She's our granddaughter, and we're raising her as a girl," she told the crowd. "We're not letting her have a choice. ... God makes the choice of what the babies are going to be, and God decided she would be a girl."
Jerry Falwell Jr. chimed in that it wouldn't take much of an effort to raise Reagan as a girl because "she's got a little baby doll right under her arm every second.
"My boys always had guns in their hands," he added provocatively.
"Hashtag me too," Trump Jr. replied.
Check out the clip. The relevant portion starts just after the 10-minute mark:
Uh oh
But apparently the Falwells' comments didn't sit too well with some Liberty students who staged a protest on the Lynchburg, Virginia, campus Wednesday afternoon, carrying signs supporting transgender rights and waving a gay pride flag, the News & Advance reported.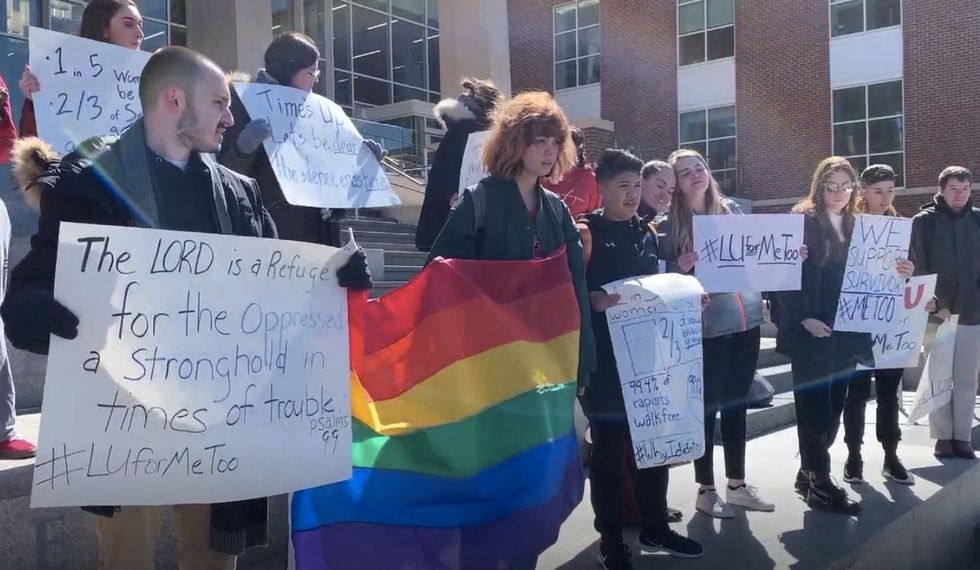 Image source: WSET-TV video screenshot
"We're out here mainly to start conversations, but to also be supportive and to let people know that, yes, this is a Christian campus and, yes, Jerry Falwell Jr. has insinuated that he does not care about you but that does not mean that every Liberty student does not care about you — we love you," bisexual sophomore Elizabeth Axley told the paper.
Senior Addyson Garner organized the protest, the News & Advance said, and called the Falwells' comments transphobic and said Trump Jr. shouldn't have referred to the #MeToo movement in a punch line.
"Regardless of where you stand, we all agree that we should show [LGBTQ] students love and support," Garner, who's also the senior class president, added to the paper. "Respecting people shouldn't be controversial."
Senior Caleb Fitzpatrick told the News & Advance that he and fellow protesters want to change how the university views speech.
"Our hope is to start a conversation that can hopefully lead to change within social perception and university policy," he added to the paper. "Hopefully, we can create an environment where comments like Friday's aren't welcome and aren't normal."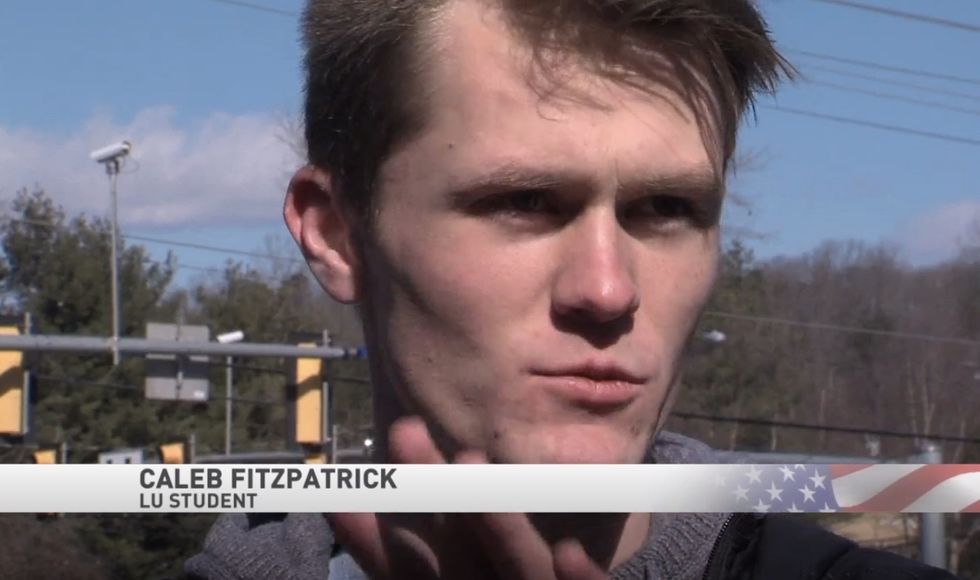 Image source: WSET-TV video screenshot
What did school officials have to say?
Scott Lamb, a Liberty vice president, told the News & Advance that Falwell Jr. and the school had no comment on the protest.
"We have protests quite frequently," Lamb told the paper, noting Liberty supports free speech and the right to assemble.
(H/T: The College Fix)