"A fight broke out, and a female teacher intervened, and while she was intervening, another male student struck her in the head," Kelly said in a phone interview with MediaNews Group, according to the Times Herald.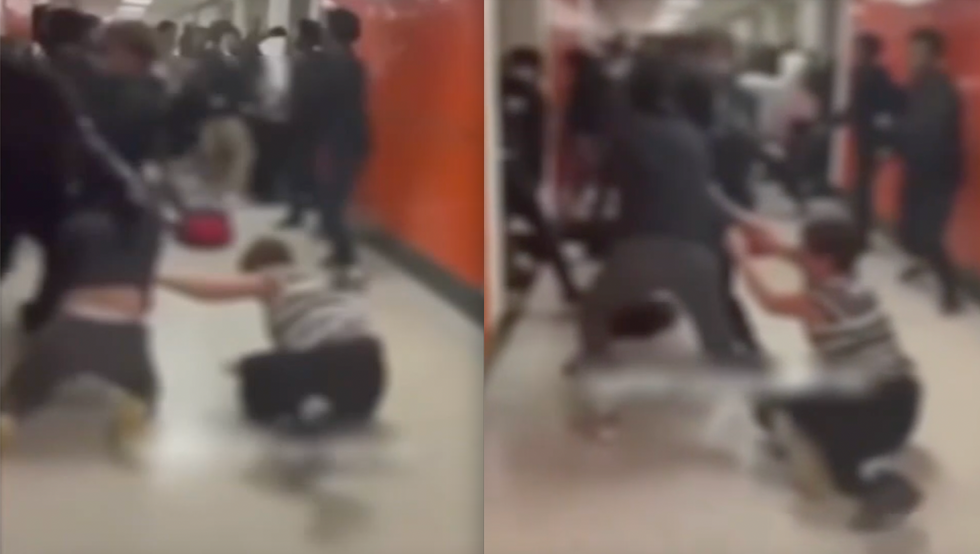 Image source: WPVI-TV video screenshot, composite
An unblurred video circulating on social media shows a student kicking a teacher, who's lying on a hallway floor, and then punching her in the head. The teacher then grabs her head with both hands and curls up flush against a row of lockers.
The paper said the teacher was taken to a nearby hospital where she was treated for her injuries. Norristown Area School District Superintendent Christopher Dormer added to the Times Herald that the teacher was "evaluated and sent home the same day."
No other injuries were reported, the paper said, but Kelly noted that the incident remains under investigation as law enforcement officials review video.
Student arrested
One student was arrested in connection with the brawl and charged with aggravated assault, WPVI-TV reported. Police haven't released the student's name because the student is a juvenile, the station added.
Dormer addressed the incident in a Wednesday letter to parents, saying, "[F]or the first time in all my years as superintendent, I chose to address the entire high school student body over the school's public address system ... all students involved in this incident are subject to the highest levels of school-based discipline, and we are working with local law enforcement to ensure appropriate criminal charges are applied," the station said.
The high school was closed to students Friday due to an unsubstantiated threat related to the brawl, WPVI said, after which some parents said they're concerned about sending their children to the school.
"You don't even want your kid to go to Norristown High, you know? It's getting to that," Norristown resident Tanea Cole told the station. She also told WPVI that the brawl was "disgusting" and that it's "sad that we got teachers coming to teach our kids, and they're getting beat up at school."