© 2023 Blaze Media LLC. All rights reserved.
Manchin finally admits inflation bill will not immediately help Americans with lower prices: 'Why would it?'
Sen. Joe Manchin (D-W.Va.) admitted Tuesday the so-called Inflation Reduction Act will not have an immediate impact on inflation.
The comments came on the same day that President Joe Biden signed the controversial bill into law.
What did Manchin say?
Fox News correspondent Hillary Vaughn asked Manchin on Tuesday whether Democrats misled Americans by claiming the bill would reduce inflation and thus lower the price of everyday goods.
"Why would it?" Manchin reportedly responded. "Well, immediately it's not. ... We've never [said] anything would happen immediately, like turn the switch on and off."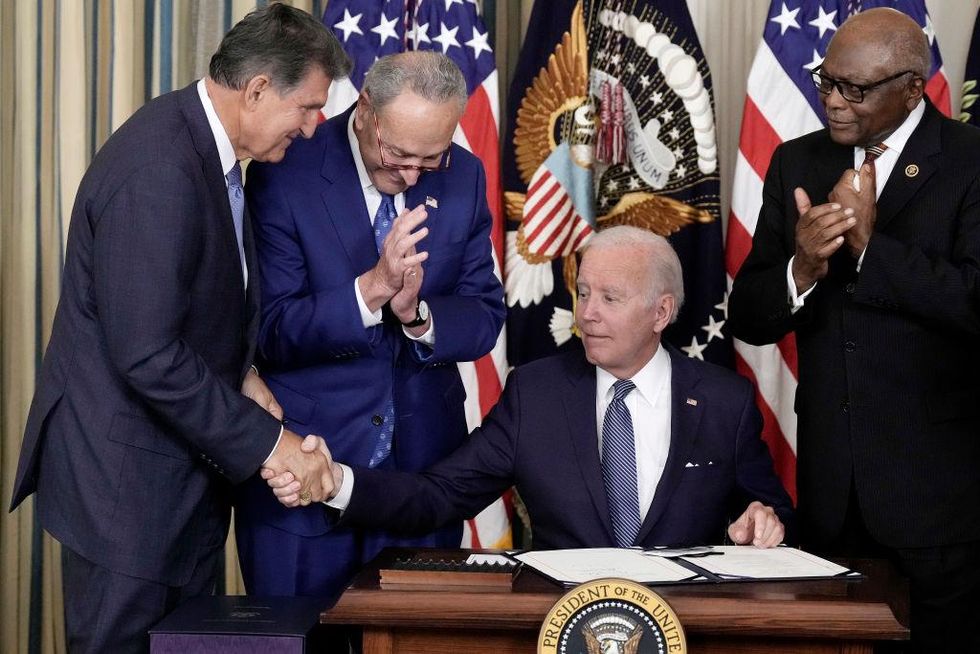 Sen. Joe Manchin shakes hands with President Joe Biden at a bill-signing ceremony for the Inflation Reduction Act. (Drew Angerer/Getty Images)
The moderate Democrat then claimed the proper way to respond to an inflation crisis is not by raising interest rates, which the Federal Reserve has repeatedly done in recent weeks to stave off inflationary pressures.
"We're fighting like the dickens. You got to produce yourself out of this," Manchin claimed. "If you think that you're going to wait on the Federal Reserve to raise rates, discourage you from buying anything, [and] that's going to take care of our inflation — that's not how you take care of inflation."
Economists, however, disagree. For example, famed economist Nouriel Roubini just this week called on the Federal Reserve to take more aggressive action — even raising baseline interest rates above 5% — to prevent inflation from "getting out of control."
Meanwhile, Vaughn also asked Manchin about the clean energy tax credits in the law, which reward Americans who install solar panels on their homes or purchase electric vehicles.

Manchin admitted the benefit is a "10-year process," Fox Business reported.
"That's not going to be overnight," Manchin said of the benefits. "They have incentives to do that, to help them. Trust me, if you have something going bad in your home where you're replacing it, and you have some assistance you're thinking of, that might be of help."
Will there be any impact on inflation?
Multiple nonpartisan analyses studied the Inflation Reduction Act — which is a pared-down version of Biden's "Build Back Better" agenda — and concluded the impact on inflation will be negligible at best.
"In calendar year 2022, enacting the bill would have a negligible effect on inflation, in CBO's assessment. In calendar year 2023, inflation would probably be between 0.1 percentage point lower and 0.1 percentage point higher under the bill than it would be under current law, CBO estimates," CBO Director Phillip Swagel explained in a letter.
The Penn Wharton Budget Model reached the same conclusion.
"The Act would have no meaningful effect on inflation in the near term but would reduce inflation by around 0.1 percentage points by the middle of the first decade. These point estimates, however, are not statistically different from zero, indicating a low level of confidence that the legislation would have any measurable impact on inflation," the analysis found.
Want to leave a tip?
We answer to you. Help keep our content free of advertisers and big tech censorship by leaving a tip today.
Staff Writer
Chris Enloe is a staff writer for Blaze News
chrisenloe
more stories
Sign up for the Blaze newsletter
By signing up, you agree to our
Privacy Policy
and
Terms of Use
, and agree to receive content that may sometimes include advertisements. You may opt out at any time.