Invoking Martin Luther King Jr. Day, the president of the University of Notre Dame announced that 19th-century murals of Christopher Columbus painted on plaster walls at the hallowed campus' main building will be covered over, as the murals are "at worst demeaning" toward indigenous people and Columbus' arrival in the new world was "nothing short of a catastrophe" for them.
In his Sunday letter to the campus community, Rev. John I. Jenkins wrote that he's "heard from students, alumni, faculty, staff, representatives of the Native American community, and others on this complex topic" and has "decided, after consultation with the University's Board of Fellows, on a course that will preserve the murals, but will not display them regularly in their current location."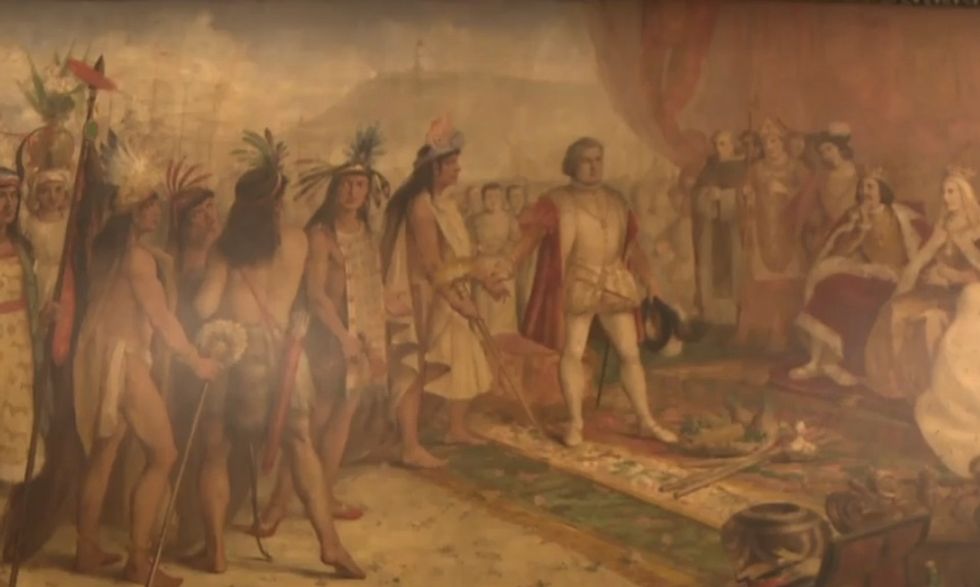 Image source: YouTube screenshot
High-res images instead!
Jenkins wrote that the murals' present location — "a busy throughway for visitors and members of the university community" — is "not well suited for a thoughtful consideration of these paintings and the context of their composition," even with a brochure in hand. So the murals will be covered by a woven fabric, he said, with the caveat that the fabric can be removed every now and then for special occasions.
But hey, there is good news! High-res images of Luigi Gregori's murals will be available to view, sometime, somewhere down the line — you know, for eyes not yet woke enough to be completely triggered by it all.
"Our goal in making this change is to respect both Gregori's murals, understood in their historical context, and the reality and experience of Native Americans in the aftermath of Columbus's arrival," Jenkins added. "We wish to preserve artistic works originally intended to celebrate immigrant Catholics who were marginalized at the time in society, but do so in a way that avoids unintentionally marginalizing others."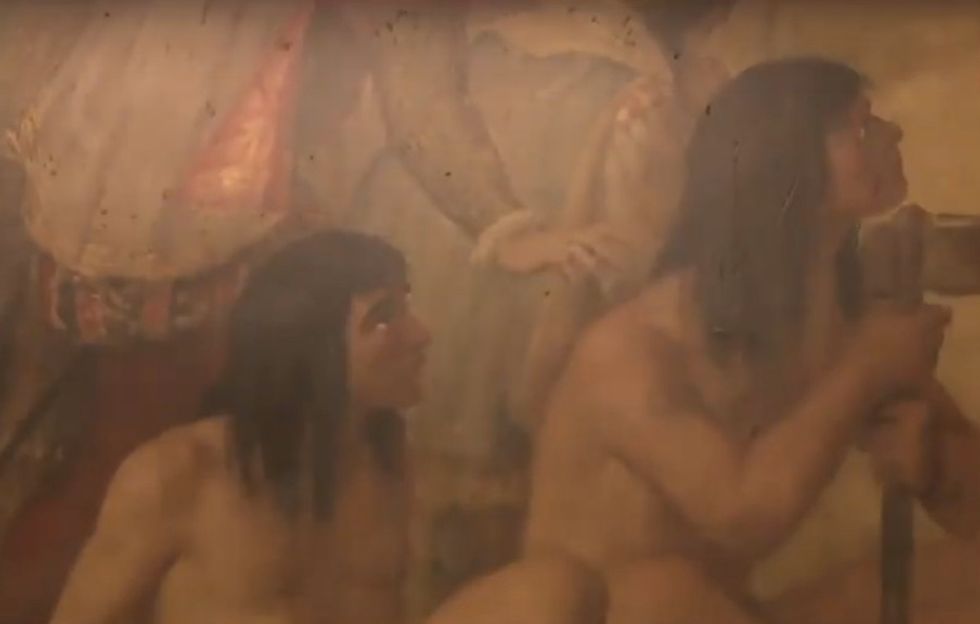 Image source: YouTube screenshot
What did students have to say?
Luke Jones, chairman of Young Americans for Freedom at Notre Dame, wasn't happy with the announcement.
"We are calling on the University of Notre Dame to act quickly to overturn this decision and proudly display the remarkable artwork depicting Christopher Columbus," Jones said in a statement, adding that it's "not a political issue or an issue of racism and bigotry as claimed so ridiculously by some students and legitimized by the university's actions," the College Fix reported.
Jones added, according to the outlet, that "at an institution of higher education, students should not be shielded by drapes from ideas they may disagree with in the name of political correctness. If the university continues to cater to groups who claim offense, at what point will the censorship on campus stop? Will the Vietnam War Memorial be next?"
But the school's Native American Student Association gave Jenkins kudos for his "thoughtful and wise decision. This is a good step towards acknowledging the full humanity of those Native people who have come before us. We sincerely hope that Father Jenkins and his administration will continue to prioritize Native issues on our campus in the coming weeks and months as there is still work to be done."