Rep. Alexandria Ocasio-Cortez (D-N.Y.) made a bizarre claim that she was being attacked by bots on social media in a tweet she later deleted.
The upstart Socialist Democrat accused a Republican operative of running "bot accounts" to "manipulate online discourse."
She offered no evidence for her weird claim.
"If you notice a lot more trolls on social media re: politics, it's because Mitch McConnell's former Chief of Staff runs a multimillion-dollar operation to have bot accounts manipulate online discourse," she said.
"Because we all know how hard they work to make the world a better place," she concluded.
She deleted the tweet but it was readily available on social media by those who took screenshots while it was posted.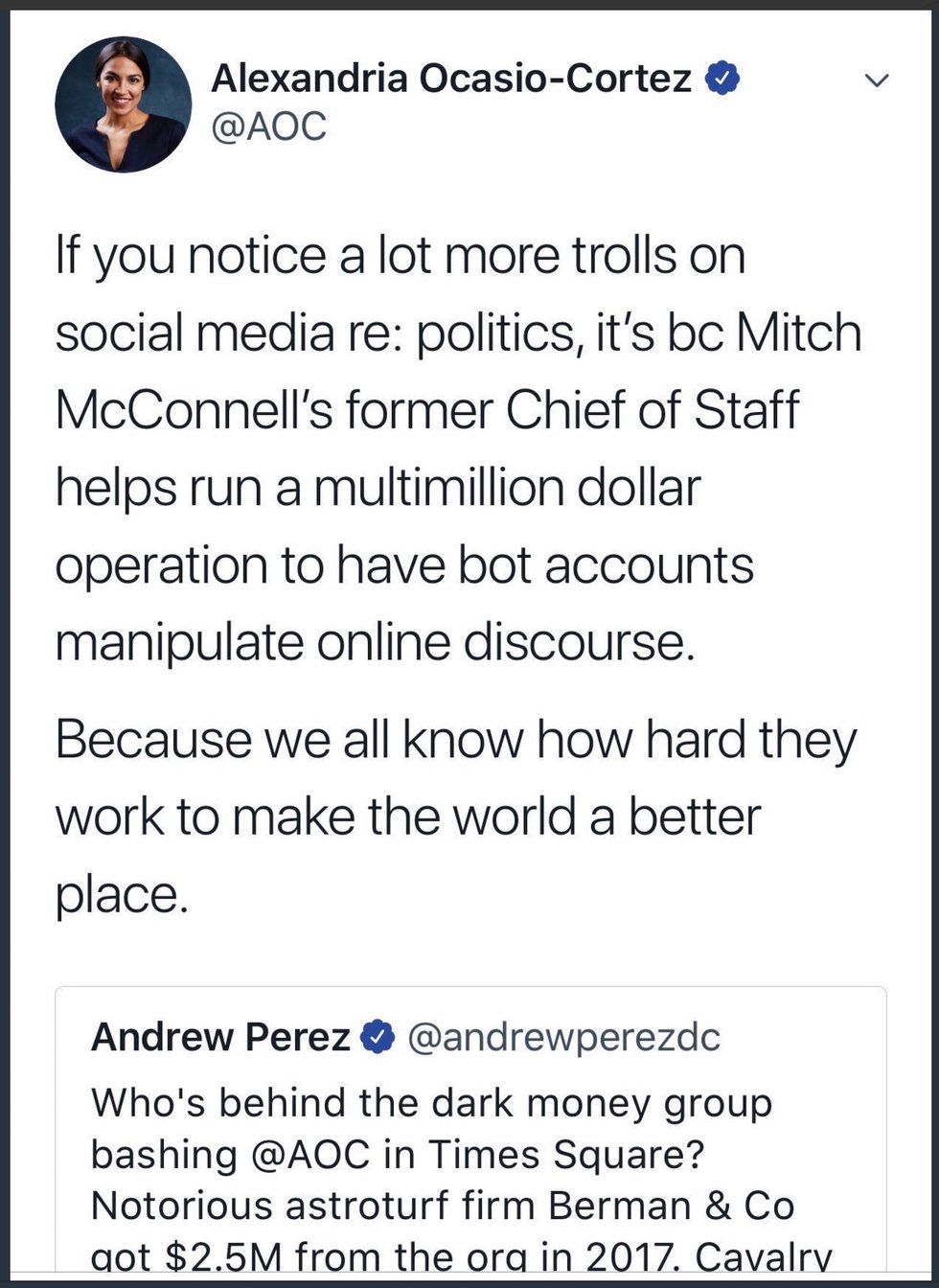 Image Source: Twitter screenshot
The object of her scorn, Josh Holmes, fired back a response calling her out for her unsubstantiated conspiracy theory.
"Every journalist in America should ask @AOC what she's talking about here," Holmes tweeted.
"This was a voter registration project," he explained. "She's easily the most reckless politician in America."

"If It becomes ok for Representatives to use their office to attack private citizens and businesses solely because of their political allegiances we lose the essence of American democracy," he added in a second tweet.
Ocasio-Cortez has faced an avalanche of scorn recently from her own side after her criticism appeared to help tank a deal that Amazon was making to bring their headquarters to New York City. The proposal would have brought 25,000 new jobs and billions of dollars of investment and tax revenue to the city.
The far left Democrat initially patted herself on the back for the implosion of the deal, but then went on the defensive when various Democrats attacked her for statements of what they said was economic illiteracy.
Here's the latest on Ocasio-Cortez' Amazon debacle:
Rep. Alexandria Ocasio-Cortez taken to task by fellow progressives www.youtube.com