Sharron Davies, welcome to Martina Navratilova's world.
Davies — a 56-year-old former swimmer who won a silver medal for Great Britain in the 1980 Summer Olympics, BBC Sport said — decided to take a public stand against biological males who identify as females competing in women's sports.
"I have nothing against anyone who wishes 2be transgender," she tweeted Friday. "However I believe there is a fundamental difference between the binary sex u r born with & the gender u may identify as. To protect women's sport those with a male sex advantage should not be able 2compete in women's sport."
And just as tennis legend Navratilova got upbraided and even kicked out of an LGBTQ advocacy group for saying the same thing last month, Davies received her obligatory whipping for speaking out as well.
Who ripped Davies?
Remember transgender cyclist Rachel McKinnon — a biological male — who placed first in a female cycling world championship competition in October?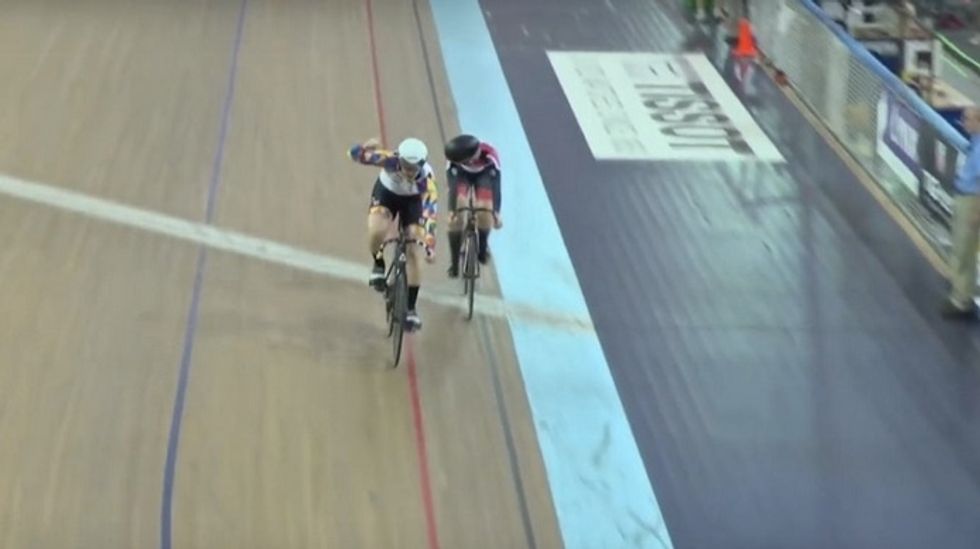 Rachel McKinnon wins in OctoberImage source: YouTube screenshot
Well, it seems McKinnon was none too pleased with Davies' words, and let the world know.
McKinnon on Saturday tweeted that Davies is "transphobic" — and in a separate tweet accused the former Olympian of "sharing hate speech."
"Davies and Navratilova are transphobic, transphobe," McKinnon said, responding to another Twitter user while noting separately, "I hope for a day soon when an ex-Olympian's sharing hate speech from a hate group — Fair Play for Women — is no longer newsworthy.
"There is no debate to be had over whether trans women athletes have an unfair advantage: it's clear that they don't," McKinnon added in a Twitter thread. "Since the Nov 2003 IOC policy openly allowing trans women to compete, not a single trans athlete has even qualified for the Olympics, let alone won a medal."

McKinnon told BBC Sport in December "she estimated she has received more than 100,000 hate messages on Twitter since she won her UCI Masters Track World Championship title in October," BBC Sport said.
Indeed, one might call McKinnon's Twitter page a transgender battlefield. While the cyclist trumpets "doctor" and "Ph.D." statuses, McKinnon's vocabulary includes some language not normally heard in a dissertation defense (e.g, "f***whistle," "asshat," "s**tbag)" A Twitter search indicates McKinnon spouted "s**tbag" a dozen times in the last year — and, in fact, noted "it's my new favorite epithet."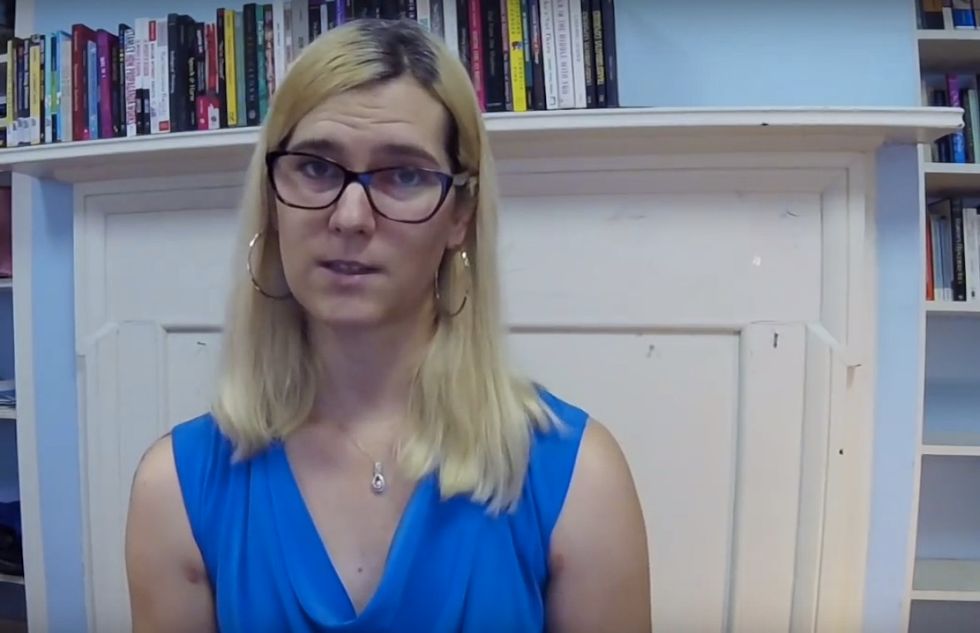 Rachel McKinnonImage source: YouTube screenshot
U.S. cyclist Jen Wagner-Assali finished third in the October race McKinnon won and called it "unfair" and requested cycling's international governing body to change its rules, BBC Sport reported.
What else did Davies say?
Amid the McKinnon fallout, Davies told BBC Sport that her stance is "not a transphobic thing — I really want to say we have no issue with people who are transgender."
"Every single woman athlete I've spoken to — and I have spoken to many — all of my friends in international sports understand and feel the same way as me," Davies added to the outlet.
"Unfortunately, a lot of people who are in the races [now] are in a very difficult predicament when they can't speak out. It maybe falls to the people who were competing [in the past] who would understand the predicament that is being faced at the moment to try to create a debate, and try to explain how we feel there needs to be a fair and level playing field," she added to BBC Sport.
Davies — also a two-time Commonwealth Games gold medalist, the outlet noted — said it's important that athletic governing bodies debate the issue.
"We need to come up with something that works for everybody and everybody agrees with, rather than having all sorts of diverse rules," she said. "We need to come up with a unified set of rules that is clear, concise, and fair."