On the heels of the New York Yankees pulling late singer Kate Smith's rendition of "God Bless America" after the team learned she sang racially insensitive songs in the early 1930s, the Philadelphia Flyers on Sunday removed a statue of Smith outside the team's arena for the same reason.
And members of Smith's family — who didn't find out about the move until KYW-TV told them — are outraged at the Flyers. The team also said Smith's "God Bless America" no longer would be played at games and has been erased from its library.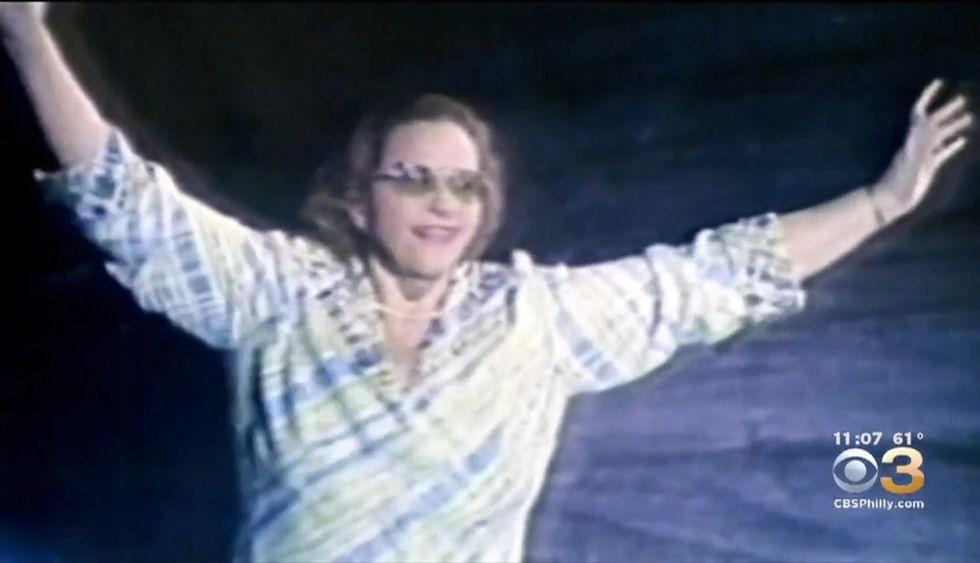 Image source: KYW-TV video screenshot
"I'm appalled," Suzy Andron, Smith's niece, told the station Sunday evening with her husband Bob Andron at her side.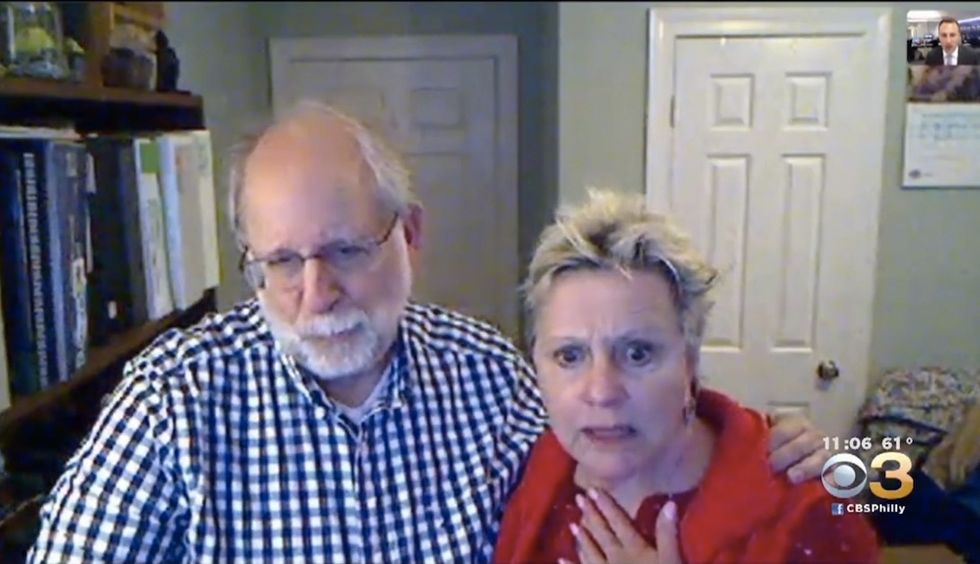 Image source: KYW-TV video screenshot
"Aunt Katherine was probably one of the kindest people I've ever met," Suzy Andron added to KYW. "She was certainly anything but a prejudice[d] person. She loved everybody."
All that's left now is the base upon which Smith's statue stood. Check out the news report:

Kate Smith's Family Disgusted With Flyers After Removal Of Statueyoutu.be
What's the background?
Smith's iconic version of "God Bless America" — penned by Irving Berlin and introduced during a 1938 radio program — became a second national anthem in the face of Adolf Hitler's rise to power and Nazi Germany's global threat.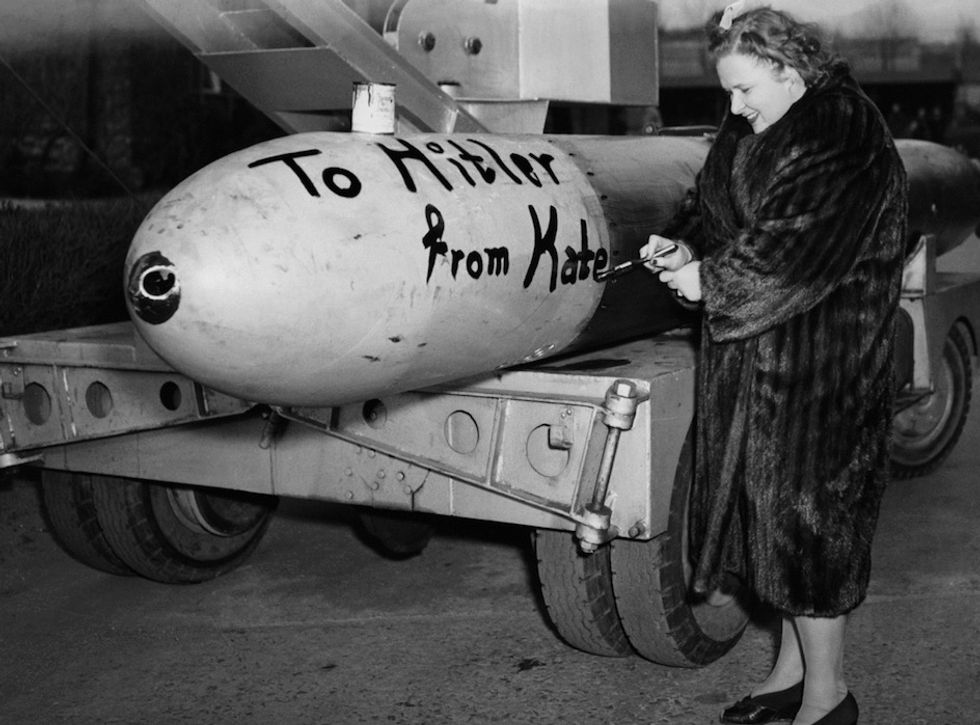 Kate Smith paints message 'To Hitler from Kate' on side torpedo at a U.S. Navy submarine base in New London, Connecticut, circa 1943.Photo by FPG/Archive Photos/Getty Images
"At the height of her career, during World War II, she repeatedly was named one of the three or four most popular women in America," Smith's 1986 New York Times obituary reads. "No single show-business figure even approached her as a seller of War Bonds during World War II. In one 18-hour stint on the CBS radio network, Miss Smith sold $107 million worth of war bonds, which were issued by the United States Government to finance the war effort. Her total for a series of marathon broadcasts was over $600 million."
Smith and Berlin both waived royalties for "God Bless America," which go to the Boy Scouts and Girl Scouts organizations, her obit noted. President Ronald Reagan awarded Smith the Presidential Medal of Freedom in 1982.
The Flyers and Smith share a long history, as the team used her recorded version of "God Bless America" before regular season and playoff games during the early 1970s. The Flyers also had Smith come to Philadelphia to sing "God Bless America" in person. The Flyers won back-to-back Stanley Cups in 1974 and 1975, and Smith had been the team's good luck charm ever since.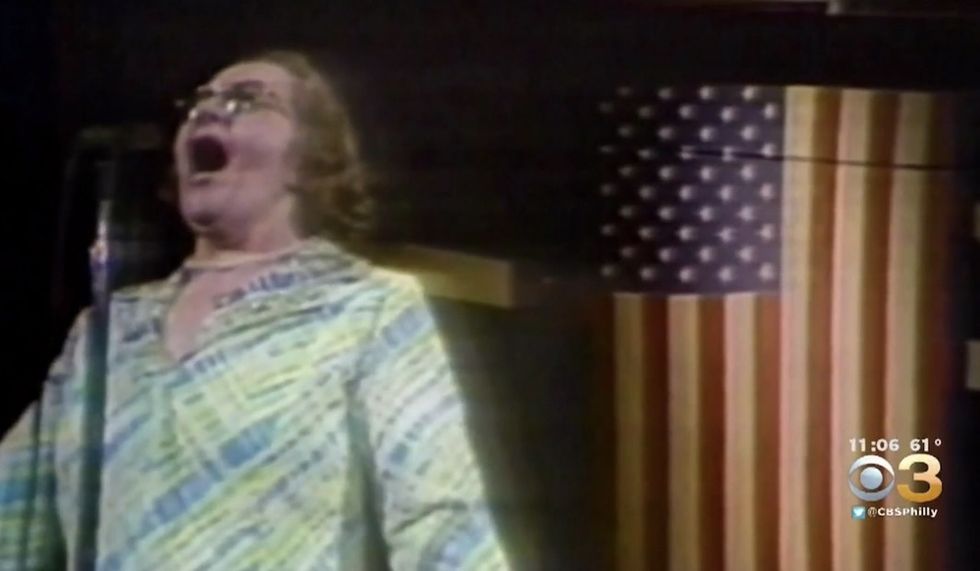 Image source: KYW-TV video screenshot
But other lyrics Smith sang led the team to cut ties with her.
She sang "Pickaninny Heaven," dedicating it in a 1933 video to "colored children" in a New York City orphanage. The song is about a place with "great big watermelons," "pork chop bushes," and where "old Black Joe is their Santa Claus." She also sang 1931's "That's Why Darkies Were Born," which noted that "someone had to pick the cotton / someone had to pick the corn / someone had to slave and be able to sing / that's why darkies were born." The latter tune was considered satire at the time, the New York Daily News said, adding the black civil rights figure Paul Robeson also sang it.
In response, the Flyers on Friday covered Smith's statue in black material.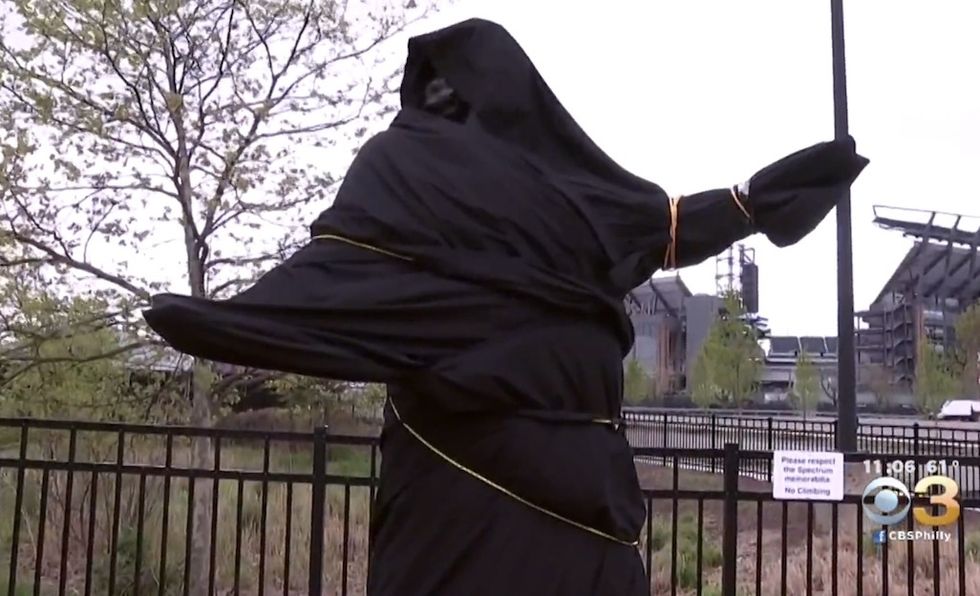 Image source: KYW-TV video screenshot
The team followed that move by removing the statue altogether, saying in a ratioed Twitter statement — in which responses outnumber likes — that "we cannot stand idle while material from another era gets in the way of who we are today."
#Flyers statement on Kate Smith: https://t.co/IkvBKFPGs4 https://t.co/FHQIttpFWJ

— Philadelphia Flyers (@Philadelphia Flyers) 1555865272.0
What else did Smith's family have to say?
Suzy Andron added to KYW that the Flyers "need to go back and look back at your own history ... and what Aunt Katherine gave to that team freely. Freely! She was so proud that she was their mascot."
Bob Andron also told the station that "we need the words and the song of 'God Bless America' singing loud again."
What did a notable sportswriter have to say about the Smith flap?
Longtime sportswriter and commentator Jason Whitlock said those who "blackmailed" the Yankees into ending Smith's "God Bless America" are "trying to sow seeds of division and undermining American pride under the bogus pretense that they're promoting racial harmony." Check out his commentary:
Whitlock: The New York Yankees and Philadelphia Flyers decision to eliminate Kate Smith's rendition of 'God Bless A… https://t.co/ncrz9nVYiQ

— Speak For Yourself (@Speak For Yourself) 1555723980.0