The only thing wilder than Joy Villa's Build the Wall-themed Grammys dress was, perhaps, the alleged reaction of the photographers snapping her picture.
What are the details?
Villa, a conservative, pro-Trump supporter, showed up to the red carpet for Sunday's 2019 Grammy Awards and was met with a throng of angry photographers who were clearly triggered by her dress, she claimed.
On Tuesday, Villa appeared on Fox Business Network's "Mornings With Maria," where she described the scene at the awards show.
"It was crazy," the singer-songwriter told anchor Maria Baritromo. "I mean, people — a lot of people were just giving me side-eye, giving me negative looks, not willing to look me in the eye, scrunching up their face. But when I walked the actual red carpet, the photographers were screaming at me.
"It's highly unprofessional," she added. "These photographers are hired by the Grammys. You know, that's all they're supposed to do. They were screaming 'Down with Trump!' 'We hate Trump!' 'Trump hates you!' 'You're a traitor' and 'Trump's a traitor!' I was like, 'Ah, this is different.'
"There was way more hate and vitriol this year than in 2017," Villa confided.
More people comfortable with Trump support
Villa said that she is glad, however, that more people at large seem to feel more comfortable with admitting their Trump support.
"I think that, you know, 2017 was kind of lonely," she said. "I was like, 'OK, I'm the only one getting death threats.' But the president is here. I'm supporting him. And then, now, we have other artists coming out, supporting Trump, becoming less afraid."
Villa went on to note that she believes a "counter-culture shift" is at hand.
"More conservatives are going to come out," she predicted. "I hope so."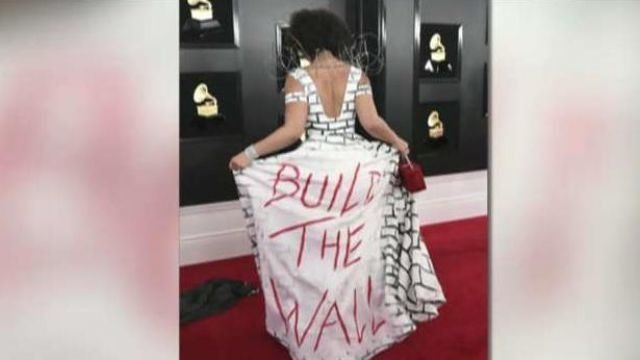 Joy Villa wears a pro- Trump Build The Wall dress to Grammy Awards Sunday video.foxbusiness.com