A public school district staffer wore blackface to work last week and soon was removed and placed on administrative leave, Newberg (Oregon) Public Schools said in a statement.
What are the details?
While the district did not go into detail about Friday's incident, KOIN-TV — via media partner the Newberg Graphic — said the culprit is a Mabel Rush Elementary School special education assistant who dressed as Civil Rights icon Rosa Parks and used iodine as a face darkener to protest a statewide vaccine mandate.
The station said the disclosure came from a fellow Mabel Rush staffer who requested anonymity. While KOIN named the staffer who wore blackface, TheBlaze will not do so until the district does.
Oregon Democratic Gov. Kate Brown mandated that all K-12 employees in the state must be fully vaccinated by Oct. 18.
What did parents have to say?
"It's just one thing after another, and as a parent you question sending your kid to school after awhile — at least I do," Shannon Benito, whose daughters attend Mabel Rush Elementary, told KGW-TV.

Tai Harden-Moore told the station she feels as though some connected to the district "really want us to go back to that Jim Crow era, back to the Civil Rights era." She added to KGW that her son, who is black, "was called the N-word in 7th grade" and that "the school did very little about it. Their approach was to protect the student who did it."
Harden-Moore told the station that her son left Newberg High School and moved to a Portland school.
'Slave trade' incident

The blackface incident comes on the heels of another racially charged incident just last week when parents of some Newberg High School students learned they were taking part in or being targeted by a social media group chat called "Slave Trade," which joked about how much participants would pay for their black classmates in a slave auction, KGW reported.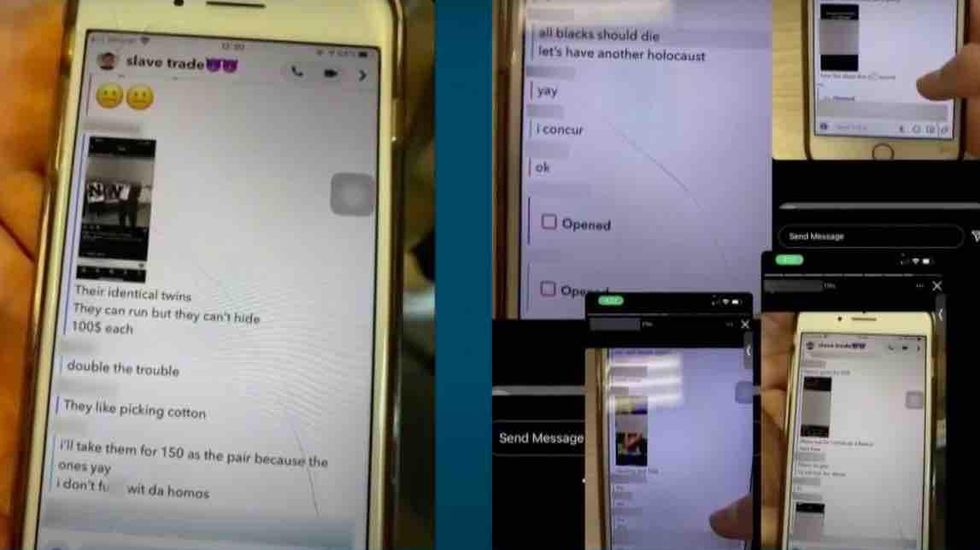 Image source: YouTube screenshot
Tami Erion, the high school's principal, told the station in an email that photos of students were used, as well as with racist and homophobic slurs.
And the Newberg School Board for months has been trying to ban teachers from hanging Black Lives Matter and Pride flags in their classrooms, KGW reported, adding that the board recently broadened the ban to include all "controversial political symbols" in schools.
Newberg elementary school staffer placed on leave after showing up to work in blackface youtu.be