Three high school students have been arrested in connection with the deadly rock attack that injured multiple motorists and killed a 20-year-old Colorado woman, police said on Wednesday.
Within a few hours on April 19, at least seven motorists had "large landscaping rocks" thrown at their vehicles while driving in the Denver area. One of the victims of the rock-throwing incidents said it "sounded like a shotgun" when the stone hit the passenger side of his van, according to the Denver Post.
Two drivers suffered minor injuries from the rock attacks. One of the motorists, Alexa Bartell, died after a large rock crashed through the windshield of the Chevy Spark that she was driving in Jefferson County. Police said Bartell was killed by the rock and not the crash into a field when she veered off the road.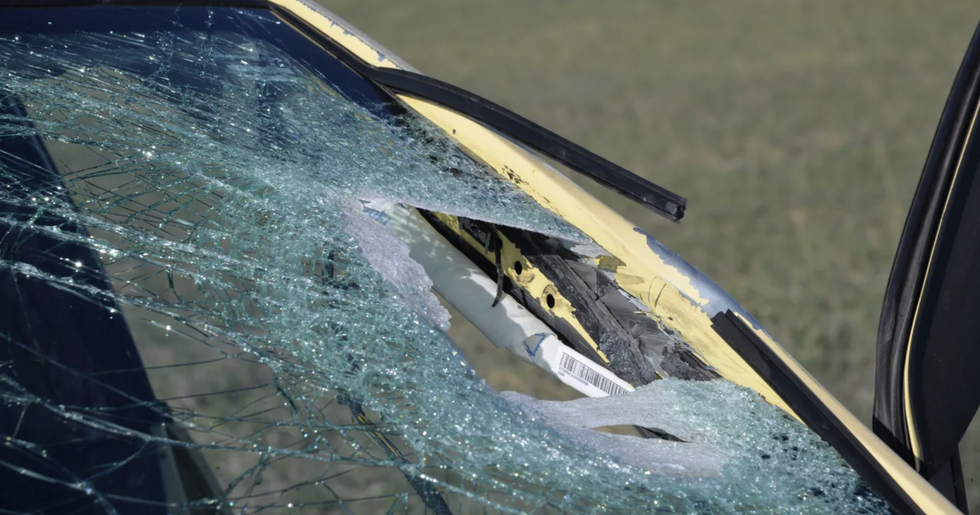 Photo of Alexa Bartell's car following rock attackJefferson County Sheriff's Office
The Jefferson County Sheriff's Office ruled Bartell's death a homicide and launched an investigation to apprehend those responsible for the fatal rock attack.
Three teen suspects were arrested late Tuesday night into Wednesday morning at their homes in Arvada, Colorado. The suspects are Joseph Koenig, Nicholas "Mitch" Karol-Chik, and Zachary Kwak. The Jefferson County Sheriff's Office noted that all of the suspects were 18 years old.
"They are seniors in high school," CBS News reported. "One attends Ralston Valley High School, one goes to Standley Lake High School in Westminster, and the other attends online school."

The Jefferson County Sheriff's Office said in a press release, "All three are suspected of throwing rocks and all three are currently facing charges of first degree murder, extreme indifference. Additional charges are expected to be filed and the First Judicial District Attorney's Office will determine final charges."
Mark Koenig, the father of Joseph Koenig, was arrested around 11 p.m. on Tuesday outside his home and charged with obstructing a peace officer. The father allegedly told deputies that they could interview his son the next day, and Koenig reportedly interfered with the police investigation.
The three suspects had been throwing objects at moving vehicles since at least February, according to the arrest affidavit released on Thursday. Police said the trio engaged in the attacks on 10 separate days, which included a statue being hurled at a car.
"These suspects went from place to place to place to place throwing large rocks through windshields of vehicles. We have not seen this before," said Jacki Kelley, spokesperson for the Jefferson County Sheriff's Office.
Kelley said the arrests were the result of "cellphone device forensics and then supporting information from our public." She noted that the public provided more than 300 tips to investigators.
Since there were multiple locations of the rock attacks, investigators sought "geofencing warrants," or "reverse warrants." The controversial law enforcement tool identifies potential suspects based on the location history of their devices near a crime scene.
Authorities notified Bartell's family of the arrests in the middle of the night.
"They're just so grateful," Kelley said of Bartell's family. "They're still suffering from the greatest loss possible, but this is the beginning of the journey that they'll be on next."
Kelley added, "This case touched a lot of people deeply. This was a beautiful young woman with her whole life in front of her who was simply driving home."
Like Blaze News? Bypass the censors, sign up for our newsletters, and get stories like this direct to your inbox. Sign up here!
Three 18-year-olds arrested in deadly rock throwing spreewww.youtube.com