Toilet paper during the coronavirus chaos: Though it might not be most folks' No. 1 concern, it's at least a No. 2 concern for millions.
Just look at the hoarding that went on as warnings of pandemic panic began: A jerk in Oregon smashed a car window to swipe a couple cases of the stuff; and no one can forget the Aussie women who got into fisticuffs over a store's last roll.
And now the Dallas Metro area suddenly has less of it after a fiery wreck on the interstate in the wee hours Wednesday morning.
Bad news just piles up
According to KTVT-TV, a semitruck carrying a giant load of toilet paper turned over and caught fire, shutting down Interstate 20 for hours.
The big rig full of thousands of rolls of the coronavirus-era's most treasured commodity was scheduled to drop its load in San Antonio later Wednesday.
No April Fools joke! A Semi carrying industrial size toilet paper overturned and caught fire WB I-20 at I-45 in Dal… https://t.co/FXwyZDzvdx

— Mike Forbes (@Mike Forbes) 1585739549.0
KTVT said the driver told the outlet that he hit a bump, lost control of the truck, and hit a barrier before overturning.

Police told WFAA-TV that the semitruck driver, who was unharmed in the accident, fell asleep at the wheel.
Messy cleanup after lots of burning
The paper was scattered across the highway and "burned extensively," Texas Department of Transportation officials told WFAA, adding that they expected it would take quite a while to get it cleaned up.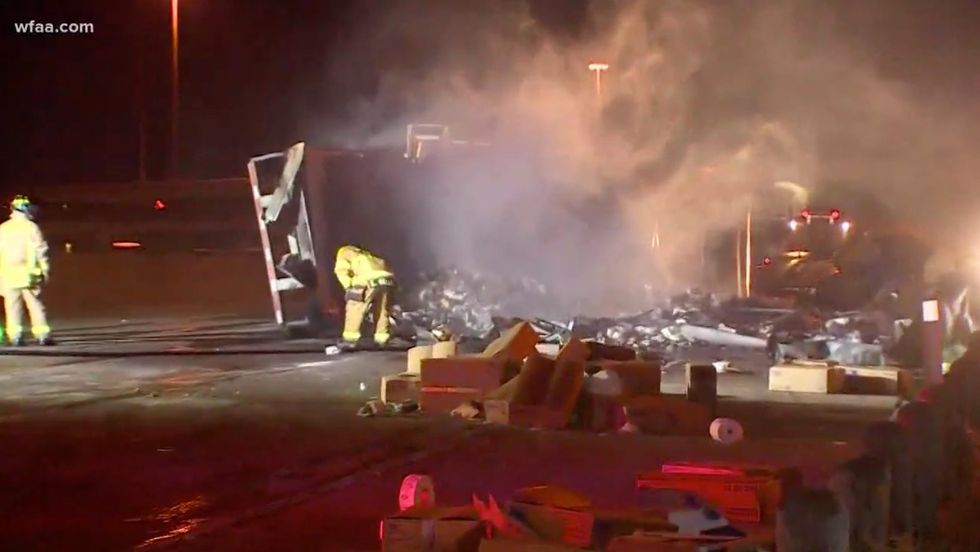 Image source: WFAA-TV screenshot
KTVT said firefighters spent hours putting out hot spots after dousing the main flames.

The Texas DOT dropped off crews to clean up the giant piles of wet wads of tissue blockage and finally had the interstate flowing regularly again several hours later.