In the wake of further molestation claims against Michael Jackson, a 1991 episode of "The Simpsons" featuring the voice of the late pop star is being pulled from the series — but not everyone agrees the move is a good idea.
The episode titled, "Stark Raving Dad," includes a mental hospital patient who claims to be Jackson but looks nothing like him. Jackson himself voiced the character, the Wall Street Journal reported.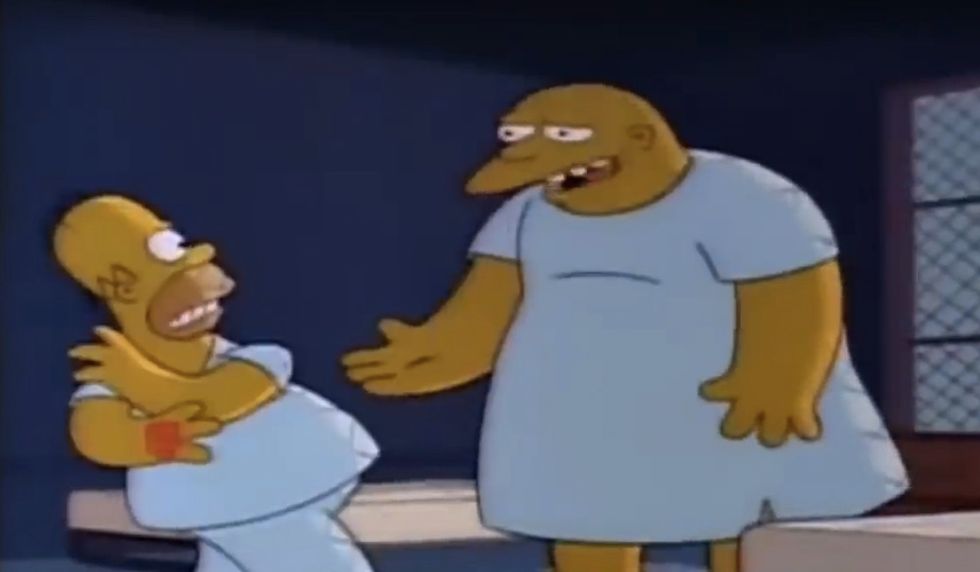 Image source: YouTube screenshot
"This was a treasured episode," the show's longtime executive producer James L. Brooks told the paper. "There are a lot of great memories we have wrapped up in that one, and this certainly doesn't allow them to remain."
By "this" Brooks means the new HBO documentary "Leaving Neverland" in which two men say Jackson molested them over several years when they were children. Jackson, who died nearly a decade ago, denied all such allegations.
Brooks told the Journal that pulling the episode from circulation was important in order to show compassion toward Jackson's alleged victims.
"The guys I work with — where we spend our lives arguing over jokes — were of one mind on this," Brooks added to the paper in reference to show creators Matt Groening and Al Jeann.
After the Journal asked Brooks why Jackson's alleged behavior wasn't enough to pull the episode previously, Brooks noted Jackson's 2005 acquittal of child molestation charges — but said "Leaving Neverland" convinced him of such allegations. Radio stations around the world began pulling Jackson's music following the documentary's release.
"Stark Raving Dad" will be removed from all platforms and outlets that carry it, including streaming services, TV stations, and Blu-ray/DVD box sets, the paper said.
"I'm against book burning of any kind," Brooks added to the Journal. "But this is our book, and we're allowed to take out a chapter."
Not everybody sees it that way

"While Brooks is correct that Fox has the right to pull the episode, he's wrong that this is simply like editing a book for a new edition," Slate writer Isaac Butler noted. "Consigning 'Stark Raving Dad' to the dustbin of history is a mistake, an offense against art and the medium of television, and part of a growing trend of corporations using their consolidated power and the death of physical media to do damage control by destroying works by troublesome artists."
Butler added that "you can't decide whether you want to engage with works of art you aren't allowed to see" and called the decision by Brooks & Co. "paternalism."
He added that the episode featuring the Jackson character launched the series' "much-beloved golden age ... a period of sustained genius that changed television, sitcoms, animation, and the American sense of humor."
More from Butler's piece:
"Stark Raving Dad" is not the golden age's best episode, but it is the shot across the bow. In its absurd plotting and metatextual japery, its alchemical mixture of cynicism and heartwarming sentiment — to say nothing of the way it reckons with its guest celebrity's public image — it establishes the formula that the show was to follow for years. The episode belongs in a museum — preserved forever, not swept into the memory hole.
"Where do we draw the line?" he asked. "The important thing is that we are able to draw it ourselves." You can read Butler's entire take here.
Here's a clip from the episode in question: