© 2023 Blaze Media LLC. All rights reserved.
Surveillance video shows Jewish man being chased down by cars waving Palestinian flags. He says he ran for his life as they began shouting 'Allahu akbar!'
New video footage from Los Angeles this week shows the terrifying moment that a Jewish man was being chased down by at least two Palestinian flag-bearing cars in a parking lot on his way home from synagogue. The anonymous man revealed just how harrowing the incident was, telling Fox News he definitely feared for his life as his pursuers were chanting "Allahu akbar."
What happened?
As Middle East tensions between Hamas terrorists and Israel have escalated, pro-Palestinian and anti-Israel attacks on Jews around the world — including in the United States — have also risen.
Reports across the globe have documented cases of pro-Palestine activists verbally and physically harassing and attacking Jews:
Now a new video out of L.A. shows at least two cars waving Palestinian flags chasing down an unnamed man. The man running from the cars, who said he is Jewish, spoke with Fox News this week about the incident that happened Monday.
According to the victim, he was on his way home from synagogue when cars began speeding toward him, chasing him into a bank parking lot.

"I've taken this route a million times and I've never been afraid," he told Fox News. "I was waiting by the light for it to change and suddenly I saw a bunch of cars coming and I see out of the corner of my eye they were waving the Palestinian flag. They started speeding up and I heard them chanting 'Allahu akbar.' That's when I started running for my life."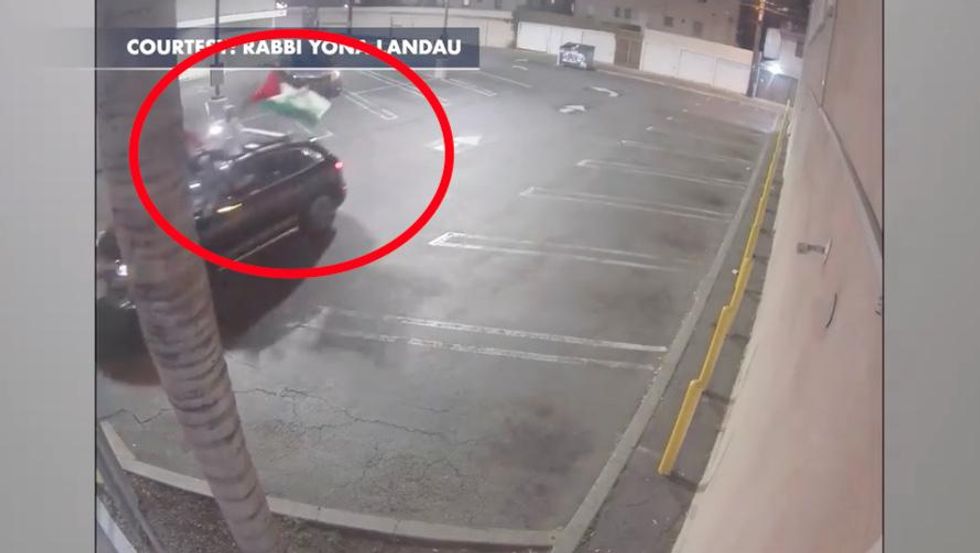 Image source: Fox News video screenshot
"I ran as fast as I could," he added. "They were picking up speed and I really thought they were going to run me over, that it would all be over."

He told the outlet that he escaped by running back into the synagogue, praying all the way. When he entered the house of worship, he recruited others to help secure the entrances.
"I was petrified," he said. "I just kept thinking, 'I'm a father of six and I want to come home to them tonight.' I thought they were going to kill me. My mind was racing."
He told the outlet he was shocked to see this in America where freedom of religion is paramount.
"You'll never see any Jews in my community attacking pro-Palestinians in a residential neighborhood like you saw here. And yet, I don't feel safe walking around," he said.
The LAPD told Fox News the incident is under investigation and that they could not give specifics, but they assured the community they are aggressively searching for the perpetrators.
Want to leave a tip?
We answer to you. Help keep our content free of advertisers and big tech censorship by leaving a tip today.
more stories
Sign up for the Blaze newsletter
By signing up, you agree to our
Privacy Policy
and
Terms of Use
, and agree to receive content that may sometimes include advertisements. You may opt out at any time.