What did the Democrat say?
Reacting to Scott absolving America from being inherently racist, Lamar County Democratic Party chair Gary O'Connor called Scott an "oreo" in a now-deleted Facebook post, Fox News reported.
"I had hoped that Scott might show some common sense, but it seems clear he is little more than an oreo with no real principles," O'Connor wrote.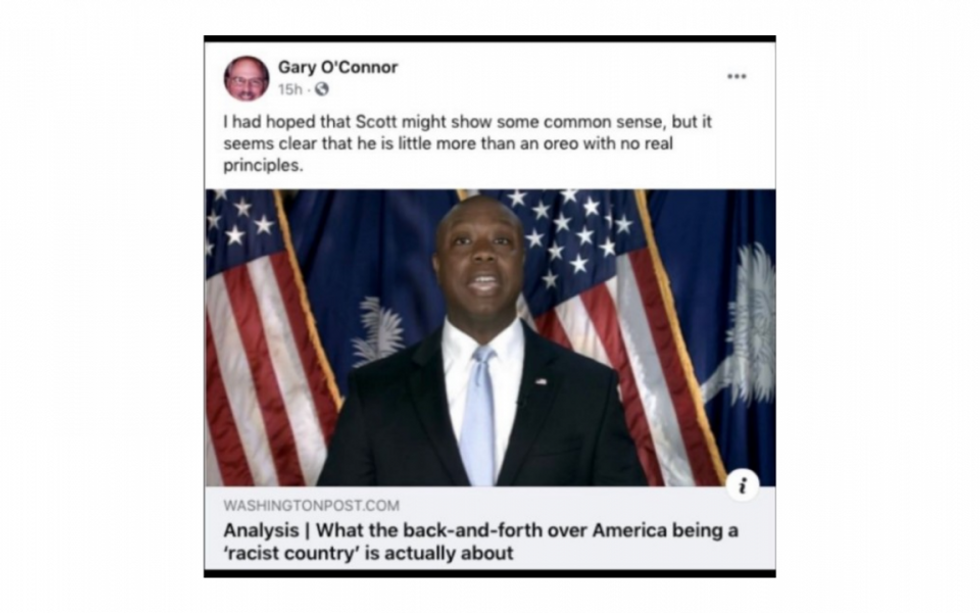 Image source: screenshot via Rep. Pat Fallon.
By calling Scott an "oreo," O'Connor was suggesting that Scott — the lone black U.S. senator — is black on the outside, but white on the inside.
What was the reaction?
Texas Rep. Pat Fallon (R), whose congressional district includes Lamar County, rebuked O'Connor for his "racist behavior," and called on him to immediately resign from his leadership position.
"Gary O'Connor's comment against Senator Tim Scott is abhorrent, insulting, and unforgivable. Both he and the entire Lamar County Democratic Party should be ashamed of this racist behavior," Fallon said in a statement. "O'Connor must apologize and step down immediately."
"Additionally, I call on both the Democratic Party of Texas and the NAACP to condemn these words, and the state party should take swift action to censure him," he added. "This kind of behavior is not tolerable in Texas, the United States, or any political party."
Texas Gov. Greg Abbott (R) had a similar reaction.
"This is disgusting, hateful, and completely unacceptable. O'Connor must apologize to @SenatorTimScott & step down immediately. @texasdemocrats censure him," Abbott said on Saturday.
Anything else?
President Joe Biden and Vice President Kamala Harris did not receive similar condemnation from O'Connor, despite both Democratic leaders expressing agreement with Scott's statement.

"I don't think the American people are racist," Biden said last week. "I don't think America is racist, but I think the overhang from all of the Jim Crow — and before that, slavery — have had a cost, and we have to deal with it."
"No. I don't think America is a racist country," Harris said, 'but we also do have to speak truth about the history of racism in our country and its existence today.