A Texas father of five is dead after a tire came off an 18-wheeler truck Thursday afternoon, bounced over a freeway divider, and smashed into the windshield of the victim's car and sheared its roof.
What are the details?
The big rig was heading south on Interstate 45 in north Harris County when two tires on its left side came off and rolled into the main lanes near Louetta at about 1:35 p.m., Sheriff Ed Gonzalez told KTRK-TV.
One of the tires entered the service road and struck a vehicle, causing only minor damage, the station said, adding that the driver wasn't injured.
But the other tire bounced over the center wall and into the interstate's northbound lanes where it hit the windshield of another car, KTRK said, striking the driver and shearing the car's roof. The driver, 32-year-old Lee Simmons, was pronounced dead at the scene, the station said.
The big rig and the victim's car were traveling in opposite directions, and presumably the tires that came off the truck traveled forward with the truck's forward momentum.
Gonzalez said Simmons' 11-year-old child also was in the car when the tire hit it, KTRK reported, adding that the child suffered minor injuries and was treated at the scene.
GoFundMe said Simmons is the father of five children — ages 12, 11, 9, 22 months, and 11 months, the Fort Worth Star-Telegram reported.
Simmons' wife told KTRK at the scene that "it's not real right now. It's not real."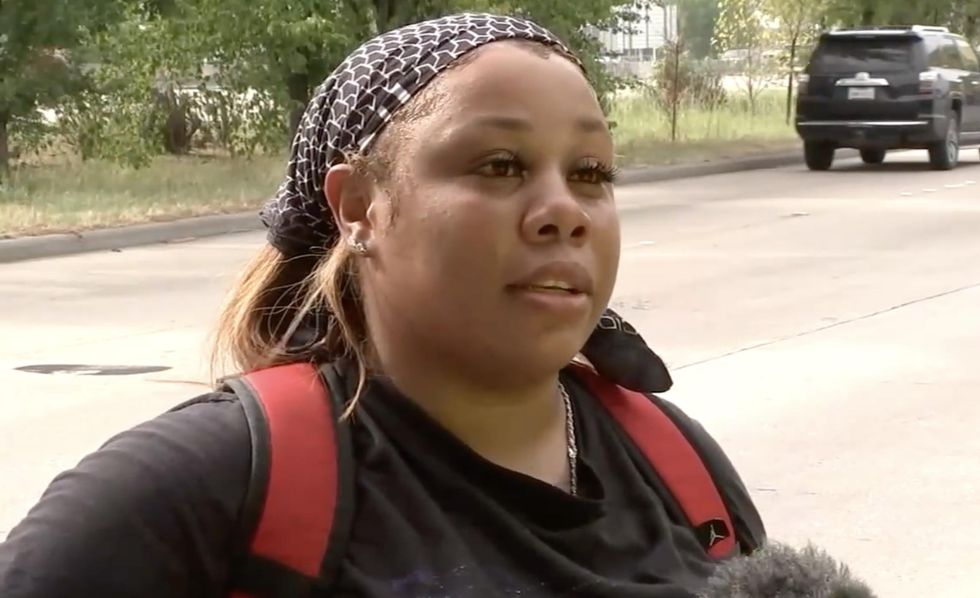 Image source: KTRK-TV video screenshot
"A tire flew off an 18 wheeler going south and jumped over the other side of the freeway and killed him," she recounted to the station. "It crashed and totaled the car. It took off the roof. It smashed the windows."
Joshua Gable told KTRK he was driving behind the truck: "I'm shaking right now, because that's just how fast life can hit you. One minute you're driving down the road, and the next minute you're gone."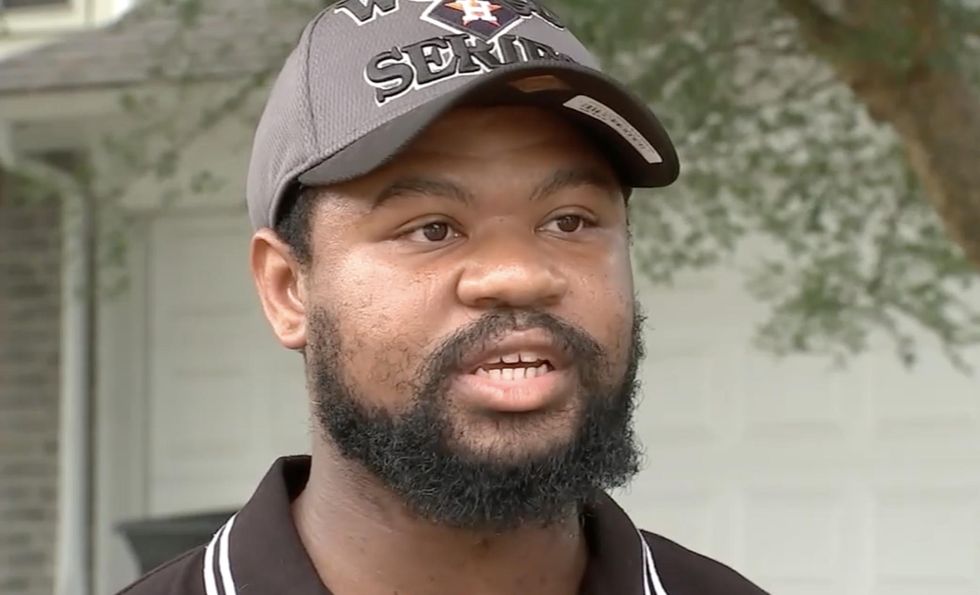 Image source: KTRK-TV video screenshot
Gable said he told authorities he saw one of the tires bounce over the freeway divider, the station noted.
"It's a tough situation," Gable added to KTRK. "Somebody lost their life at the end of this. You definitely look at things differently. Like I said, it could've been me."
Anything else?
Deputies added to the station that one of the rear tandem wheels broke away from the axle, causing the wheels to separate. The driver stopped, KTRK reported, adding that no charges were announced.
Gonzalez asked that anyone who witnessed the incident to call the sheriff's office as it continues its investigation.