Twitter on Thursday removed a tweet posted by the former prime minister of Malaysia that said Muslims have "a right to be angry and kill millions of French people," but did not suspend the author's account. The tweet was sent hours after an attacker yelling "Allahu Akbar" brutally beheaded one person and killed two others in Nice, France.
The deleted tweet was part of a longer thread from former Malaysian Prime Minister Dr. Mahathir Mohamad, who said that while he personally does not approve of the murder, Muslims have a "right to be angry" with Western civilization and French President Emmanuel Macron over the display of cartoons depicting the Prophet Muhammad.
The Muslim world is outraged at the French government for refusing to take action against French citizens for public displays of the prophet Mohammad, who founded of Islam. Images depicting Muhammad are considered blasphemous in the Islamic religion. French citizens have begun depicting Muhammad in images as a show of support for free expression after a French school teacher was beheaded by a Chehchen refugee on Oct. 16 in retribution for showing his students a Muhammad cartoon.
The former prime minister criticized Macron for refusing to stop the French people from freely expressing themselves.
"Macron is not showing that he is civilised [sic]. He is very primitive in blaming the religion of Islam and Muslims for the killing of the insulting school teacher. It is not in keeping with the teachings of Islam," Mohamad tweeted. "But irrespective of the religion professed, angry people kill. The French in the course of their history has killed millions of people. Many were Muslims."
Then he argued in a tweet hidden by Twitter that Muslims have a right to kill "millions of French people for the massacres of the past."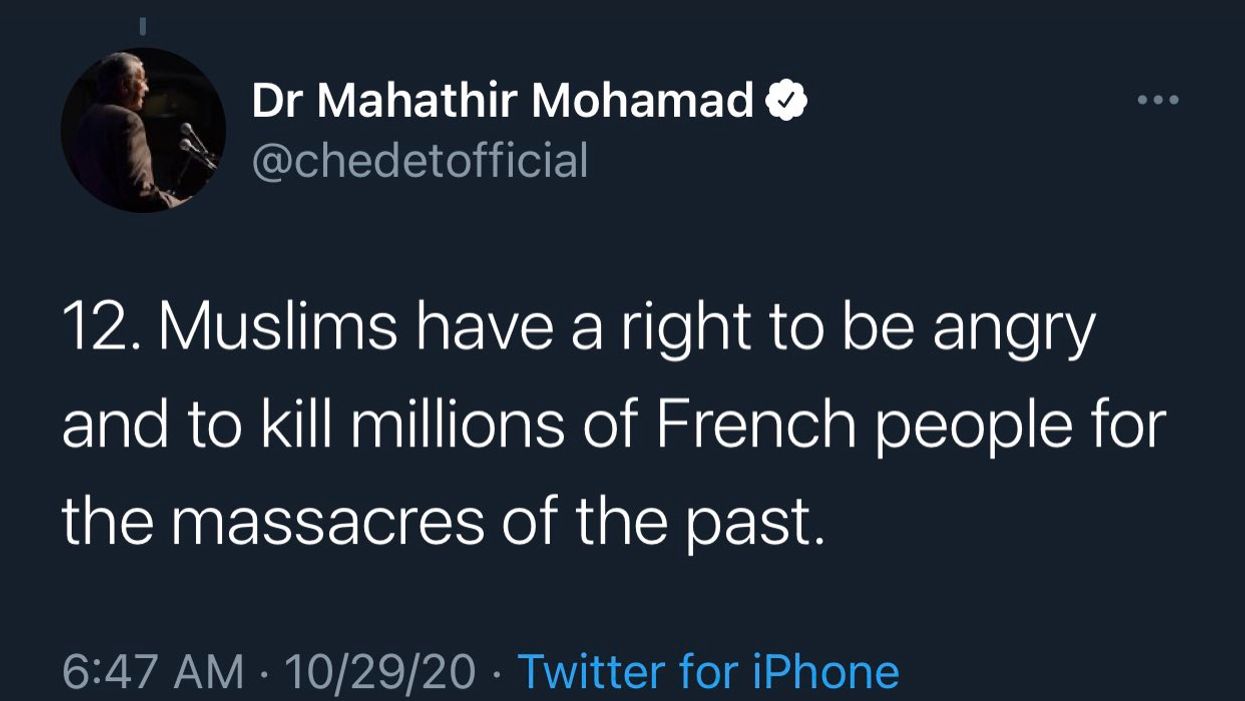 Image source: Twitter/chedetofficial screenshot
According to Twitter's policy documents, tweets that the company determines violate Twitter Rules are required to be removed before the violator can tweet again.
"In the interim period between when Twitter takes enforcement action and the person removes the Tweet, we hide that Tweet from public view and will replace the original content with a notice stating that the Tweet is no longer available because it violated our Rules," Twitter's policy states.
Mohamad has not tweeted from his account since his thread was finished five hours ago. It is unclear if he has not tweeted because Twitter has prevented him from doing so.
Twitter did not immediately respond to The Blaze's request for comment.
Earlier, Twitter locked the account of U.S. Customs and Border Protection Commissioner Mark Morgan for violating Twitter rules on "hateful conduct" with a tweet that celebrated the success of the Trump administration's new wall on the U.S. southern border.
The Federalist obtained screenshots of Morgan's offending tweet, which said, ".@CBP & @USACEHQ continue to build new wall every day. Every mile helps us stop gang members, murderers, sexual predators, and drugs from entering our country."
"It's a fact, walls work," Morgan said.
For this tweet, Twitter locked Morgan's account and sent him an email that said, "You may not promote violence against, threaten, or harass other people on the basis of race, ethnicity, national origin, sexual orientation, gender, gender identity, religious affiliation, age, disability, or serious disease."
It appears that under Twitter's rules, a post justifying the killing of millions is morally equivalent to one promoting law enforcement and border security.
This story has been updated.