On the first of April, Zeynep Yenisey received an email from Twitter and thought she was being pranked.
Yenisey, a journalist who writes for Maxim magazine covering lifestyle, travel, and men's style, was unceremoniously informed that her Twitter account was in violation of Twitter Rules and had been suspended. She was told it will not be restored.
The violation?
Twitter accused Yenisey of impersonating herself.
"It has come to our attention that your Twitter account is in violation of the Twitter Rules, specifically the policy on impersonation," Twitter wrote to Yenisey. "Impersonation is pretending to be another entity in order to deceive, and is strictly prohibited."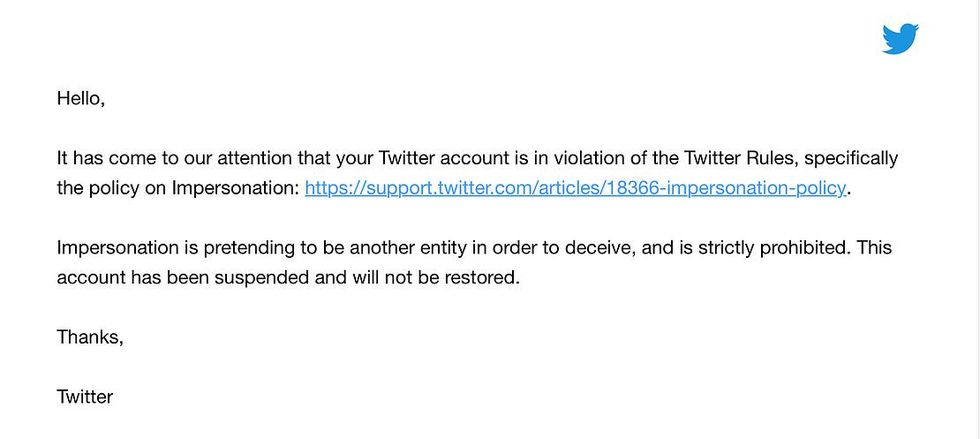 Provided by Zeynep Yenisey
This accusation was understandably confusing for a journalist who has bylines in Maxim, NBC, Cosmopolitan, and Dr. Oz and who shared her personal email in her Twitter bio. The account is demonstrably her own and she was willing to work with Twitter to correct what appears to be a preposterous error.
But Yenisey told TheBlaze in an interview that Twitter ignored her repeated attempts to appeal the decision.
"They just nuked me without any warning or explanation," Yenisey said. "I've never even gotten a temporary suspension or ever been asked to delete any tweets in the ten years I've been on Twitter. I thought they normally give you a slap on the wrist if you go into the no-no zone and temporarily lock your account if their useless A.I. decides it doesn't like you. But no, they just went right ahead and permanently suspended me without any explanation and without giving me an opportunity to verify my identity."
Yenisey says she attempted to contact Twitter and appeal her account's suspension at least 10 times, but Twitter "ghosted me like a bad date."
"The only time they responded was after the first appeal to tell me they're confident I'm impersonating myself," Yenisey said. "It's like yelling at a brick wall."
Reached for comment, Twitter did not respond to multiple requests from TheBlaze asking for an explanation for Yenisey's account suspension.
Twitter CEO Jack Dorsey has previously committed to making his company's content moderation policies more transparent amid accusations of censorship from conservatives, but his company has a frustrating habit of taking enforcement actions against users without explaining how or why their accounts violated the rules.
Yenisey is among those frustrated. Because she couldn't log into her personal account, she created a new account with the joking handle "ThisIsNotZeynep," but she says Twitter gave her second account a temporary suspension for impersonation and prevented her followers from seeing her tweets.
In a blog post on her personal website, Yenisey speculated that her account was suspended for ulterior reasons, noting that she was banned "after one of my tweets that softly went against the tightly controlled narrative went viral and got the attention and follows of the likes of Dr. Sebastian Gorka, master CRT-destroyer James Lindsay, and Ian Miles Cheong."
Yenisey's March 29 tweet, which was retweeted over 10,000 times, raised concerns about being asked to take an "experimental vaccine" when she is young, healthy, and at relatively low-risk of contracting a life-threatening case of COVID-19.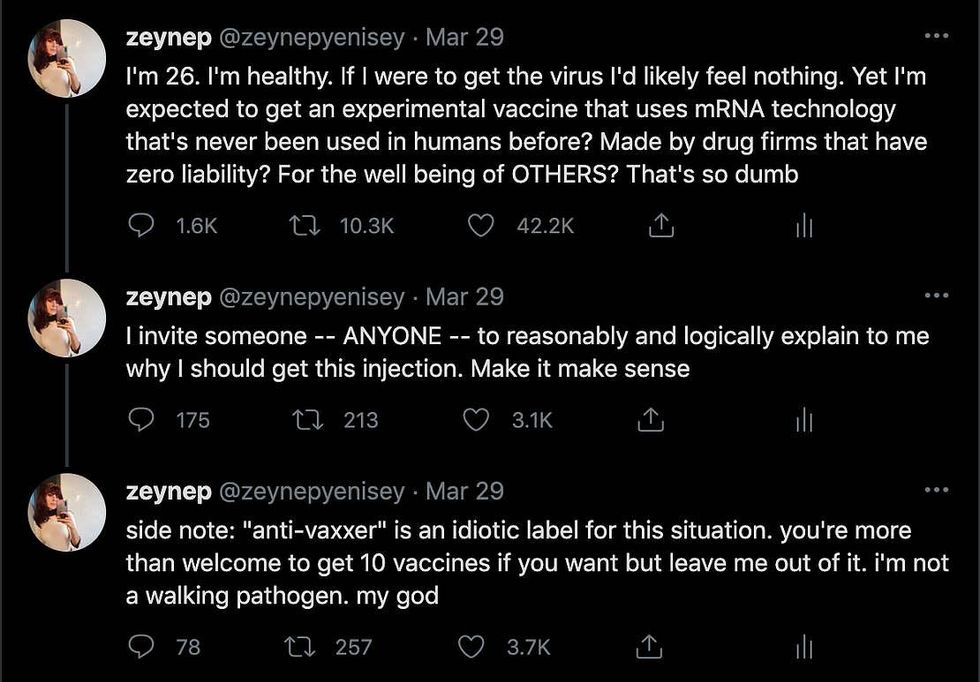 Provided by Zeynep Yenisey
"It's blindingly obvious that my suspension was entirely political," Yenisey wrote.
She elaborated on this point to TheBlaze, accusing Twitter of censoring free speech in a way that's "stupid and messed up to the point it's comical."
"Even if the Twitter overlords say they made a mistake and give me my account back, I think we can all agree that it wasn't a mistake. I mean, come on. That's just gaslighting. They even temporarily suspended and then heavily restricted my new account. It's almost as if someone at Twitter has a personal vendetta against me," Yenisey said.
"There was that recent NYU study that said social media platforms aren't biased against conservatives, but anyone who has two brain cells to rub together knows that's a lie," she added, referring to a February report published by researchers at New York University that asserted claims that social media companies like Facebook and Twitter censor conservative points of view are false.
The study challenged claims that conservative points of view are suppressed against by reviewing evidence that shows news stories published by conservative media and shared by right-leaning influencers are heavily engaged with on social media on levels comparable or exceeding mainstream media content. The study also claimed that facts don't support charges against Twitter that it disproportionately suspends or bans conservative accounts, but it did acknowledge "pinning down precise proportions is impossible because Twitter doesn't release sufficient data."
The researchers recommended that social media companies share more data with third parties for transparency and so they could be held accountable for their actions.
"Something needs to be done to regulate Big Tech's corrupt, overwhelming power," Yenisey told TheBlaze. "A handful of awful people are able to silence and disappear anyone they want in the blink of an eye, and they're not even being subtle about it. No reasonable person can think this is fine. Censorship isn't something to be applauded, and currently, it's out of control."