© 2023 Blaze Media LLC. All rights reserved.
US rep. releases Jan. 6 video images of Capitol Police officer who Blaze News writer says appears to have lied in court
U.S. Rep. Barry Loudermilk (R-Georgia) has released video images from Jan. 6, 2021, showing the movements of a Capitol Police officer who Blaze News investigative journalist Steve Baker said appears to have given false testimony regarding his whereabouts that day during a key encounter with members of the Oath Keepers.
Loudermilk, chairman of the Committee on House Administration Subcommittee on Oversight, said in a statement to Baker that he released the still frames — from closed-circuit TV video with timestamps — of U.S. Capitol Police Special Agent David Lazarus because "an allegation of a Capitol Police officer lying under oath is very serious and must be fully investigated."
What's the background?
Baker's Oct. 4 investigative story for Blaze News was based on his exhaustive examination of Jan. 6 CCTV video to which he was given access.
In that story, Baker noted that Jan. 6 prosecutors — in their attempt to prove Oath Keepers were guilty of trying to overthrow the U.S. government — said members of the group were involved in a contentious interaction with law enforcement at the top of the stairs next to the Capitol Rotunda, which also is known as the small or mini rotunda or the Speaker's Lobby.
However, Baker said no video evidence from Capitol CCTV cameras was presented to the jury — despite the existence of at least 1,700 cameras in and around the building and grounds and 41,000 hours of footage. In fact, Baker said much of the video footage has been kept from the public defenders as well as the public.
Baker said prosecutors instead relied on the accounts of two law enforcement officers. One of them, Baker said, is Lazarus, a member of the security detail for then-House Speaker Nancy Pelosi (D-Calif.) Baker said Lazarus testified that he passed USCP Officer Harry Dunn engaging with four Oath Keepers "three or four times" while he was evacuating Pelosi staffers trapped in a locked office in her chambers.
However, Baker said Lazarus could not have witnessed the interaction "because Lazarus was in another Senate office building across the street from Constitution Ave. at the time the encounter between Dunn and the Oath Keepers began." Baker noted that his Blaze Media investigation tracked Lazarus "while he was escorting Senators and staff on Capitol CCTV cameras."
Here's one of the timestamped Lazarus images that Loudermilk released to Blaze News: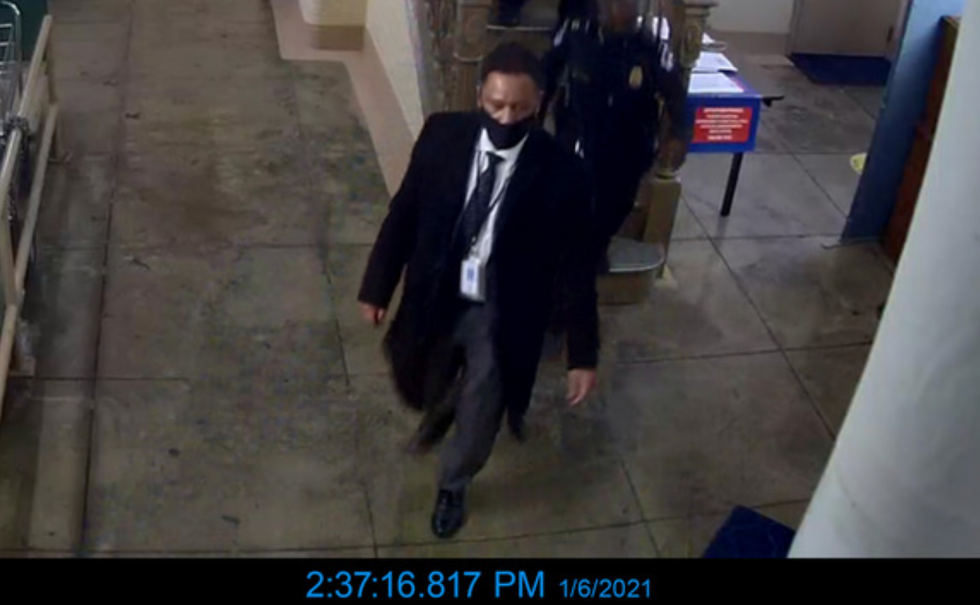 Image source: U.S. Rep. Barry Loudermilk, R-Georgia
Baker broke down the details in an X thread and included other released video images of Lazarus as well:
Baker then offered a final note about Lazarus with another timestamped image of him: "At 2:56:46 p.m., Lazarus can be seen finally reaching the bottom of the staircase - at the top of which he claimed to have witnessed Dunn's 'very antagonistic' interaction with four Oath Keepers '3 or 4' times while rescuing '11 or 12' of Pelosi's staff from their offices."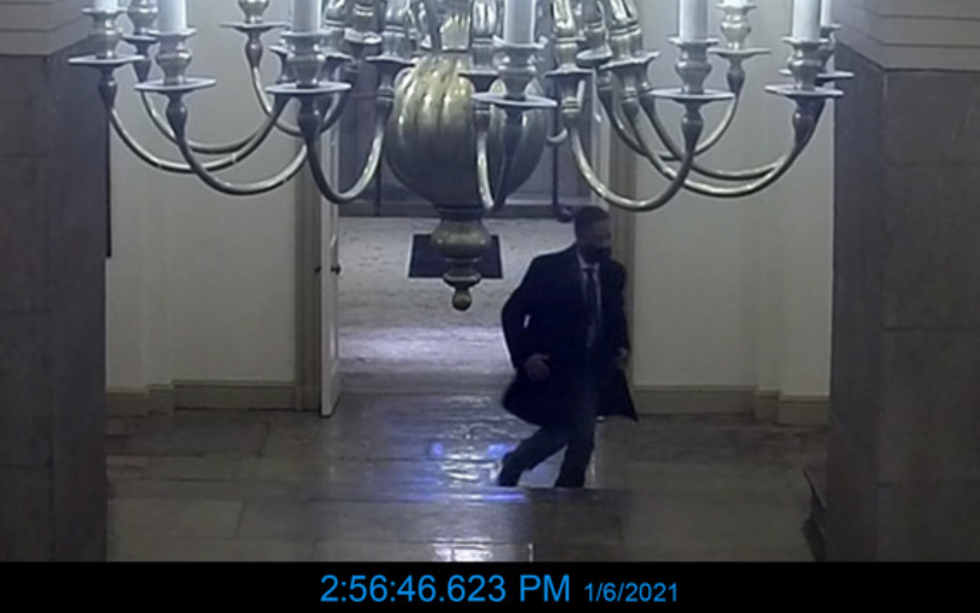 Image source: U.S. Rep. Barry Loudermilk, R-Georgia
Baker added the following in his X thread:
Dunn and Lazarus contradicted each other in their respective Oct. 31, 2022 trial testimonies. Dunn first claimed to have seen Lazarus already at the top of that staircase when he arrived at 2:44 p.m., being "hassled" by protestors.

By contrast, Lazarus testified that he saw Dunn already standing at the top of the staircase landing when he came up from behind him on those stairs. Both men lied in their conflicting stories because Lazarus was in a Senate office building at that moment in time.



It is a physical impossibility for either Dunn or Lazarus to have seen what they claimed in their testimonies in the Oath Keepers trial, and this is borne out by what myself and other

@theblaze

analysts saw on Capitol CCTV videos from access given to us by

@RepLoudermilk

.
In the end, Baker noted, prosecutors got their convictions of the Oath Keepers, who were soon sentenced to numerous years behind bars.
Capitol Police on Monday did not immediately respond to Blaze News' request for comment regarding Loudermilk's release of video images to Blaze News showing Lazarus' movements in the Capitol on Jan. 6, 2021, as well as regarding Baker's assertions about the timestamped images and Lazarus' testimony.
Like Blaze News? Bypass the censors, sign up for our newsletters, and get stories like this direct to your inbox. Sign up here!
Want to leave a tip?
We answer to you. Help keep our content free of advertisers and big tech censorship by leaving a tip today.
Sr. Editor, News
Dave Urbanski is a senior editor for Blaze News.
DaveVUrbanski
more stories
Sign up for the Blaze newsletter
By signing up, you agree to our
Privacy Policy
and
Terms of Use
, and agree to receive content that may sometimes include advertisements. You may opt out at any time.