The Kentucky high school principal under fire over photos that show him receiving lap dances from scantily clad students during a "Man Pageant" this week also watched a male student in a white gown writhe on a gym floor — and even touch and rub him — to the tune of Madonna's "Like a Virgin" in a newly surfaced 2020 video.
What are the details?
Kentucky sports journalist Nate Bryan posted the video to Twitter and said Hazard High School Principal Donald "Happy" Mobelini — who's also mayor of the eastern Kentucky city — watched the action from the "front row."
In the clip, the male student in the white gown imitates Madonna's infamous live rendition of "Like a Virgin" in which the legendary singer writhed onstage in sexually suggestive ways.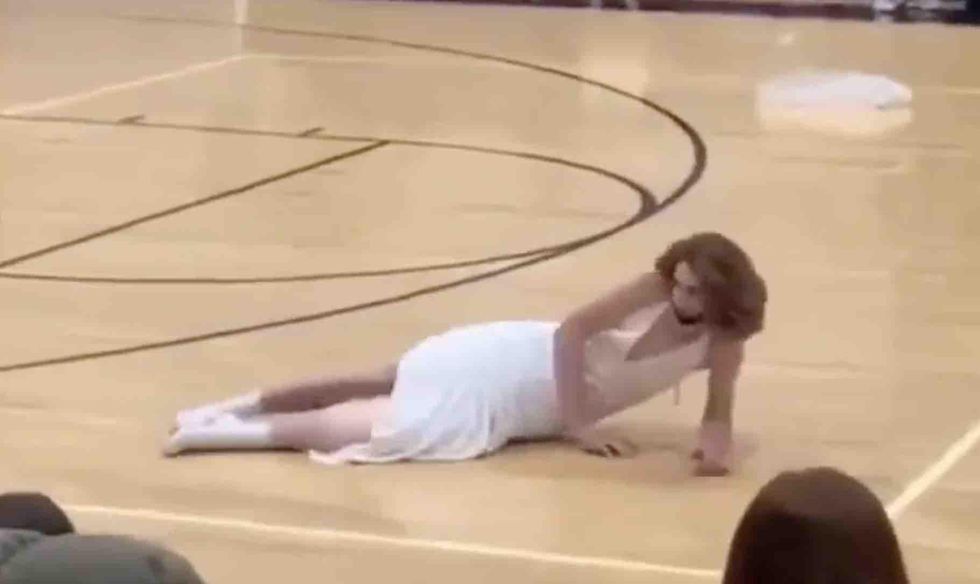 Image source: Twitter video screenshot via @NateInSports
In the 2020 video recorded during Hazard's homecoming week, the male student rubs his hands on and places his arms around Mobelini's neck, and later the principal claps along to the beat.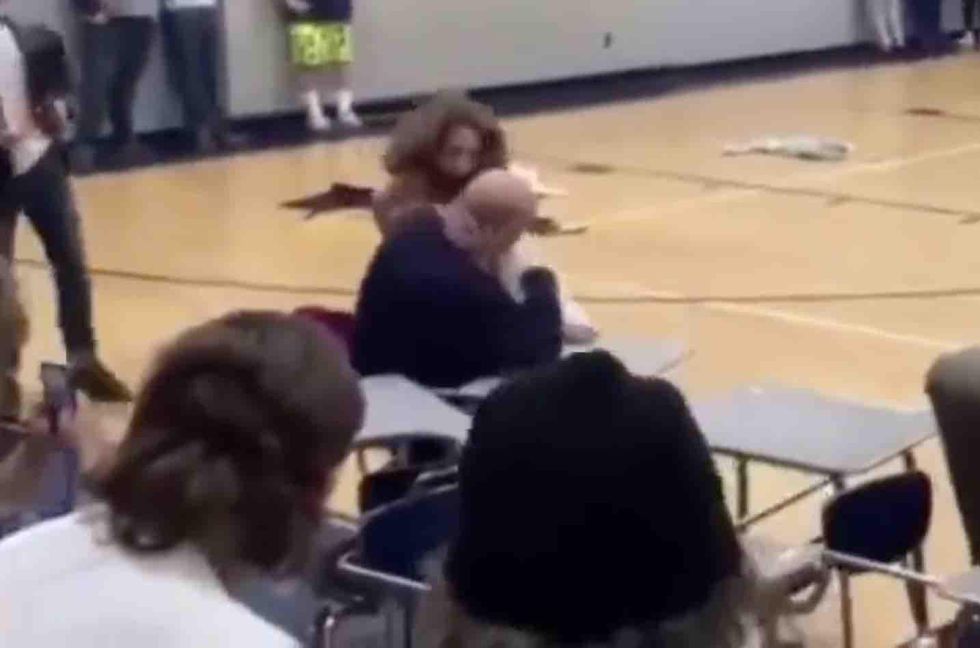 Image source: Twitter video screenshot via @NateInSports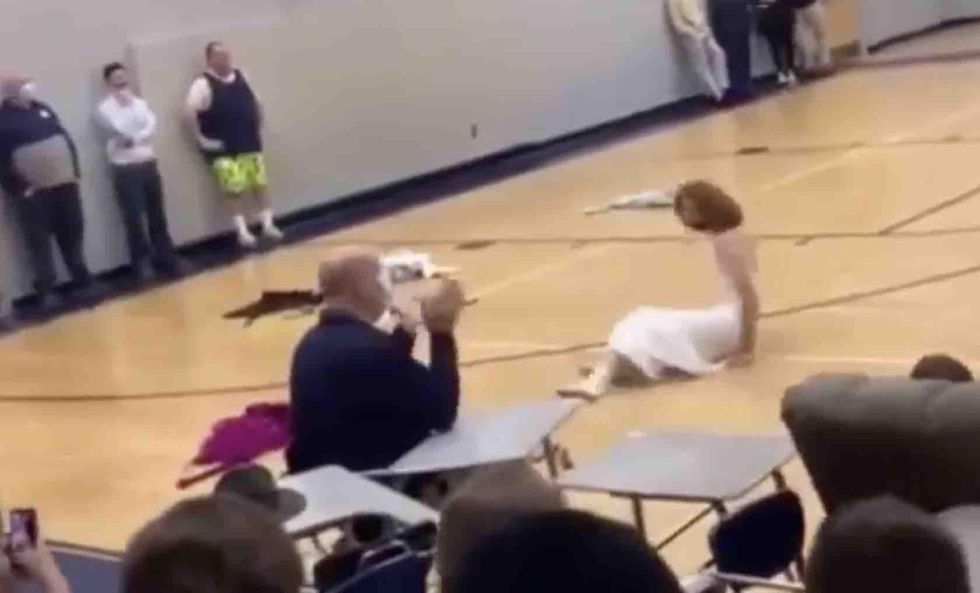 Image source: Twitter video screenshot via @NateInSports
The Louisville Courier-Journal confirmed that the man in the video receiving the performer's attention is indeed Mobelini.
Here's the clip:
Bryan's "taking this outta context" remark in the tweet appears to be in reference to a local mom who vehemently defended the "Man Pageant" controversy and appeared annoyed that it made the news in the first place: "People don't know how to keep their mouths shut," she told reporters.
Fox News said Mobelini has not responded to multiple requests for comment.
The Courier-Journal made note of still another Hazard High video from several years ago showing a male student dressed in a bra, shorts, and wig grinding on two other male students sitting in chairs in the middle of the gym, while a fourth student throws a wad of what looks like cash into the air.
Plenty of local support for Mobelini
Despite the district superintendent saying discipline was handed down over the "Man Pageant" fallout — though who received it and what it amounted to are being kept under wraps — Mobelini has been getting a lot of local support.
About 100 residents and students gathered in a Hazard city park as rain fell Thursday to rally for the high school and for the principal-mayor, the Louisville Courier-Journal reported in a separate story.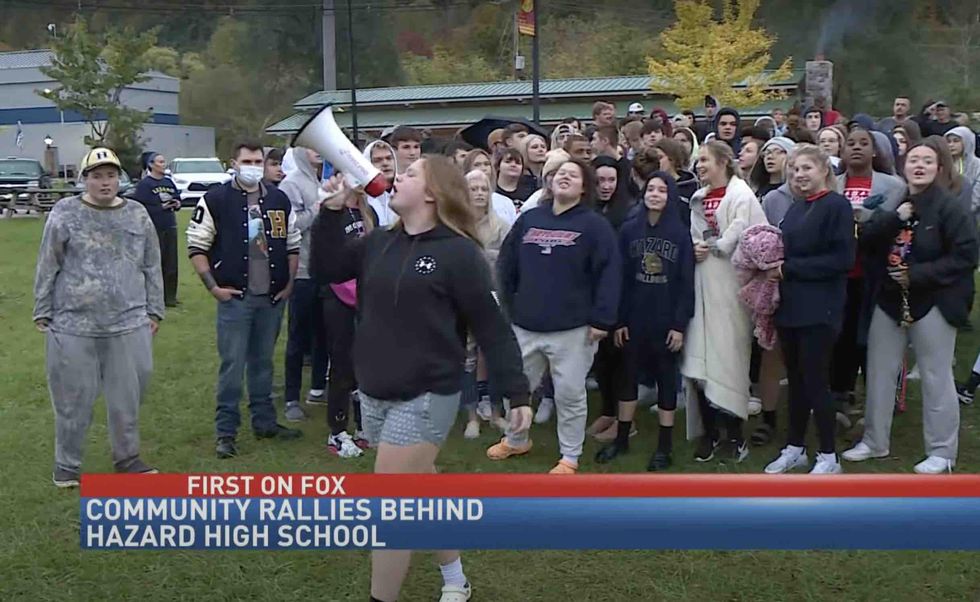 Image source: YouTube screenshot
More from the paper:
Some in attendance had changed their social media profile to a photo of the principal in a superhero costume. Others in a county where nearly 90% voted for Donald Trump in the 2020 presidential election blamed the media and refused to speak to reporters.

Cars honked as they passed the park, and cheers erupted when Mobelini — who had been avoiding public comment — finally strode toward the crowd, shaking hands with residents.

"Happy! Happy! Happy!" chanted several dozen Hazard High students.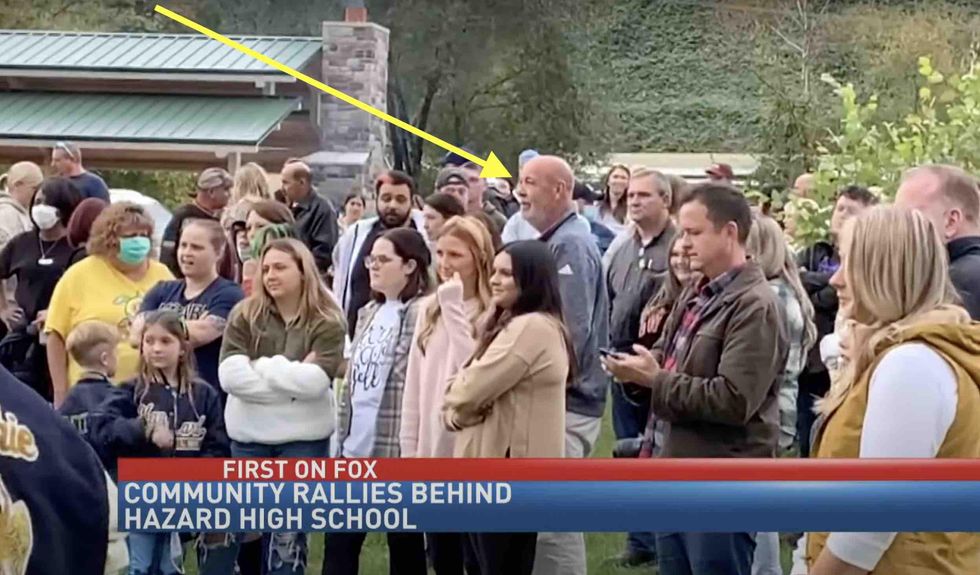 Image source: YouTube screenshot
Mobelini gets a lot of love for what he does for those in the community who struggle with poverty, the paper said, adding that he's known for providing rides and money and leading food drives and home building projects and collecting furniture for needy families.
But other residents told the Courier-Journal they won't knock Mobelini due to his power as mayor and principal: "A man who controls the city and the school system is a man people are afraid to challenge for fear of job loss," one resident told the Courier-Journal on the condition of anonymity for fear of backlash.
More anger over 'Man Pageant' news coverage
"People who were not even connected to the school went after us," student Gavin Goins, a Hazard sophomore who was at the event, told the paper. "I think it's an attack on tradition."
Tosha Lindon — a Hazard High graduate whose freshman son was at the event — told the paper that "Man Pageant" participants "take their robes off and start twerking or whatever. The teachers laughed, they got up and pushed them off. Somebody took a picture. And yes, it looks bad. Yes, it was in poor taste. You know how social media is. It just exploded."
Lindon added to the Courier-Journal that "now we're being made out to be child molesters, a cult, and I've heard we're promoting human trafficking — the most ludicrous stuff on social media by people who aren't from Hazard, they don't have children in Hazard schools, they know nothing about Eastern Kentucky. But the power of social media: That's the way it is. It sucks."
Students at Hazard High School rally in support of their principalyoutu.be