The article in question is an opinion piece written by Julia Azari, a political science professor at Marquette University, in which she argued for changing the current primary system to give Democratic Party "elites," and not the electorate, the ultimate power to pick the party's candidate.
It was originally titled, "It's time to give the elites a bigger say in choosing the president," but the headline did not go over well, as immediately upon publication it became the subject of scorn and ridicule on Twitter. Now, that same article is titled, "It's time to switch to preference primaries."
Despite the headline change, the substance of the article remains the same, and though "elites" are no longer mentioned in the headline, they are still mentioned seven times in the relatively short article.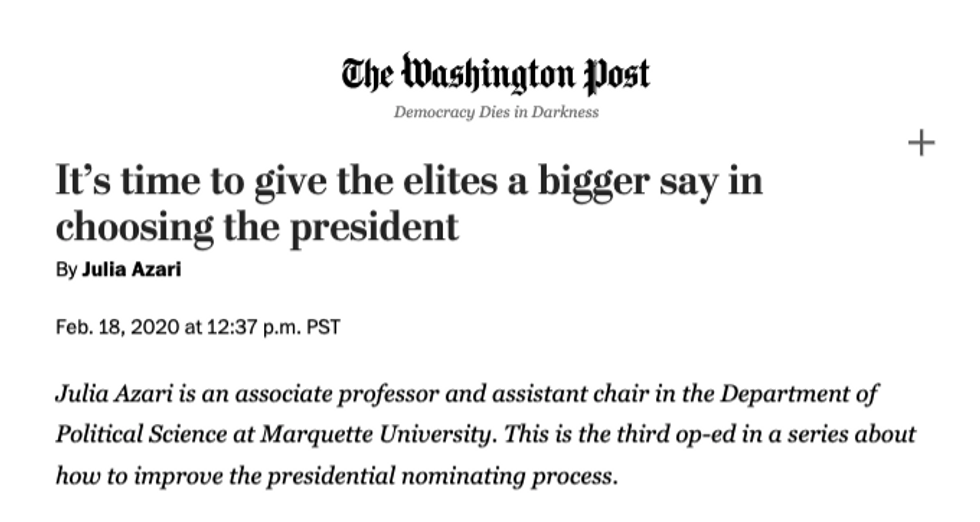 Image Source: WashingtonPost.com screenshot
Disgruntled supporters of Sen. Bernie Sanders (I-Vt.) understood the op-ed to be a swipe at his grassroots campaign amid his surge to the top of the Democratic presidential field.
In the article, Azari expressed doubts about whether the two leading candidates — Sen. Bernie Sanders (I-Vt.) and former South Bend, Indiana, Mayor Pete Buttigieg — would be able to the unite the party.
One user derided the article, quote-tweeting it, saying, "S**t people say when Bernie Sanders takes the lead."
Others took cracks at the irony of the Washington Post — known for their tag, "Democracy Dies in Darkness" — publishing an article calling for less democracy.
"'Democracy dies in darkness' isn't always true," one person said. "Sometimes it dies in daylight on the pages of Washington Post, especially when Bernie Sanders is winning and elites are having a meltdown."

"Seeing the words "Democracy dies in darkness" over an article literally calling for oligarchy is the height of irony," another added.
Still another said: "'Democracy Dies in Darkness!' 'Oh, and we must take democracy away from you in broad daylight and let elites vote for you' - WaPo."
One person jabbed the news outlet, saying, "The Onion must have passed on this headline, so WaPo scooped it up."
TheBlaze has reached out to the Washington Post for comment, and this story will be updated with any remarks the news outlet provides.