A woman was caught on video assaulting a pro-life activist and vandalizing anti-abortion displays on the campus of the University of Wisconsin-Madison — and then later sat in an interview with police with a baby on her lap and bragged that others "said that I'm a hero" for her premeditated actions.
What happened?

Campus police on Monday told TheBlaze that Sasha Timofeeva was cited for vandalism and disorderly conduct stemming from the April 22 incident. Pro-life group Created Equal said last week the attack was against one of their members and posted a video of the incident along with the woman's interview with police.
Video shows the pro-life activist reacting to Timofeeva heading toward the anti-abortion displays and telling her to stop.

"F*** you, they're triggering, they hurt people," she says in response before beginning to spray paint one display.
"Ma'am, don't do this, don't do this," the pro-life activist responds.
"F*** you and your stupid signs," Timofeeva says as a bystander walks by and calls her "my hero."
As the pro-life activist asks others to call police, another bystander is heard saying, "Ma'am, as someone who agrees with you, you're not doing the right thing here."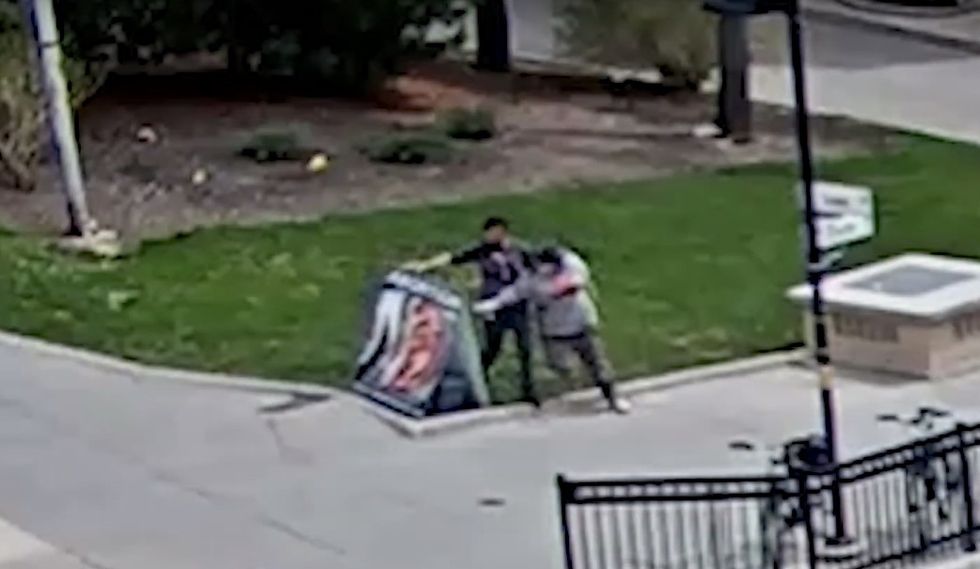 Image source: YouTube screenshot
Soon Timofeeva goes after a second display and says, "F*** you and your stupid message" before the pro-life activist accuses her of assault while trying to protect the signage.
"You just pushed me," he tells Timofeeva. "You're assaulting me. Stop."
Hilariously, she accuses the activist of trying to take her property, which she's using for vandalism.
"You just tried to grab my f***ing spray paint," Timofeeva tells the pro-life activist. "Are you going to tell the police that?"
"Because you're spray painting our property," he replies. "Yeah, I'm going to tell them."
After more vandalism, Timofeeva walks to her vehicle and speeds away — but not before the pro-life activist records her license plate number.
'They said that I'm a hero'
Naturally, Timofeeva was easy to track down, and she's seen in a second video later that day with police while holding a baby in her lap.
She tells an officer that she "just got mad at them" and "grabbed the paint, and I drove back there."
The officer, making sure he understands, replies to Timofeeva that she — in a "premeditated" act — departed from the area, got the spay paint, came back, and "you intentionally sprayed their signs to damage them ... knowing that you shouldn't do that?"
"Yeah, pretty much. Like, three girls walked by and they said that I'm a hero," Timofeeva replies with a chuckle.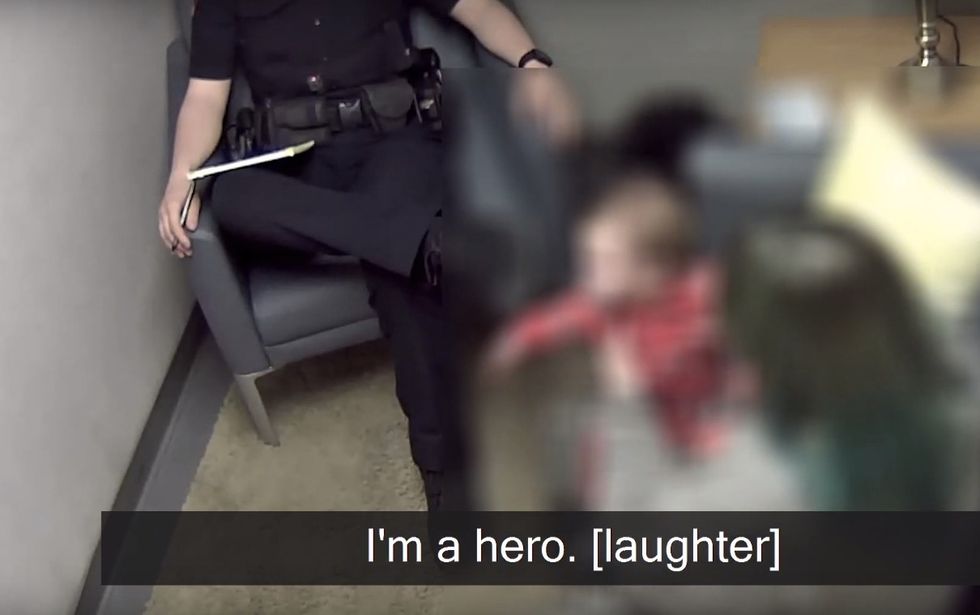 Image source: YouTube screenshot
"How do you think that the people that were doing the demonstrating were feeling while you were doing that?" an officer asks.
"I'm sure not good, like, I'm damaging their property," Timofeeva answers. "But I honestly don't care how they feel."
An officer tells her she could have hurt someone with the spray paint, which would have resulted in a felony charge against her. Noting the infant in her lap, the officer also tells Timofeeva that the child "should be your priority."
While noting he "could take you to jail for this," the officer tells Timofeeva he's issuing misdemeanor charges against her and that she'll need to appear in court.
Here's the video. (Content warning: language):

Feminist Spray Paints Signs And Assaults Pro-Lifers: Gets Arrested!youtu.be
What happened to Timofeeva?
Court records show Timofeeva was found guilty last month of assaultive behavior stemming from the incident. Timofeeva, who turned 22 in June, still owes $358 for the assaultive behavior charge as of Monday morning.
What did Created Equal have to say?
"Pro-abortion activists who commit violence must be held accountable," Created Equal said in its YouTube video description. "Thanks to the law enforcement in the video, that is exactly what is happening. We refuse to back down in the face of these threats."
(H/T: LifeNews)