A leftist woman who repeatedly screamed "Nazi scum!" at a supporter of President Donald Trump earlier this week amid protests over Trump's state visit to the United Kingdom bolted from a job connected to Great Britain's National Health Service and deleted all her social media accounts after backlash against her, the Daily Mail reported.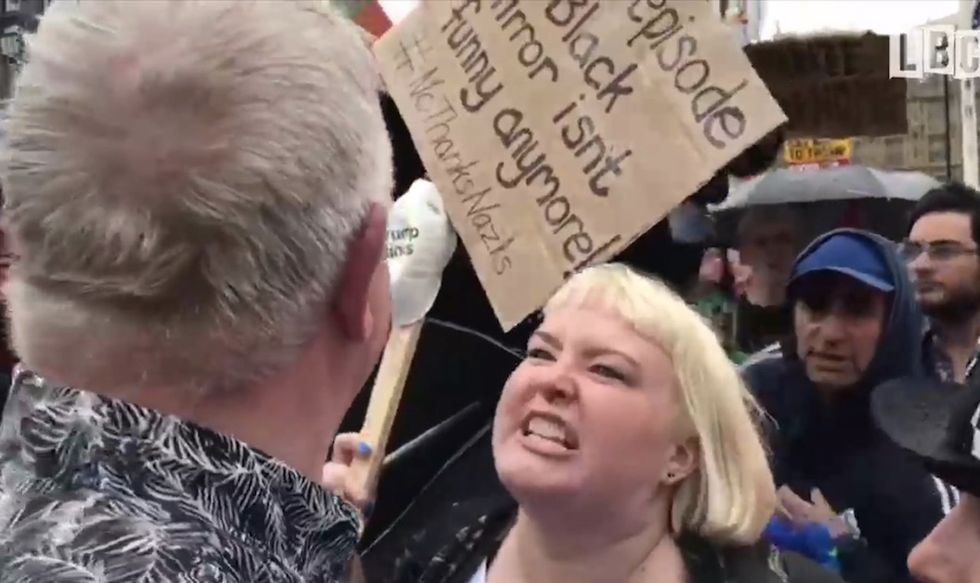 Image source: Twitter video screenshot
Tuesday's incident was caught on video and made big headlines.
At one point in the clip, the light-haired, completely livid female stood just inches from the man's face as she screamed "Nazi scum!" before someone in the surrounding mob lobbed a milkshake upon his head.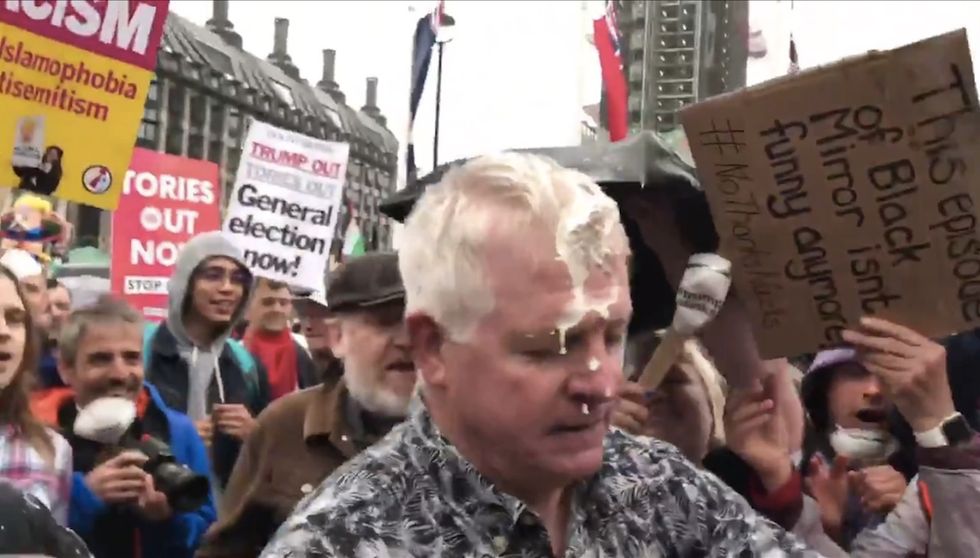 Image source: Twitter video screenshot
She seemed to enjoy his plight.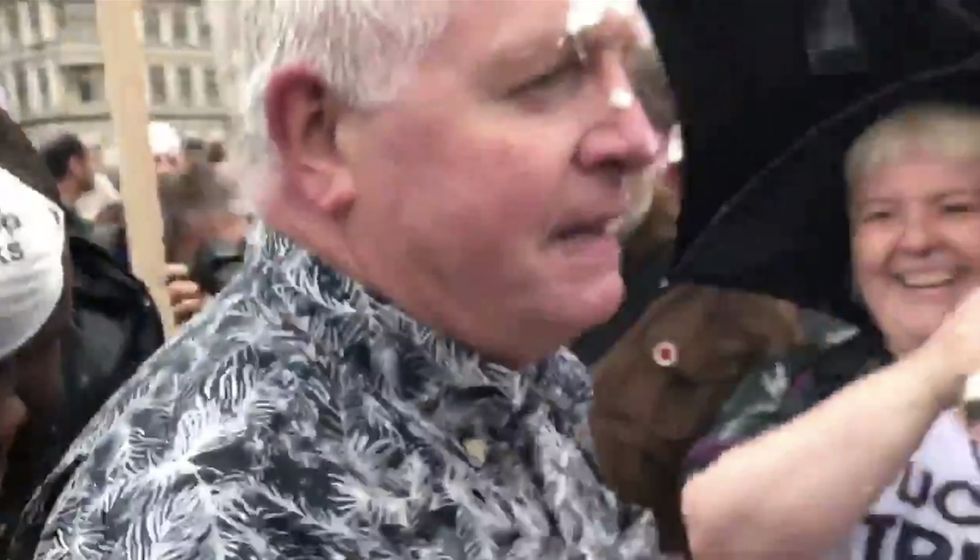 Image source: Twitter video screenshot
Here's the clip. ( Content warning: Language):
A Trump supporter is milkshaked by a hostile crowd in Parliament Square. And then it all kicks off... @LBC… https://t.co/IM7MFmfgyT

— Matthew Thompson (@Matthew Thompson) 1559657041.0
A longer video of the incident shows the Trump supporter debating with protesters while wearing a red "Make America Great Again" hat — the symbol of Trump's 2016 campaign that's become a lightning rodfor agrowing number of those on the left who say the MAGA hat is synonymous with racism, bigotry, and hatred.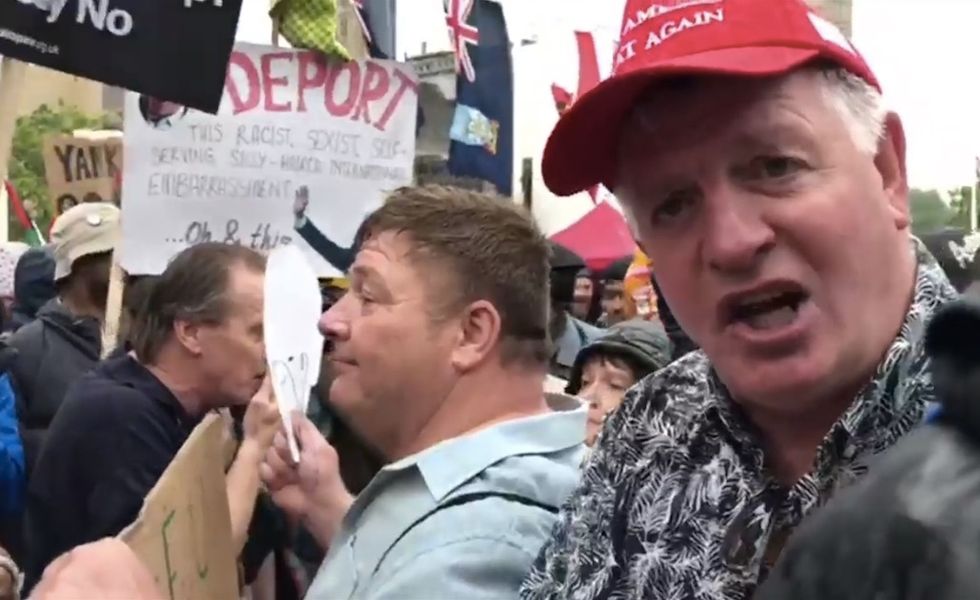 Image source: LBC video screenshot
That same video includes a brief interview with the woman in question who said she yelled at the Trump supporter because he's a "f***ing Nazi" and then refused further questioning because "I don't need to hear from other white men, thank you very much."
Content warning: Language
What else has been reported about the woman?
The Daily Mail identified the woman as 34-year-old Siobhan Prigent and said she apologized for her actions before deleting all her social media accounts.
"I am very sorry for my behavior today. I should have protested peacefully and I didn't, and I regret that," she posted on Twitter, the outlet said. "I've let myself down and I do understand that fully. There are two sides to every story, but my actions were my own, and that's on me. Please leave my family and friends out of it."
But the Daily Mail also reported that her apology came just hours after she tweeted an expletive-filled message about Trump supporters: "The MAGA c**** get a police escort #NoThanksNazis #TogetherAgainstTrump #DumpTrump."
The outlet said she couldn't be reached for comment Wednesday night but noted that she had described herself online as an "intersectional feminist" and a "crazy cat lady" with an interest in mental health.
The Daily Mail added that Prigent had a taxpayer-funded job providing clinical trial coordination at University College London Hospitals NHS Foundation Trust through her for-profit company VLEK Ltd.
But on Thursday, according to the outlet, a UCLH spokesman said Prigent "has today informed us that she will no longer be working at UCLH because she does not want us or the NHS to suffer any more negative attention. She had been at UCLH for a week. As an NHS trust, we pride ourselves on treating our patients and colleagues with kindness and compassion in all that we do."
A pair of petitions against Prigent attracted nearly 3,000 total signatures within a day, the Daily Mail said.
Anything else?
The outlet said the Trump supporter was led away by police for his own protection after the incident — but he later told the Daily Mail he was peacefully debating with "moderate lefties" and "having a laugh with the majority of them" before things got physical.
"We have to put forward how aggressive the left can be," the man, who didn't want to be identified, told the outlet in a video. "It's not us. If they want to call me right wing because I'm supporting Trump, then I must be right wing, but I'm not a racist."
He added that some of his family members and friends are people of color.
The Trump supporter also told the Daily Mail that protesters kicked him in the legs, attacked him with a banner, and went after his MAGA hat. The video description indicated he said things turned violent because protesters "couldn't answer" questions he was asking them.
Donald Trump supporter on 'aggressive left' after milkshake attackyoutu.be