On Feb. 4, Merck came out with a shocking statement warning against the use of ivermectin to treat COVID. The statement claimed there was "no scientific basis for a potential therapeutic effect against COVID-19 from pre-clinical studies" and that there was "a concerning lack of safety data in the majority of studies."
This was quite a bizarre assertion given that 59 studies, including 30 randomized controlled trials, have shown the drug to be extremely effective at all stages of the virus. The statement regarding safety concerns was even more ludicrous given that nearly 4 billion doses of this drug have been dispensed for parasitic ailments, it won the Nobel prize, and it is listed among the WHO's most essential drugs. There is no logical reason why someone would somehow begin experiencing dangerous side effects if he happens to use ivermectin for COVID instead of for scabies or river blindness.
Nonetheless, Merck's statement served as a strong blow to the use of ivermectin, because Merck was a large dispenser of this drug. After all, why would the company dump on its own drug?
Well, now we have an answer. On June 9, Merck announced that it had entered into a procurement agreement. Merck will receive approximately $1.2 billion to supply approximately 1.7 million courses of molnupiravir to the United States government. Molnupiravir is a new drug Merck is currently evaluating in a Phase 3 clinical trials to serve as the wonder drug to treat COVID. The estimated cost of the drug per treatment is $700!

So now we can understand why the company would swap out its own drug that has already been proven safe and effective for something new and experimental. Without the government sending a penny to Merck, I can buy a lifesaving dose of ivermectin for just $26 through GoodRX.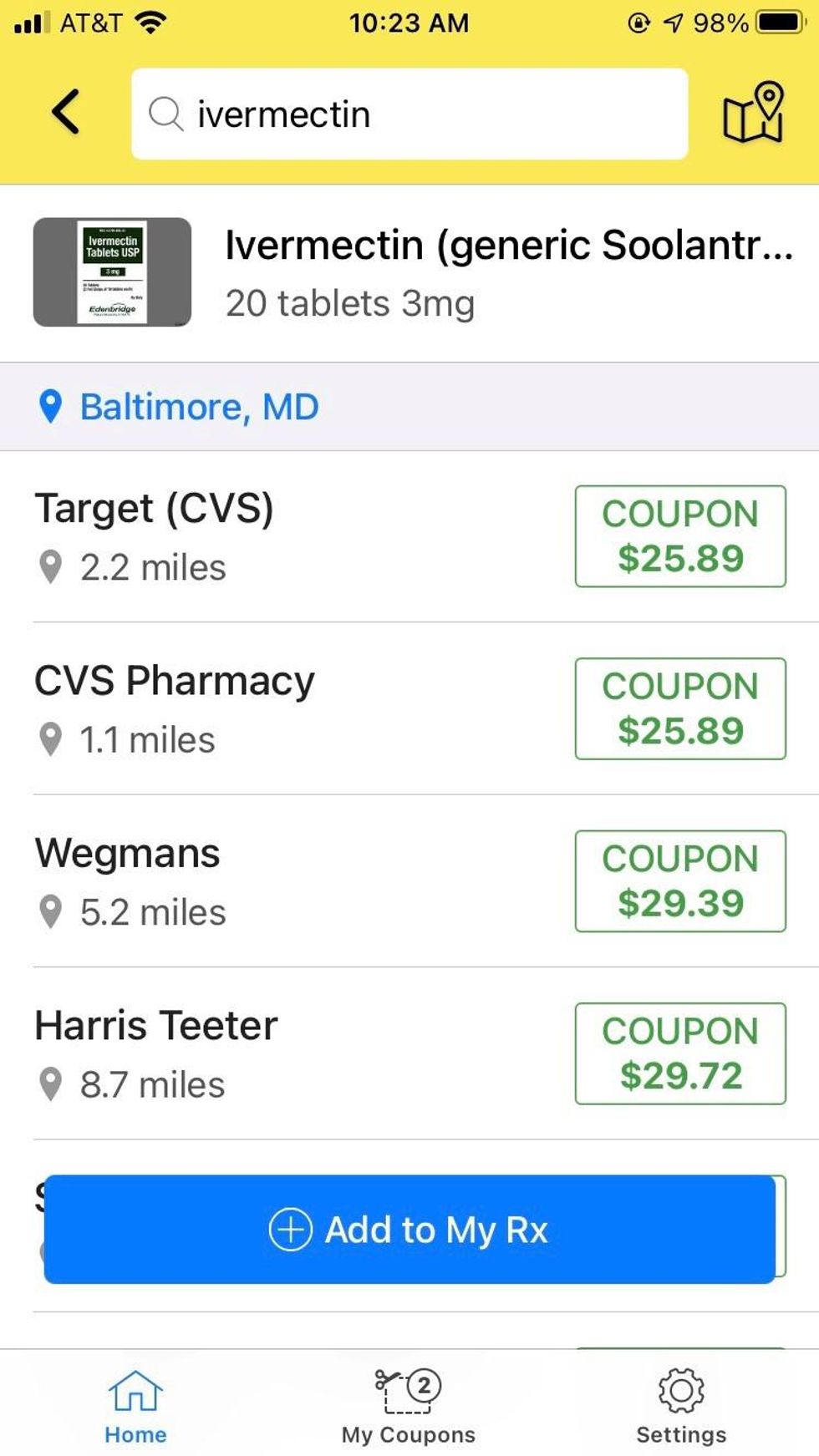 Well, that's if the pharmacy would actually dispense it to me and a doctor would prescribe it to me. We can now understand why Big Pharma has colluded with big government to pressure doctors and pharmacists away from prescribing and dispensing ivermectin. This historic business deal would be moot.

Also, let us not forget that expedited approval of experimental new drugs runs into the same problem as the experimental vaccines. Approval for "Emergency Use Authorization" can be granted by the FDA only if there is "no adequate, approved, and available alternative to the product for diagnosing, preventing or treating" a disease. That's why already-approved drugs like ivermectin have to vanish from discussion. Can you imagine how much ivermectin the feds could have dispensed for a fraction of the cost of expensive experimental drugs and mRNA shots?
What is particularly disturbing is that it appears that molnupiravir contains some of the same molecular qualities as ivermectin, which makes you wonder if Merck knows that ivermectin is effective and just sought a more expensive drug that could be marketed as exclusive and new for COVID, thereby justifying another budget blowout by Washington policymakers.
One of several antiviral qualities to ivermectin is that it disrupts viral RNA-dependent RNA polymerase (RdRp) enzymes. Two Italian doctors in a study published in Nature described the process as follows:
The RdRP residing in nsp12 is the centerpiece of the coronavirus replication and transcription complex and has been suggested as a promising drug target as it is a crucial enzyme in the virus life cycle both for replication of the viral genome but also for transcription of subgenomic mRNAs (sgRNAs) [34]. Ivermectin binds to the viral rdrp and disrupts it. The highly efficient binding of ivermectin to nsp14 confirms its role in inhibiting viral replication and assembly. It is well known that nsp14 is essential in transcription and replication.
Dr. Pierre Kory, the president ofFrontline Covid19 Critical Care Alliance and one of the most prominent advocates of ivermectin, believes that the new drug developed by Merck acts in a similar way.
Dr. Syed Mobeen, who hosts a daily medical show and often hosts Dr. Kory for discussions about COVID treatment, told me that "it seems that molnupiravir is a copy of one of Ivermectin's mechanisms."

"This mechanism is to disrupt the SARS-COV-2 virus' RNA-dependent RNA polymerase (RdRp) enzyme," said Dr. Mobeen, who runs a medical education center. "Copying this mechanism will give Merck a way to earn from an existing cheap drug's action by relabeling it; however, I believe that molnupiravir will continue to be less effective as studies show that ivermectin has more mechanisms to disrupt the SARS-COV-2 replication and spread. Hence, ivermectin will continue to be a superior choice over molnupirivir or other RdRp disrupters."
Aside from disrupting the viral RdRp, ivermectin supporters believe the cheap drug inhibits the spike protein from binding to the ACE2 enzyme and disrupts the importin alpha and beta.
Merck has yet to explain why its new drug would be more cost effective and score better in a risk-benefit analysis than ivermectin. Just over the weekend, a Cochrane-standard (the highest level review) meta-analysis of ivermectin against COVID-19 by Bryant-Lawrie, which has been published in the American Journal of Therapeutics, concluded that the "apparent safety and low cost suggest that ivermectin is likely to have a significant impact on the SARS-CoV-2 pandemic globally."
Thus, with a non-invasive, cheap, and safe drug that doesn't require one to lock down or wear a mask, we could largely solve the problem. Why would the medical establishment not take yes for an answer? As the study concludes:
Ivermectin is not a new and experimental drug with an unknown safety profile. It is a WHO "Essential Medicine" already used in several different indications, in colossal cumulative volumes. Corticosteroids have become an accepted standard of care in COVID-19, based on a single RCT of dexamethasone.1 If a single RCT is sufficient for the adoption of dexamethasone, then a fortiori the evidence of 2 dozen RCTs supports the adoption of ivermectin.
Now we know, in the case of Merck, there are 1.2 billion reasons why not. For some of the larger special interests, that number is exponentially higher and is all backed by the Fed's printing press and guaranteed by the media they have paid and influenced. Welcome to science and medicine.