The medical system has picked the most unsafe and ineffective vaccine – now completely outdated to the strain of virus circulating – with which to violate basic human rights. Medical professionals are denying organ transplants to people who opt not to get the shots, even if they have natural immunity and even today, when the vaccines are ineffective for the current variants. Yet this atrocity is going on in red states without any sign of swift action from GOP supermajorities. Where is the outrage?
It started out as the spirit of the age in blue states for medical systems to cruelly deny organ transplants to those who don't bow the knee to Pfizer. But now the denials have become nearly universal in most states. On Feb. 1, the Medical University of South Carolina (MUSC) announced that the system would be removing 23 people from the organ transplant list because they refused to get the shots. They "convinced" several dozen others who didn't want the shots to change their minds. It's unclear whether they mean you must get three shots and whether they will require a fourth as Dr. Fauci contemplates his next move.
The denial of medical treatment is rapidly becoming the most immoral aspect of COVID apartheid. Republicans have become complacent because they perceive an end to the broad-based COVID restrictions imposed by Democrats at the federal and state levels. However, it appears the tyrants are only relinquishing the mandates affecting large numbers of people, such as masking of schoolchildren. After all, they can't head into an election while angering most of the voters. But what about the small number of people who need special medical care, such as organ transplants, and are being discriminated against? There is no evidence that those restrictions will be lifted.
Thankfully, some conservatives understand what is at stake and have exhibited a sense of urgency to fight this senseless, unscientific discrimination. The very next day after MUSC made this announced, state Rep. Ashley Trantham introduced a bill (HB 4909) to bar hospitals from denying organ transplants or removing people from the waiting list on account of their COVID injection status. Additionally, the bill prohibits insurance companies from denying coverage for transplants for those who did not get the shots. S. 1037, sponsored by Tom Corbin, is the companion bill in the Senate.
Some states already have laws barring insurance companies from denying coverage for transplants to those with HIV or AIDS. HIV is a much more avoidable disease and is permanent. Somehow the concept of discrimination has gone out the window when it comes to appeasing those who have made COVID a way of life, despite the fact that it's no fault of the average citizen.
At the federal level, Congressman Jeff Duncan co-sponsored a similar bill to prohibit such discrimination in federal law. "For most patients on organ waitlists, this is a matter of life or death, and whether an individual's reason is for choosing not to get the COVID shot is religious, medical, or personal, taking the COVID shot should never be the ultimatum to receive lifesaving treatment," said the Greenville-based congressman in a statement. "Discrimination against any person for their medical decisions is an extremely slippery slope, and I fear we will see more medical discrimination against the unvaccinated if we do not stop the rising tide of treating unvaccinated individuals as second-class citizens."
The state bill has 26 total sponsors. Republicans control the House 81-43 and the Senate 30-16. Gov. Henry McMaster has yet to publicly comment on the bill.
The logic given to justify such an inhumane decision defies common sense, according to Dr. Richard Amerling, a nephrologist and associate medical director of America's Frontline Doctors. In an interview with TheBlaze, Amerling decried the hypocrisy of the medical establishment. "Where is the evidence of better outcomes from the shots in those with end-stage kidney disease?" asked Amerling, a former president of the American Association of Physicians and Surgeons. "They insist on double-blinded randomized controlled trials for already-established therapeutics we want to merely offer with informed consent, yet they make a determination of the safety and efficacy of these novel shots in vulnerable people without ever studying it. The trials conducted by the vaccine manufacturers excluded this population entirely. Don't we need randomized controlled trials before recommending, much less mandating, the shot?"

MUSC officials are claiming that they want people to get the shots before they undergo a transplant surgery and are placed on immune-suppressing drugs, but Amerling contends that "it's widely recognized that pre-transplant patients are immunocompromised even before they are placed on immuno-suppressing drugs." Amerling noted that he has personally treated a number of people in kidney failure for whom the shots completely failed to stimulate immunity. Unlike other nephrologists who make their patients get the shots and then are missing in action when their patients get COVID, Amerling has successfully kept these vulnerable people – vaccinated or not – out of the hospital with successful early treatment cocktails.
Then there are the risks of the shots. "Sure these people are at risk for COVID, but they are also at risk for severe illness form the spike protein," added Amerling. "It's the same pathophysiology … you can have uncontrolled spike production which is not limited by the immune system, which is very dangerous for people with metabolic disorders."
Indeed, a new study published in Cell led by Stanford researchers found that vaccine spike antigen and mRNA persist for at least 60 days in lymph node germinal centers. They also found that the Pfizer shot "produces IgG responses to spike and RBD [receptor-binding domain] at concentrations as high as those of severely ill COVID-19 patients and follows a similar time course." They add, "Unlike infection, which stimulates robust but short-lived IgM and IgA responses, vaccination shows a pronounced bias for IgG production even at early time point." According to Dr. Robert Malone, this means that "protein production of spike is higher [in the vaccinated] than those of severely ill COVID-19 patients!" Is this really something we can force on immune-compromised people?
The reality is that with Omicron, the U.K.'s stellar data shows the triple-vaccinated with a higher case rate, and increasing over time. Here is a presentation of the latest age-adjusted case rates by vaccination status, along with the growth rate from the past week, thanks to Don Wolt.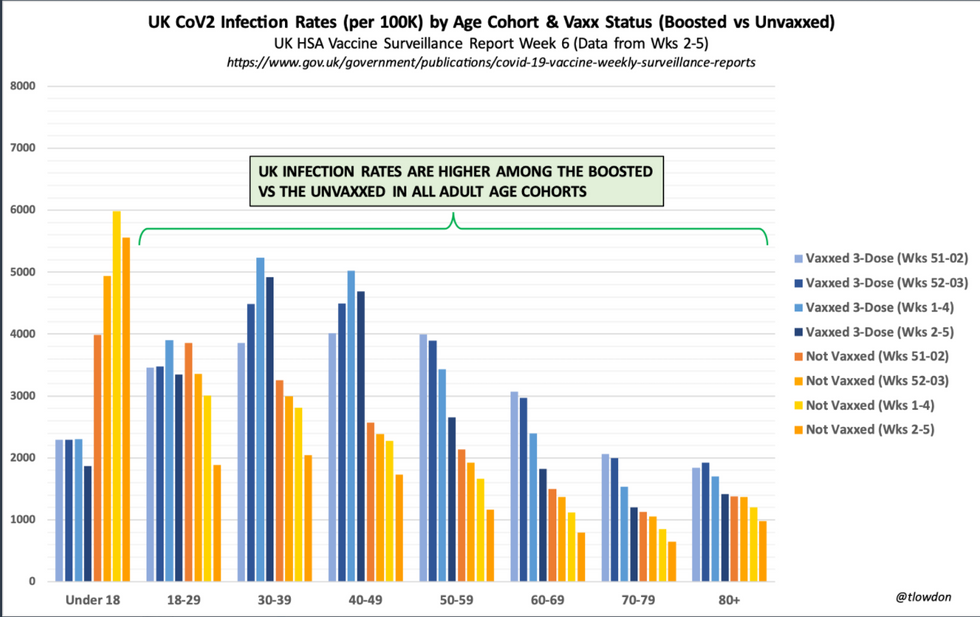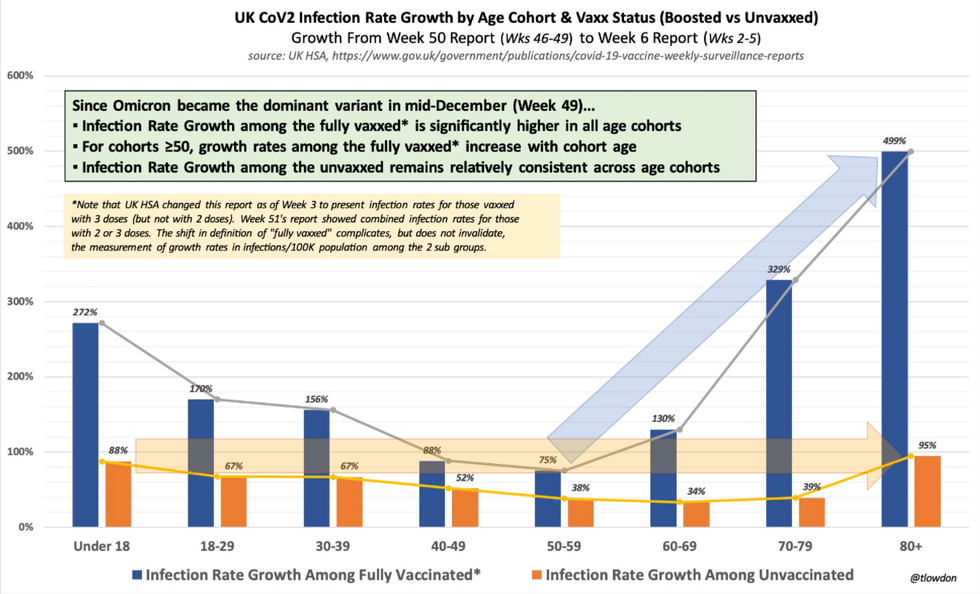 In other words, the denial of organ transplants on account of a leaky vaccine is as illogical as it is immoral.
According to the bill's sponsor, Ashley Trantham, time is of the essence. "I've reached out to the Governor's office, requesting that Governor McMaster join me and the other Legislators that are working to protect, not only transplant patients, but every South Carolinian's medical freedom."
She is concerned that denial of transplant patients is just the tip of the iceberg. And with vaccines now approved for children and about to be approved for babies and toddlers, these mandates will now apply to children for many other procedures. "Over the last two years we've experienced medical tyranny, and if we don't take a hard stand now I fear for my children's future."
Do the legislative leaders and governor in South Carolina, as well as other red states, feel the same sense of urgency?